It's not often you get an X-Men #1 launch. Okay, okay, it's more common than it used to be, but still.
Marvel Comics will be doing a Launch party promotion for Wednesday, October 16th, for the launch issue of the new series by Jonathan Hickman and Leinul Francis Yu. It used to be the case, for previous party promotions, that participating stores would have to order a certain amount of copies, based on previous orders of other Marvel Comics – but in a radical move, Marvel Comics are dropping that, it seems. Any store can participate, whatever their order, they just have to opt-in through Diamond Comic Distributors.
It will also be a Midnight Launch Party for any store that wants to – and the new rules mean that stores doing so can sell all their Wednesday comics from Tuesday, October 15th at midnight if they wish, without breaking on-sale date.
Each store will get at 25 packs of "Cards of X" to give away (or sell), though bigger stores will get more free bundles – and they can pay a nominal amount for even more. Some may choose to run midnight poker games with them. Maybe gamble for all the newly released comic books… double or nothing?
They will also get to order the X-Men #1 Mark Brooks Party Variant cover, and receive for free one copy of the X-Men #1 Brooks Party Sketch Variant, one per participating store. And two copies of the X-Men #1 Leinil Francis Yu Premiere Variant. Just for ticking a box.
Other covers available (but not compulsory) are, in any number:
X-Men #1 Artgerm Variant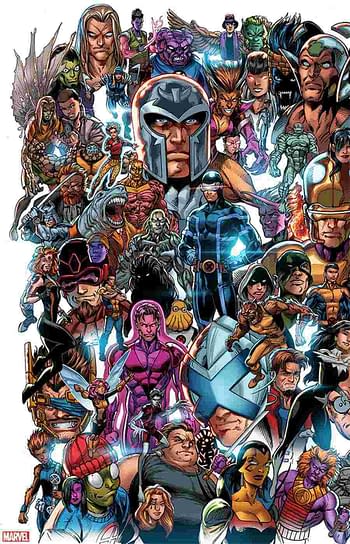 X-Men #1 Mark Bagley Every Mutant Ever Variant
X-Men #1 Mark Checchetto Young Guns Variant
And these tiered variants:
X-Men #1 Artgerm Virgin Variant 1:500
X-Men #1 Chris Bachalo Hidden Gem Variant 1:100
X-Men #1 Dauterman Variant 1:50
X-Men #1 Whilce Portacio Variant 1:25
X-Men #1 Tom Muller Design Variant 1:10
And the top 3000 retailers (which has to be everyone these days, right?) will receive one free bundle of 100 of X-Men #1 Party Invite Postcards, to arrive for October 9th.
Enjoyed this article? Share it!