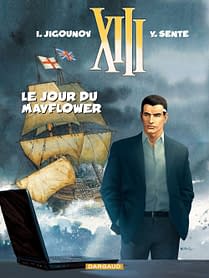 In the French comic book market, it's been another year of growth, with 5327 comic book volumes published over 5165 last year. These are typically 48-72 page colour hardcover volumes.
While there are 310 comic book publishers in France, four of them, Media Participations, Delcourt, Glenat and Flammarion take almost half the business, with Delcourt at number one after the purchase of rival publisher Le Soleil.
The best selling title was the long awaited XIII volume 20 by Yves Sente and Your Jigounov, with a print run of half a million. Without the likes of Asterix or Titeuf to challenge it this year, it ruled the roost, while its companion series XIII Mystery volume 4 by Alcante and François Boucq came in at number 6 in the non-manga charts with a 200,000 print run. Kid Paddle vol 12 by Midam had a 360,000 print run, Boule et Bill vol 33 by Laurent Verron had 254,000 and both Thorgal vol 33 by Grzegorz Rosinskiif Lucky by Achdé took 220,000. At seventh place, the Tintin movie comic only had a 160,000 print run. In the Manga charts, Naruto had print runs of 250,000 for each volume, while One Piece has 100,000 – the market is still vast, enough to require its own chart, but ten books make up half the sales.
The Simpsons Comics, while maxing at around 150,000 a volume, took places 13-16 on the charts with, appropriately volumes 13-16 as a whole sold over a million copies with Peter Bagge's Treehouse Of Horrors taking 80,000 alone. The other major US success is The Walking Dead, the volumes of which ran from 55,000 to 85,000 sales each.
The outlook seems to be similar to the US is some degree, a tightening of experimentation, a reliance on big names for sales with a retraction of the long tail market. But in France, the market is so vast and diverse, it's still one of the most mature in the world.
There were also more comics festivals, conventions and exhibitions this year in France than ever before, a total of 455.
Thanks to ACBDF and Comics Place
Enjoyed this article? Share it!