Friday Runaround – What Is A Superhero Anyway?
WHAT TO DO IN LONDON TONIGHT
COMICA PR: WHAT IS A SUPERHERO? with Kieron Gillen, Si Spurrier, Will Brooker, Richard Reynolds & Alex Fitch

Tickets: £6.00 from WeGotTickets
Where: Foyles Bookshop, 3rd Floor Gallery, London, WC2H 0EB
A SECOND DARKNESS
Christopher Mitten draws the cover for the second print of Ash And The Army Of Darkness #1. YOUR COMICS ARE WORTH NOTHING
Yahoo Finance looks at the value and investment of comic books… and finds them lacking.
When Smith found himself unemployed and in need of money to support his wife and two daughters, he decided the time was right to cash in on his investment.

The entire collection sold for about $500. "I'm not too proud to admit, I cried a bit," Smith says.

He's not the only would-be investor who's discovered in recent years that his comic collection isn't worth nearly as much as he'd hoped. Kevin J. Maroney, 47, of Yonkers, N.Y., decided to sell 10,000 comics, roughly a third of his collection, on consignment with various comic book stores in Manhattan. Thus far, fewer than 300 have sold for a total of about $800. He's not surprised by the lack of interest. "A lot of people my age, who grew up collecting comics, are trying to sell their collections now," says Maroney, who works in IT support for Piper Jaffray. "But there just aren't any buyers anymore."
SERIOUSLY, KICK ASS IS HAVING TOO MUCH OF AN EFFECT
A prosecutor recently asked the Circuit Criminal Court of Williamson County Tennessee to instruct another lawyer — named Drew Justice (really) — not to refer to her as the "government" any longer. That word, the prosecutor argued in a motion, "is used in a derogatory way" meant to "inflame" and cause "dislike" in the jury.

Justice responded — in a formal motion — with the suggestion that, if the court will be allowing attorneys to pick their own titles, he'd prefer to lose the designations of "lawyer" or "defense attorney," and be known instead as "Guardian of the Realm" or "Defender of the Innocent."

When being addressed by name, the Guardian of the Realm wrote in his court filing, he'd like to be called "Captain Justice".

…

"I always did feel like Captain Justice would be a good superhero name," says Justice, who practices in a Nashville suburb — he has, perhaps, the best law firm name in history for a criminal defense practice: Justice Law Office — and that he does usually try to make his filings amusing, but "they are usually not quite as silly."
ACTIVISTA
Jeff Lemire creates a new teenage Cree character for the upcoming Justice League Of Canada, inspired by the 15 year old activist Shannen Koostachin.
In two weeks, Lemire said he'll visit schools in Moosonee and Moose Factory to talk to students.

He's organizing a contest in which students will suggest new super powers for the character.

"There would be the cultural strengths," he said of the character. "The family ties, the knowledge of the land, the rich, rich symbolism of the Cree on James Bay."
BOTH SIDES ARE PRO CARTOON
As the ACLU uses cartoons to challenge pro life legislation in the USA, but pro choicers ALU use a clip of the same cartoon to fundraise for the opposite.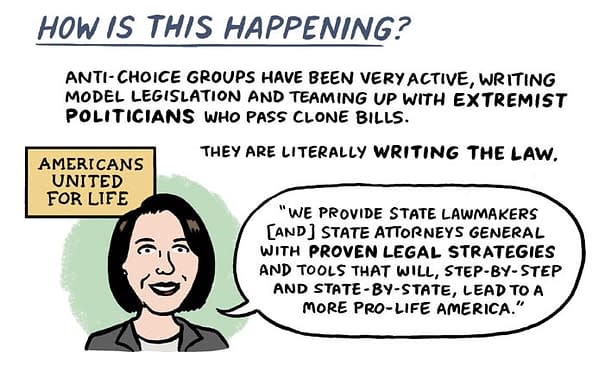 iVIZ
Viz USA have brought their collection of 1600 graphic novels to the iBookstore.