From The Mona Lisa To Banksy – The Electric Sublime At New York Comic Con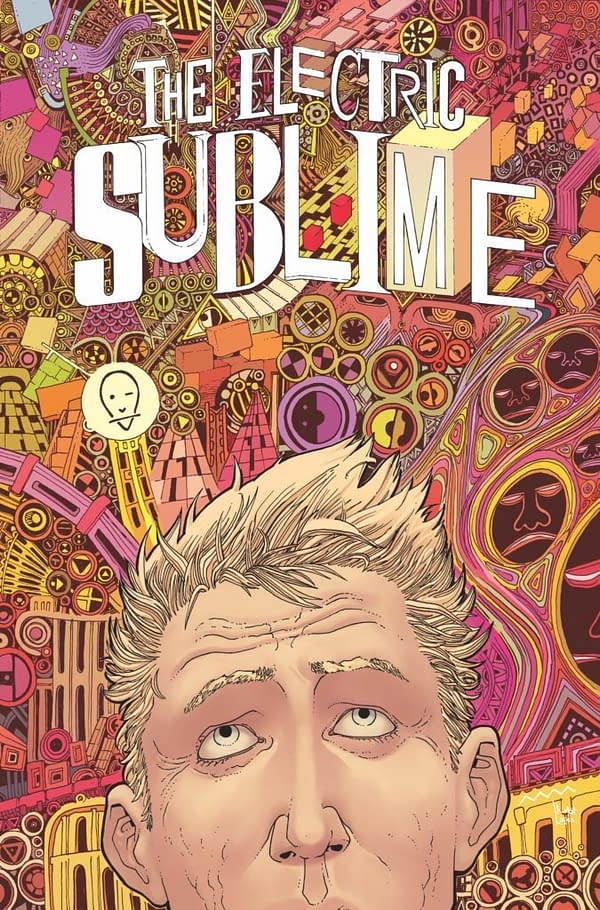 By Jason Borelli
Among the many, many books debuting at New York Comic Con this year was The Electric Sublime from IDW Publishing. Con-goers got a chance to get an advance look at the collaboration from W. Maxwell Prince (Judas: The Last Days) and Martin Marazzo (The Great Pacific, Snowfall, Nighthawk) before it hit comic shops on the following Wednesday. Bleeding Cool talked to the Brooklyn writer and Argentine artist about their offbeat four-issue miniseries.
Bleeding Cool: What is The Electric Sublime about?
W. Maxwell Prince: The Electric Sublime is about art and art history. In the simplest terms, it's about a guy named Arthur Brut who has the ability to jump into paintings and inhabit [their] world. He works with Margot Breslin to fix some problems that are going on in paintings that are causing disastrous effects in the real world.
BC: Where did you come up with the idea for the book?
WMP: Well, I've always been an art history fan. I spent a lot of time in museums, reading about art and thinking about art. At some point, it struck me that a comic should be made, it being a form of art itself. About someone that maybe interacts with art in ways greater than us humans are able to.
BC: How did you get involved with The Electric Sublime?
Martin Marazzo: Will contacted me. I suppose he saw The Great Pacific [WMS confirms this] I [found] the concept enchanting instantly.
WMS: I made a list of three people whose work I liked that didn't currently have work out. It was like, "Why aren't they doing more work?" Martin was the first person I reached out to. Also, I figured that I would have to wait for him to respond, but he responded immediately and got the concept. We kind of hit the ground running, and we worked things to get there pretty quickly.
BC: Was it difficult to work with such a great distance between the two of you?
MM: I mostly work by e-mail. I do not even do Facetime or Skype with the writers I work [with]. I prefer to write in e-mail because it's better for me for the language. I'm always afraid that with Facetime or Skype, I should be correcting what I'm saying because pronunciation with me is so difficult.
WMP: You're fine.
MM: I know I did fine . . .
WMP: Better than me.
MM: You speak English better than I speak Spanish [WMS laughs], but that's not enough. I do not get used to the language that well. Sometimes, it's hard to understand.
BC: Did you pursue art history in school?
WMP: I don't think I declared, but I had an art history minor. I wound up having a lot of minors. I spent a little more time at [Rutgers] than the average joe. I took a lot of history. Most people, I think, weren't big fans of the classes. They were pretty rigorous and not very easy, and they made me like them more.
BC: Are you going towards "fan favorite" art, or that which is less mainstream?
WMS: The hope is to do both. The Mona Lisa is a really good touchstone for art history that everyone can recognize and understand very quickly that is a classical work of art. The hope is that if we are given enough of a landing strip for The Electric Sublime to touch on major works of art that a lot of people know, and maybe explore some more "under the radar" artists . . . maybe the works of Banksy and lesser-known street artists and lesser-known classical artists. For the first arc, for the most part, it's kind of mid to high in terms of the level of mainstream recognition of the pieces.
BC: What are your favorite works of art and artists?
MM: "The Scream" is one of those.
WMP: That may or may not appear in issue #3.
MM: I like Picasso very much. Mostly modern art. I do not like classical art so much.
WMP: I'm a big fan of Winslow Homer, who was a nineteeth century maritime artist . . . a lot of paintings of men in boats, sailing and fishing. Some of my favorite art is what Martin sends to my in-box [both laugh]
BC: How did The Electric Sublime become a limited series?
WMS: We were contracted for four issues as a sort of litmus test on the viability of the project commercially. People have to come out in decent numbers. It's been announced as a limited series, but if people like it enough, we'll be doing more after issue #4.
BC: How long do you see it running?
WMS: A hundred years. Martin and I will live to a very old age, and make as many issues as possible. The hope is that the market supports it, that it will [be] akin to the likes of something like The Sandman . . . well over fifty issues, with a lot of different pieces and parts that are able to explore out major characters, our smaller characters, characters that haven't been introduced yet, works of art that range the gamut from high to low and across different mediums. The hope is to go for a long time.
BC: What do you hope for the audience to get from your book?
WMP: The Electric Sublime is not just about art, but about making art. I'm hoping that in the way that art is able to open people up in certain ways. Or, at the very least, to get a reader to – even if they're not into art – to get them back to museums and experience the wonders of a true work of art in person.