Full Report from the Crazy, News-Packed DC Batman Panel at C2E2
Bleeding Cool ace reporter Robert Goode is on the scene at the DC Batman panel at C2E2, and he writes in with a full panel report…
The DC Batman Panel at C2E2 started with introductions by Batman Group: Tom King, Joelle Jones, Tony Daniel, Clay Mann, Sean Gordon Murphy, and Tim Seeley. Jamie S. Rich is the new group editor of Batman.
Then, on to discussion of Batman #44, with art by Joelle Jones and Mikel Janin. Tom King talks story. It is connected to 70+ years of stories. Life is crooked and weird — a metaphor for continuity.
"Don't forget, Catwoman is a f***ing burglar!" King said.
Speaking on Catwoman's dress, Jones said her first reaction was: "I HAVE to design that dress." She wanted it to be something that fit the character. Jones designed several dresses and boiled them down to the essence. King jokes about his daughter giving feedback on the dress.
Batman #45 comes out on May 2nd with the return of Tony Daniel after five years. He also inked this issue. Daniel says he had a terrific time with Grant Morrison and that writing it was fun. He wanted to come back and give 100% to the art — he felt there was more to be done.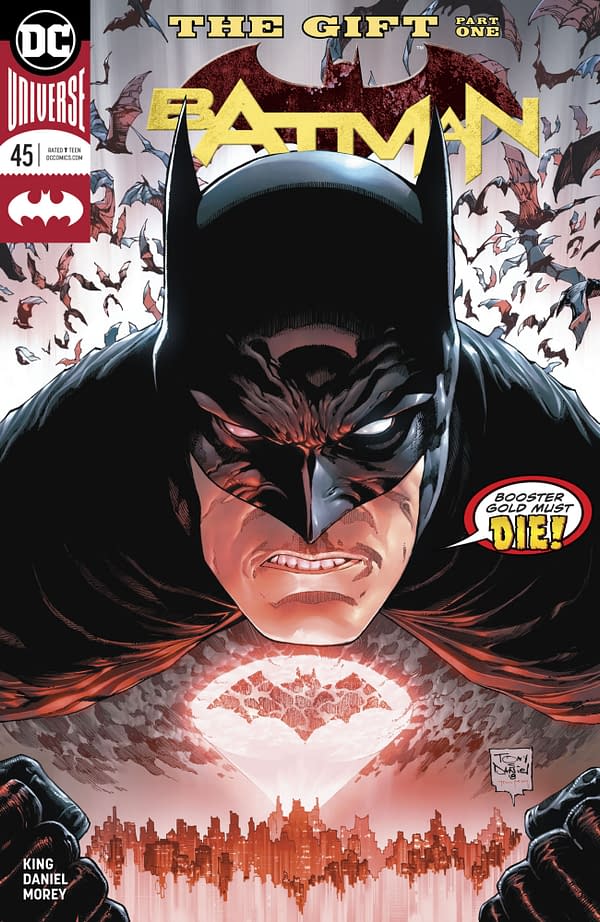 On the next arc of Batman, King said Booster Gold wants to get a wedding gift for Batman and Catwoman, so he saves Bruce's parents! We see a world without Bruce as Batman — and that world sucks. Dick Grayson becomes Batman without Bruce. And WITH Bullets! A less clean Batman. Tony Daniel compliments their amazing colorists. Tom King: "Whatever comes at you is followed by something very different."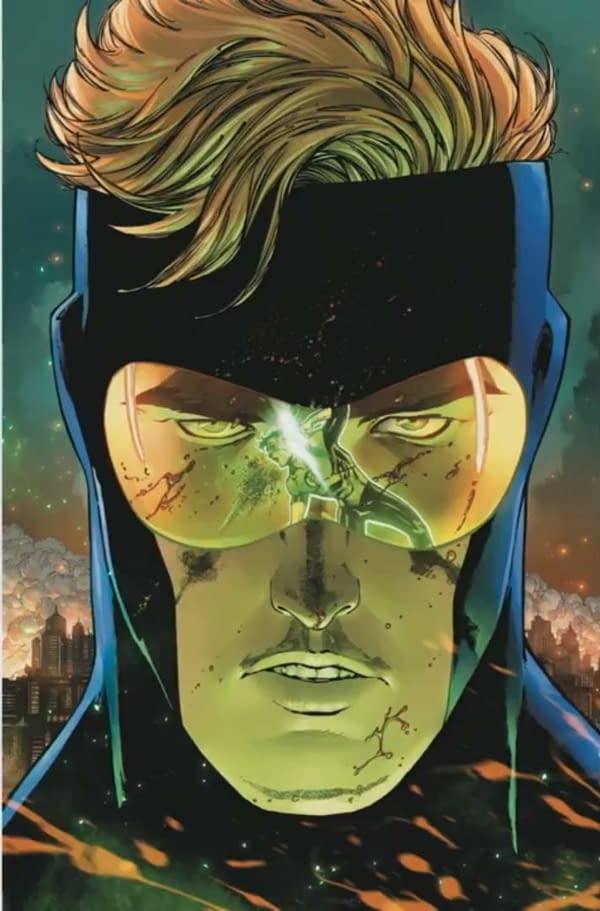 DC Nation #0 by Tom King and Clay Mann is up next. DC Nation will include an eight-page Joker story. Joker is interesting because he doesn't have motivation — he can do anything. Joker and a guy named Roger. They are waiting for Joker's wedding invite. DC Nation also includes Brian Michael Bendis's story, and, according to Tom King, "a lot of Dad jokes."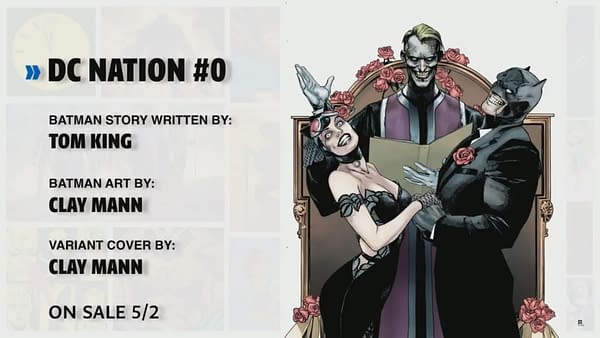 More on Batman spoilers and DC Nation here.
Batman: White Knight #7 by Sean Gordon Murphy is next. What if Joker was cured? Murphy said the book talks about politics but isn't political. Murphy uses variant covers to highlight different characters. Murphy also created Batman in a pink bathrobe. Batman: White Knight #8 will see Roxie Rocket vs the Tumbler Batmobile. More on White Knight here.
Tony Daniel asks Murphy how he does cars. Murphy says that good inkers are important and was inspired by manga. Joelle Jones likes drawing cars because her dad was a mechanic.
Batman: Prelude to the Wedding by Tim Seeley is up next. What if the villains showed up at the reception? Seeley describes the story: The bat-family is reacting emotionally to the wedding while bumping into numerous villains. King and Mann slipped in a double date story by Dan DiDio. The last part is about Harley Quinn going after Joker. She is unhappy that he wants to destroy a good relationship.
Batman #50 by Tom King and Mikel Janin is next. Other artists being brought in include Frank Miller, Jim Lee, and others. Everyone who has worked on the book will be there, as sort of a team celebration.
Joelle Jones will be writing and drawing an ongoing Catwoman series. The crowd went wild! The book comes out in July. Selena has to find a copycat criminal imitating Catwoman. Joelle has read Catwoman for years. Michelle Pfeiffer is her favorite. She likes to portray women as awful people and is excited to make Catwoman awful. More info here.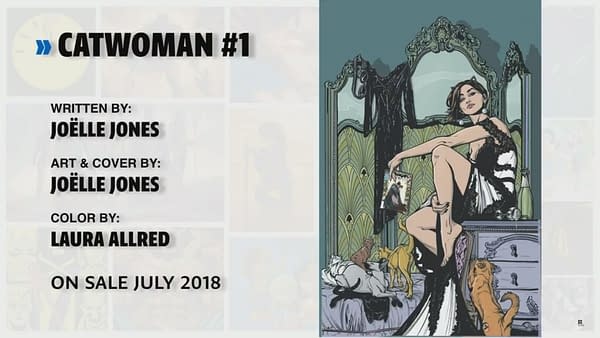 Q&A time:
Will David Finch be back? He has a couple pages in #50.
Will we see the three Jokers? Yes, there are plans in the works.
Will they "One More Day" us? What happens in the [Booster Gold story in the] comic is not continuity.
Will there be more "Murphy-verse" Stuff? Sean is a Batman purist. He doesn't see including Superman, but other characters may appear.
Will Selena's daughter show up at the wedding? To that, the crowd oohs dramatically. Tom says the guest list is the biggest secret in comics right now.
How does Tom King approach writing a "100-issue series"? You can dissect the character and really make it your vision for the story/plot.
What other looks would the panel like to see the characters in? Mann drew Date Night with Clark Kent in the Bat cowl WITH Glasses!
King says he is an "artist's writer." If you make your artist happy, they draw you great things. The best way to make great comics is to hire the right people.
Tim Seeley says he's still awful to his artist, even though he was primarily an artist for many years.
Tom King admits he is a "crappy artist." He loved working with Lee Weeks on Elmer Fudd vs. Batman.
Lee Weeks will be back for #51-52. King says Weeks's art is very grounded. (Elmer Fudd for 50 issues!)
King says the secret of comics is to take what's absurd and make it the heart of the comic.
* * * * *
That's it! Stay tuned to Bleeding Cool for more live coverage from C2E2.