Posted in: Comics | Tagged:
---
Gail Simone and Dan DiDio On Their Love for Atlas Comics
Last week, we learned that Paramount Pictures had signed a first-look deal with Steven Paul's SP Media Group, in the process of acquiring a majority stake in the full library of Atlas Comics.
Now, this is the Atlas/Seaboard from the 1970s, published as Atlas Comics by Seaboard Periodicals in New York, rather than the 1950s' Atlas Comics, a predecessor of Marvel Comics.
And that's very important for some. Gail Simone, writer on Crosswind, Birds Of Prey, Domino Hotshots and Deadpool having a back and forth with former Marvel editor/writer Len Kaminski,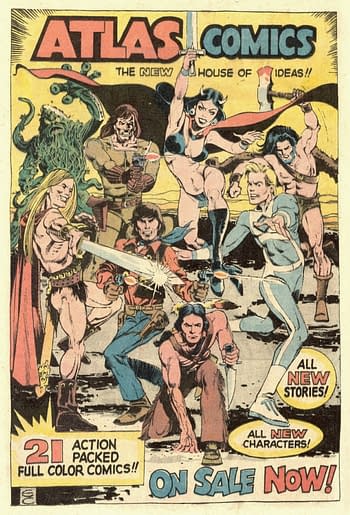 Gail: I am a HUGE FAN of these characters, I bought them as a kid at a garage sale years after the company had folded. If they make comics, I WANT IN.
Len: THE TARANTULA! Bring me THE TARANTULA!!
Gail: The Tarantula was awesome. Atlas was so weird, Marvel had all those monster books which were great, but Atlas had HEROES that ate people. MULTIPLE heroes that ate people!
Len: And TIGERMAN, who, despite expectations, DIDN'T eat people. And PLANET OF THE VAMPIRES…in which…
With DC Comics publisher Dan DiDio joining in,
Dan: Me too. I have a copy of every original Atlas comic with the exception of Binky
(He means Vicki, but moving on – Rich)
Gail: Dan! You have the gothic romance comic? WOW! You have Devilina? Those are the two I don't have! Also, when they rebooted a while ago for a short bit, they asked me to do Grim Ghost and I wanted to SO BAD and I asked for an exemption to my DC exclusive (I felt like a traitor but GRIM GHOST!) and you guys were so nice. You said no, but you were extremely understanding about it. I'm kinda glad in retrospect that it didn't happen, because it would have broken my heart to go through that and only get to do two issues or whatever!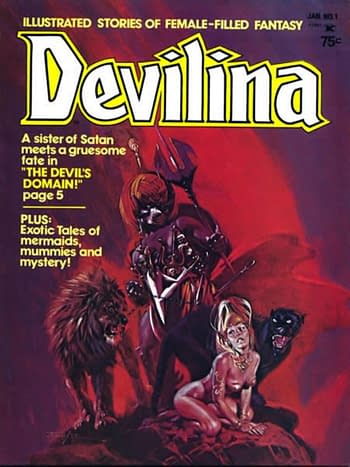 Dan: I have Deviling and Thrilling Adventures. Lol Also, there was a point, many years ago, I almost had Paul Levitz convinced to make an attempt at buying them for DC. Real soft spot for them.
Gail: Dan, if DC ends up with the rights and anyone other than me gets Grim Ghost, I WILL COME FOR YOUR KAIJU COLLECTION. 😉 And Thrilling Adventures was my favorite, I LOVED that book. Spectacular art! Urgh, now I want to reread that book and I have no idea where it is. Was there one issue or two? My memory is fading a bit on this point.
Dan: i think there were only two issues of each magazine, least thats what I got. the company and line has a fascinating story, I'm interested to see which characters they are actually working with.
Gail: You're right, I am remembering being really shocked at how violent the black and white Tiger-man story was!
—-
Let's have some history. It was Marvel Comics founder Martin Goodman, who left Marvel in 1972, having sold the company in 1968 who created Seaboard Periodicals to go up against both Marvel and DC Comics. And who hired Warren Publishing editor Jeff Rovin to edit the colour comic books and Stan Lee's brother Larry Lieber to edit their black-and-white comics magazines, and who took over from Rovin when he left.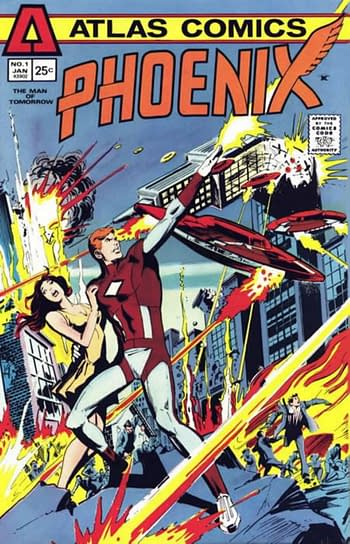 Attracted by high page rates and a promise that artwork would be returned to the creators, titles included talent such as Neal Adams, Steve Ditko, Russ Heath, John Severin, Alex Toth and Wally Wood, as well as newcomers Howard Chaykin and Rich Buckler. But only 23 comics and 5 magazines were published before the company folded in late 1975, with no title lasted more than four issues.
However the characters would live on in inspiration as Chaykin's Scorpion would inspire his Dominic Fortune and Rich Buckler's Demon Hunter would inspire Devil-Slayer, both at Marvel.
Thirty-five years later, Martin Goodman's grandson Jason Goodman announced an Atlas Seaboard relaunch with Ardden Entertainment starting with two #0 issues featuring the Grim Ghost and Phoenix, . With another character, Wulf the Barbarian, they were the stars of a miniseries, Atlas Unified, announced in September 2011 for publication that November.
However, Jason Goodman's Nemesis Group Inc. belatedly discovered that one Jeffrey Stevens had acquired the trademark "Atlas Comics" for comic books in October 2005. Nemesis filed suit in 2010, arguing that Stevens had no demonstrated use of the trademark, and on March 13, 2012, the Trademark Trial and Appeal Board allowed the case to proceed to trial. The Board ultimately ruled against Goodman, and on August 10, 2014, Stevens assigned the trademark to Dynamite Characters LLC. In February 2016, Nemesis Group filed a new Atlas Comics logo at the United States Patent and Trademark Office for a possible challenge to Dynamite's registration.
And now a new Atlas company has been formed with SP Media Group owning a majority and Goodman retaining an interest. The new company has bought the Atlas Seaboard characters and IPs from Nemesis Group, while a number of movie deals have been signed, with the first release planned for 2021 with one release each year, with budgets starting at $60 million. Akiva Goldsman and his Weed Road Pictures has been hired to run a writers room to develop 10 story outlines to select one for further development and production. Paramount Pictures signed on in a first-look contract which includes development, financing, producing and distribution with Paramount holding North American rights and SP Media holding international rights, while further rights exploitation will be done jointly. Goodman is head of publishing and executive producer and Spike Seldin is president of production, supervising development with Weed Road's Greg Lessans and producing with Steven Paul and Goldsman.
And that's where we are. Maybe they might be interested in chatting with Gail? Or even Dan?
Here are the titles that Atlas Seaboard managed to publish…
Comics:
Barbarians featuring Ironjaw (1 issue)
Blazing Battle Tales featuring Sgt. Hawk (1 issue)
The Brute (3 issues)
The Cougar (2 issues, created by Steve Mitchell)
Demon Hunter (1 issue)
The Destructor (4 issues, art by Steve Ditko and Wally Wood, who inked the first two issues)
Fright featuring Son of Dracula (1 issue)
Grim Ghost (3 issues)
Hands of the Dragon (1 issue)
Ironjaw (4 issues)
Morlock 2001 (3 issues; #3 retitled Morlock 2001 and the Midnight Men)
Phoenix (4 issues; last issue retitled Phoenix…The Protector)
Planet of Vampires (3 issues)
Police Action featuring Lomax and Luke Malone (3 issues)
Savage Combat Tales featuring Sgt. Stryker's Death Squad (3 issues)
The Scorpion (3 issues)
Tales of Evil (3 issues; the Bog Beast in #2, Man-Monster and the Bog Beast in #3)
Targitt (3 issues; #2 retitled as John Targitt…Man Stalker on cover)
Tiger-Man (3 issues)
Vicki (4 issues, reprint of Tower Comics' humour title Tippy Teen)
Weird Suspense featuring the Tarantula (3 issues)
Western Action featuring Kid Cody and Comanche Kid (1 issue)
Wulf the Barbarian (4 issues)
Comic magazines:
Devilina (2 issues)
Gothic Romances (1 issue)
Movie Monsters (4 issues)
Thrilling Adventure Stories (2 issues; Tiger-Man in #1)
Weird Tales of the Macabre (2 issues; the Bog Beast in #2)
---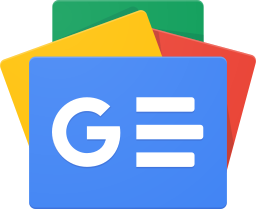 Stay up-to-date and support the site by following Bleeding Cool on Google News today!