Gal Simone has a Writer's Commentary on The Death Defying 'Devil #3, on sale now from Dynamite Entertainment. She writes,
Hey, folks! Dynamite has asked me once again to prepare some comments on this month's issue of Death Defying 'Devil, so here we go!
I hope you're enjoying this book, it's very different from most of my superhero work. For one thing, I have the hero barely talking…this is his talkiest issue yet and he's still almost a churchmouse. I think it's fun in his case because he's an old school brawler who lets his fists do the talking. I know I'm known for being a commie pinko lefty treehugger whatever, but I like a hero who knows when a face needs a good punching. Who doesn't?
Also, I have this thing I do, whenever I work with an artist. I ask them two questions;
What do you love to draw? And…
What do you hate to draw?
Some artists can't stand drawing cars, for others, it's horses. You will always get better work if they are drawing things they ENJOY drawing. For Walter Geovani, one of my favorite artists/collaborators of all time, he's always wanted to draw superheroes. It's his biggest wish. So what do I give my trusted friend? A script about cowboys, followed by a script about old farts in an old farts' home.
I stink. Sorry, Walter!
Still, this is one of my favorite stories I've told. I wanted to see what happened when you took a golden age badass and put him in a Twilight Zone/Outer Limits setting. And what you get is THIS, and man, are we having fun with it. Hope you are, too.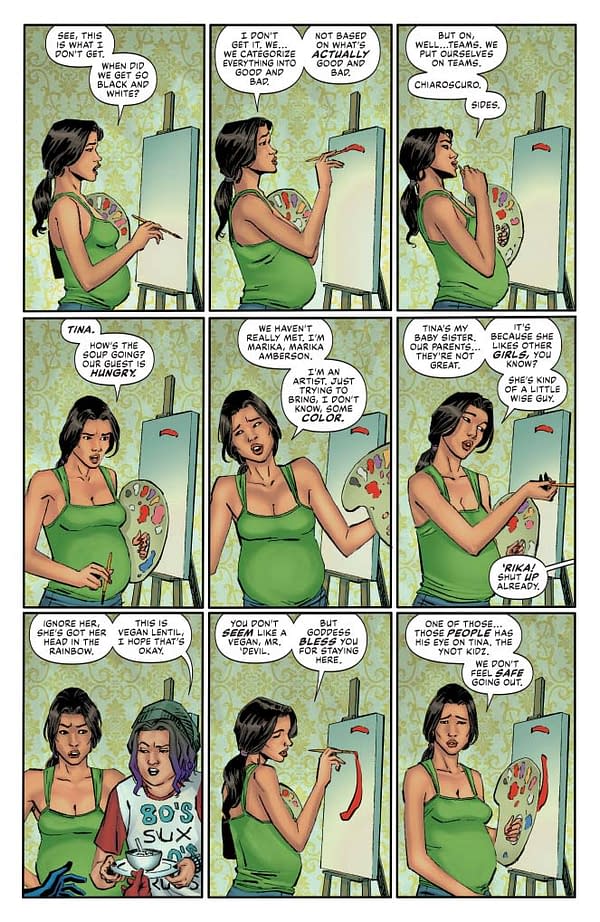 PAGE ONE: Every issue of this book starts with one or more of the tenants talking to an unseen Devil in their own apartment. So many superhero stories are about unimaginable wealth, I really miss stories about people who have to struggle, superpowers or not. My family was poor growing up, I was poor most of my life. Many of us have felt trapped in a crappy/unhealthy/dangerous living environment, and it's not through any moral failing, it's because we were poor. This is about that, quite a lot. I'm not blaming the poor people and I'm not blaming the wealthy in this story, it's just a scale, and these people are on the low end, and for them, it sucks.
PAGE TWO: It's fun, but when I pitched this book, I don't believe I mentioned that most of the issue, the hero would be an old guy in his underpants.
PAGE FOUR: I was a bit leery about this because I know elder care facilities get a bad and mostly undeserved rap, but as events are being manipulated, we are showing a legitimate concern, that of elder abuse.
PAGE SEVEN: I like writing bad guys. But this hits a bit close to home. In my old job, I had had a few clients (I used to be a hairdresser) who had been victims of elder abuse, and it was solidly uncomfortable to write these scenes. Welcome to comics, you say, and it's true…sometimes the bad guys get to you. I had nightmares for days after writing the Joker issues of Batgirl. It happens.
PAGE TEN: Capes are, indeed, kinda stupid.
PAGE ELEVEN: Pardon me, but underpants or not, this is one of the most badass pages I've ever written.
PAGE TWELVE: There's a lot of talk out there about 'toxic masculinity' and such, but there are wonderful kinds of masculinity as well. Kinds worth celebrating I grew up in a farming/fishing community, and a lot of those guys, who work hard jobs all day, would have little use for a guy like Derek. "You got a lotta mean in you, son. Think that makes you a man, do you?"
PAGE FOURTEEN: Just because you're old don't mean you're gonna stand for a lot of garbage.
PAGE SEVENTEEN: Consider the girl a teeny Rod Serling.
PAGE NINETEEN: I love his response here. Sometimes, the characters really do tell you what they want to say.
PAGE TWENTY: No, I did not have "Devil uses bedpans as boomerangs' in the pitch document.
PAGE TWENTY-ONE: And next issue, IT ALL STARTS TO COME TOGETHER.
Thank you for joining us on this weird adventure!
Enjoyed this article? Share it!