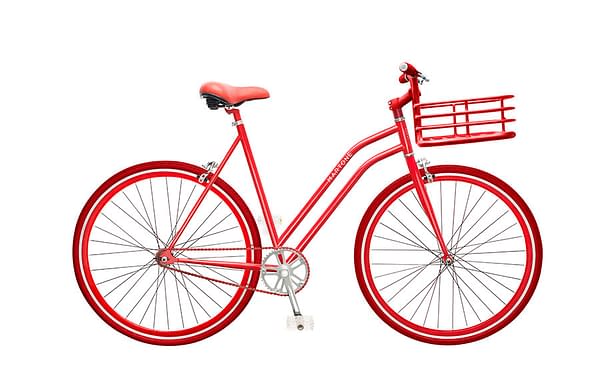 It's a line from the end of The Doctor Dances from Christopher Eccleston's time on Doctor Who, as written by Steven Moffat.
Rose Tyler: You, beaming away like you're Father Christmas!

The Doctor: Who says I'm not, red-bicycle-when-you-were-twelve?

Rose Tyler: What?
When Russell T Davies got the greenlit to make Doctor Who, he commissioned his mentor and creator of TV show Shameless, Paul Abbott to write an episode named The New Team with the Doctor, Rose and Captain Jack, to follow The Doctor Dances.
It didn't happen and we got Boom Town instead.
The New Team would have seen Jack discover that The Doctor had travelled in time to manipulate Rose's life before she met the Doctor into being a better companion. Moffat's line from The Doctor Dances is the only remaining nod in that direction, as Abbott was unable to work on the script due to scheduling conflicts.
So what about that Red Bicycle? It has featured a number of times in fanfic...
… but now Gary Russell, who worked on the show then and since, is writing an illustrated Ninth Doctor story for The 12th Doctors Of Christmas anthology from Penguin/Puffin, called The Red Bicycle, described as "The Doctor faces alien terrors and some very human problems as he tries to get Rose the perfect gift in time for Christmas Day." Oh and he also gives us a Sixth Doctor reference to The Pogues and Kirsty McColl for Christmas with Fairytale Of New New York.
Here are the full writing credits for the book, out in early October.
FIRST DOCTOR   All I Want for Christmas  By Jacqueline Rayner
Vicki tries to recreate a magical 1960s Earth Christmas for Barbara and Ian.
SECOND DOCTOR  A Comedy of Terrors By Colin Brake
The Doctor, Jamie and Zoe take part in a pantomime on a spaceship, revealing royal subterfuge and a concealed Slitheen.
THIRD DOCTOR The Christmas Inversion By Jacqueline Rayner
Harriet Jones' distress call from 'The Christmas Invasion' turns out to have attracted more than one Doctor.
FOURTH DOCTOR Three Wise Men By Richard Dungworth
During their forty-five minutes on the dark side of the moon (Christmas Eve, 1968), the Apollo 8 crew run into the Fourth Doctor.
FIFTH DOCTOR  Sontar's Little Helpers   By Mike Tucker
The Fifth Doctor, Tegan and Turlough answer a distress call from a winter planet's supply ship and are ambushed by a battle-hungry Sontaran.
SIXTH DOCTOR  Fairy Tale of New New York   By Gary Russell
A scary adventure with Catkind nuns, set on a spaceship where it's always Christmas.
SEVENTH DOCTOR  The Grotto   By Mike Tucker
Alien escapade with the Doctor and Ace, set on the Christmas floor of Macy's department store in New York.
EIGHTH DOCTOR  Ghost of Christmas Past   By Scott Handcock
The Doctor receives a belated Christmas message from Susan, giving him new hope just as the Time War is about to begin.
NINTH DOCTOR The Red Bicycle By Gary Russell
The Doctor faces alien terrors and some very human problems as he tries to get Rose the perfect gift in time for Christmas Day.
TENTH DOCTOR Loose Wire  By Richard Dungworth
The Wire is let loose around a 21st century home on Christmas Day, making great use of all the latest digital technology.
ELEVENTH DOCTOR The Gift  By Scott Handcock
With the help of a young girl named Maisie, the Doctor teaches an alien planet the true meaning of Christmas.
TWELFTH DOCTOR  The Persistence of Memory   By Colin Brake
The Doctor takes a young mystery-enthusiast named Clive to Loch Ness for an adventure involving the Meddling Monk.
Enjoyed this article? Share it!