Posted in: Comics | Tagged:
---
Gendercrunching Quarterly, DC and Marvel Comics, Spring 2018
By Tim Hanley

The spring has brought some changes to the Big Two. While DC still boasts the higher percentage of female creators, their totals took a slight dip after a strong winter run as Marvel began to crawl out of the hole they've dug over the past while.
DC COMICS
DC's female creator total took a small step down during the spring months, though their totals remain decent relative to their recent history. From April through June, DC released 228 new comic books featuring 1998 credited creators, 1670 men and 328 women. Let's take a look at their combined spring stats: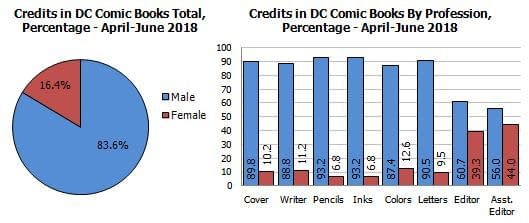 The publisher's overall percentage of female creators fell 0.7% from their winter total, hardly a disastrous decline after last rounds' gains. Everything on the creative side of the chart was down apart from female letterers, who ticked up one percentage point. Female cover artists and writers fell about the same amount, but there was a 2 point drop for interior artists and a 5 point decline for colorists. The editorial side of the chart went up by about 4 points in each category, but it wasn't enough to counter the losses.
The monthly totals for female creators were more inconsistent than we usually see at DC, but they show some interesting trends: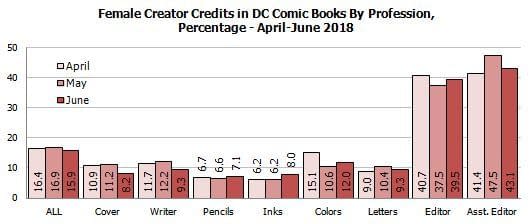 June was the lowest month of the three, and we can see that by category with noticeable drops for female cover artists, writers, letterers, and assistant editors. Pencillers and inkers did slightly better in June, but really only rose from "low" to "slightly less low." These interior art numbers were definitely weak across all three months. Nothing is nosediving or taking off, though. Just normal, minor fluctuations. Even the editorial categories, which were somewhat up and down, remained in a solid range. As much as the spring numbers were a step back from the winter totals, the shifts were minimal.
The Past Year at DC: We can see the slight spring drop off here, with totals just a bit below the previous few months:

The spring numbers were better than a majority of months in the year that preceded them, and that's always a positive sign. These numbers move slowly, with lots of ups and down as they go along, so any time the months we're looking at are higher than most of the months that came before, we know that female creator representation is in a healthy spot.
MARVEL COMICS
In a welcome change of pace, Marvel ended their recent skid with three increasingly higher monthly totals. From April through June, Marvel put out 233 new comic books with 2265 credited creators, 1915 men and 350 women. Here are their spring numbers: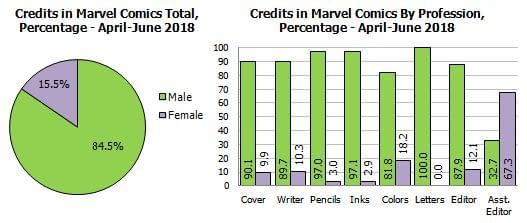 We've got some symmetry this month. DC fell 0.7% from their winter totals, while Marvel is up by the same amount, clocking in at 15.5% female creators overall. Oddly, however, there are more downs than ups by category. Female cover artists and writers both gained less than a percentage point, and assistant editors jumped nearly five. Meanwhile, female colorists and editors ticked down slightly and pencillers and inkers shrunk from their already miniscule levels to something even tinier. This 3% is pretty embarrassing, honestly. There were only 9 female pencillers at Marvel over the course of the spring, and the same number of inkers, while there were 287 male pencillers and 303 inkers. Marvel needs to get their art game sorted.
We can see Marvel's consistent growth in female creators when we break their numbers down by month: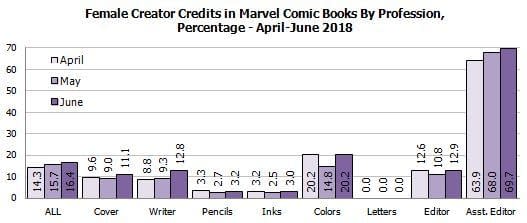 The overall totals moved up a bit each month, and several of the categories followed suit. Female colorists and editors were somewhat wonky relative to the larger trend, and letterers remained at zero, of course. Pencillers and inkers were consistent, but consistently poor, unfortunately. Again, those numbers are terrible. But a bunch of categories are moving up, providing more than enough creators to lift Marvel's overall totals with each successive month.
The Past Year at Marvel: Finally we can see a turn in the chart! This hasn't been a fun one to look at lately, but after months of heading downward, Marvel's starting to crawl their way up:

The spring totals are still low relative to most of the months that preceded them, but hopefully these gains are the start of a trend that will bring Marvel back to their past highs. It's been an interesting three months for Marvel, with few women in their primary, ongoing books but several involved in mini-series and oneshots. It's not the most ideal recipe for consistent representation, but one that seems to be working for them right now.
To learn more about the Gendercrunching statistics project and its methodology click here, and to see the previous stats click here. You can visit Tim at Straitened Circumstances and follow him on Twitter @timhanley01. His books Wonder Woman Unbound and Investigating Lois Lane are available now, and his latest book, The Many Lives of Catwoman: The Felonious History of a Feline Fatale, was released last year.
---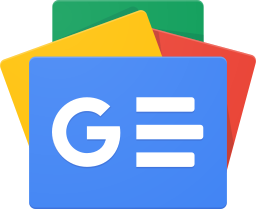 Stay up-to-date and support the site by following Bleeding Cool on Google News today!