Get Your First Look At Grant Morrison's Savage Sword Of Jesus Christ
As previously reported by Bleeding Cool, superstar creator and magickal wizard Grant Morrison, now the Editor-In-Chief of Heavy Metal magazine, has been working on new comics for the magazine's December issue, including Myhtopia with art from Kevin Eastman and Bill Sienkienwicz, and Savage Sword of Jesus Christ, which is, exactly as it sounds, a mashup of Jesus and Conan the Barbarian. Now, Morrison has revealed some pages from the comic for bird-themed entertainment website Vulture, presumably by projecting his astral form to the website's offices and projecting the images directly onto their server hard drives. Morrison also spoke, probably telepathically, with the site about the project. Morrison revealed that he was inspired by a Nazi project called Positive Christianity (no, we're not making that up) while working on The New Adventures of Hitler (that either):
Obviously, I had done a lot of research for that one, and I just came across this interesting idea that during the Second World War, the Nazis had attempted to rebrand Christianity, and rebrand Christ, specifically. Take him away from the gentle and peace-loving character of the Gospels, and to transform him into a Nordic and brutish and violent Messiah. Back then, I thought, "Well, there's definitely a story in there." But it's taken 'til now to do. It suddenly seemed that this was a story that was much more pertinent now than it was even then.
Morrison believes the project is more relevant today, for, uh, obvious reasons:
We're living in a time when it's quite clear how even the most pacifist stories or narratives that one time were a lot more positive, can be perverted to stand in as catalysts for violence and mayhem. Especially now that we live in a world where we've seen that lies can easily be overlooked, and where celebrity culture is more powerful than the truth, and where people can quite happily twist any narrative to suit any new narrative, and almost twist narratives into their complete opposites, which is what the Nazis tried to do with the Gospels.
So, Trump, right?
I mean, we can talk about certain specific blond barbarians, but I'd like it to have wider implications.
Got it.
Check out the preview art, pick up Heavy Metal #284 on December 28, and read the full interview with Morrison at Vulture to learn not-surprising such as: Morrison doesn't own a phone, and barely uses the internet. Well, of course! Why use technology when you can use the mystic power of the mind?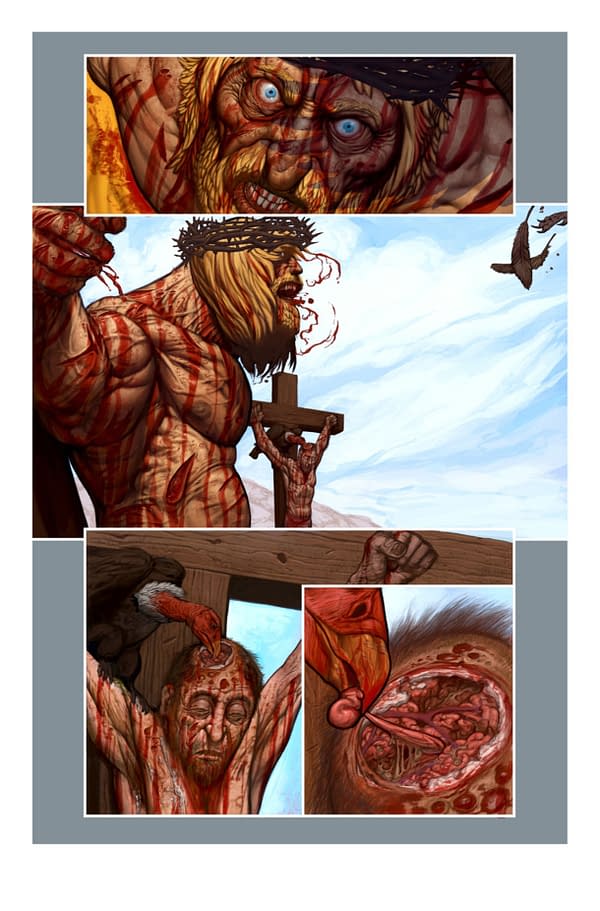 HEAVY METAL #284
(W/A) Various (CA) Luis Royo
Grant Morrison continues his reign as Editor-in-Chief by contributing two new tales to shock and outrage! The first is sci-fi epic Mythopia, written by Morrison with layouts by publisher, Kevin Eastman, and art by Bill Sienkienwicz. The second is a tale of sword, sorcery, and psychopaths in The Savage Sword of Jesus Christ! Also on deck is a new story by Eniki Bilal and the continuation of Salsa Invertebraxa by Mozchops and Zentropa by John Mahoney. The cover is a wraparound cover of Heavy Metal's iconic warrior queen Taarna by Luis Royo. Cover B is a painted cover of Adolf Hitler facing off against a sword weilding take on the Christ by famed painter Ken Kelley (Kiss Destroyer and Love Gun album covers). Cover C… well, that's the best surprise of all! (STL026205) (C: 0-1-0)
MATURE THEMES
TAARNA BY ROYO COVER—Magazine, SC, 144pgs, FC $8.95
HITLER VS. JESUS COVER—Magazine, SC, 144pgs, FC $8.95
COVER C—Magazine, SC, 144pgs, FC $8.95