There are a number of people who have tried to get out of appearing in Bleeding Cool before now. Some have sent lawyers, some have sent bribes, some have sent death threats.
But here's a much more pleasant way of doing it – and actually getting your way as well.
The Comic Book Legal Defense Fund is auctioning off a Get Out Of Bleeding Cool Free card which will allow the winner the chance to remove a story that Bleeding Cool has published, or prevent one specifically from being published.
Also, in a twist, we will allow the winner to use it as a Get Into Bleeding Cool Free card, guaranteeing positive and promotional coverage for the project of your choice.
Either way, it's a one time use, but will come with a CBLDF membership. The bidding starts at $500. Cheaper than a lawyer, for starters…
They are also selling a professional development reviews with Marvel's Tom Brevoort, and Chris Burnham (also available for lunch) and tickets with a meet-and-greet for Saturday Night Live.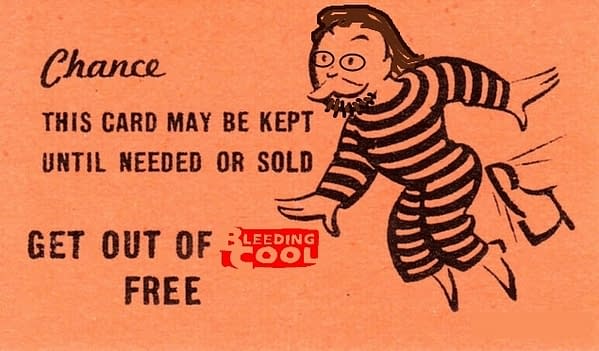 Enjoyed this article? Share it!