I met Aritra Sarkar earlier today at the Safari Comics Festival in Shoreditch. An author from Kolkata, India, he recently launched his debut graphic novel, Goliath of Shenzhen, in London on Aug 9th at the SOAS University. As he explained to me, there are two factors that make this book unique. The story, a parable set in contemporary China, is about the battle between a village and the Chinese Army, hell-bent on its eviction. And it is the world's first 'dual-facing' novel, a book with two covers but a single story told in both prose and graphic forms. Read from one end, it's in prose.  Flip it around, and the same story is told as a graphic novel. Is this is the first of its kind in the world?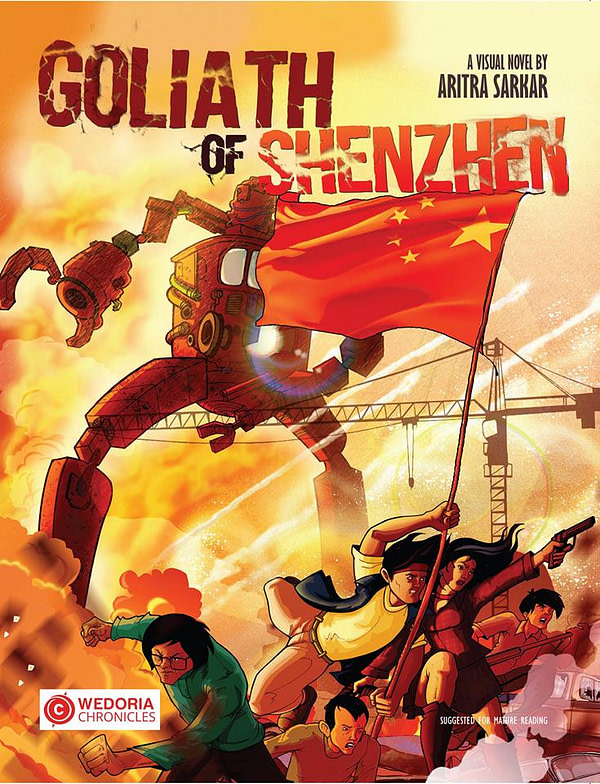 Goliath of Shenzhen is set primarily in HanX, a fictional village located in the outskirts of present-day Shenzhen, China's industrial heartland.  Government excesses over the years has transformed the village from an idyllic, rural community into a sleaze den for fat cats.  Now, even this unholy compromise is threatened when the government decides to evict the villagers and expand a junkyard for auto companies. With their homes and survival at stake, the villagers, led by five brilliant youngsters build a militarised robot out of junk auto parts to stage an audacious stand-off against the mighty Chinese army.
Goliath of Shenzhen explores the possibility of freedom in contemporary China. In a nation that has undergone gut-wrenching changes from state-sponsored development, it raises the question, "What is the right path towards change?"
The book has already been launched this year in India and the Middle East and it does have a certain topicality to it. And is – or rather was – available on Amazon, they are trying to get it back in stock after burning through all available copies. Indian Amazon reviews are pretty strong though…
The publisher is an independent label, Wedoria Chronicles, based in Calcutta, India. Aritra Sarkar is CEO of Wedoria Technologies, a Kolkata-based digital startup.