In a demonstration of avant-garde guerilla publicity techniques, Michael Sweater has been tweeting at Bleeding Cool once every 12 hours until the website publishes an exposé on Good Boy! Magazine, a new "alternative comics Shonen Jump" edited by Sweater and Benji Nate.
https://twitter.com/PleaseKeepWarm/status/1028117658523328512
As if Bleeding Cool, a pillar of the comic book "journalism" community, could be intimidated into providing publicity for a Kickstarter by such childish tactics. Like we would check out the Kickstarter page to learn more, finding the following explanation:
We have been very good this year, and would love your help in creating the first issue of Good Boy! It'll be a 128 pages of all of our favorite things! There really isn't a good place for the kinds of fun and high energy fiction comics we want to see, so instead of complaining on Twitter about it we decided to make our own Shonen Jump inspired serialized magazine for our favorite Alternative cartoonists!

At least 80% of Good Boy! will be always be the sickest comics! In the first issue we will have stuff by Benji Nate, Enrique Guerra, Sean Mac, Miranda Harmon, Michael Sweater, Dan Rinylo, Steve Thueson, Ben Passmore, and more!

From Enrique Guerra's high stakes underground card fighting in the vein of Yugioh!, Michael Sweater's Alien who is a nerd for 1960's earth Television in the way that kid you knew in from high school was obsessed with Japan, Benji Nate's horror comic about a vampire and her alive girlfriend in a revenge fueled rampage inspired by 70's exploitation films, to Steve Theuson's Sci-Fi action comedy about anxiety and depression there are comics for even the most sophisticated of sequential arts enthusiast.
And then later read the update announcing new contributors:
We are stoked to announce four more contributors to issue number one! We will be running work by our friends and great cartoonists Rebecca Kirby and Sam Grinberg, along with fine art spotlights on Dyemond Daniel and Joie Ramagano!
And interviews:
An exclusive never before seen interview with the creator of Peanuts Charles Schulz about candy, web comics, and manga. (We will be performing a séance with a licensed and certified psychic.)
Jenna Pup of the punk band HIRS talking about her amazing other band Jenna and the Pups!
Johnny Pemberton (Superstore, Always Sunny, Adventure Time, Kroll Show) dispensing advice on making the perfect prank phone calls.
Interview with Sleepy Dog and their mid-west emo mixtape.
Our cool friend Josh about all of his favorite sandwiches.
MORE!!!
But if Michael Sweater thinks that bullying us is the way to get coverage, well, this is going to be going on for a very, very long time. And so it has been…
https://twitter.com/PleaseKeepWarm/status/1028312529557237760
Sure, we know about it, and okay, it sounds interesting. Just take a look at the campaign video:
Or a few of the sample pages: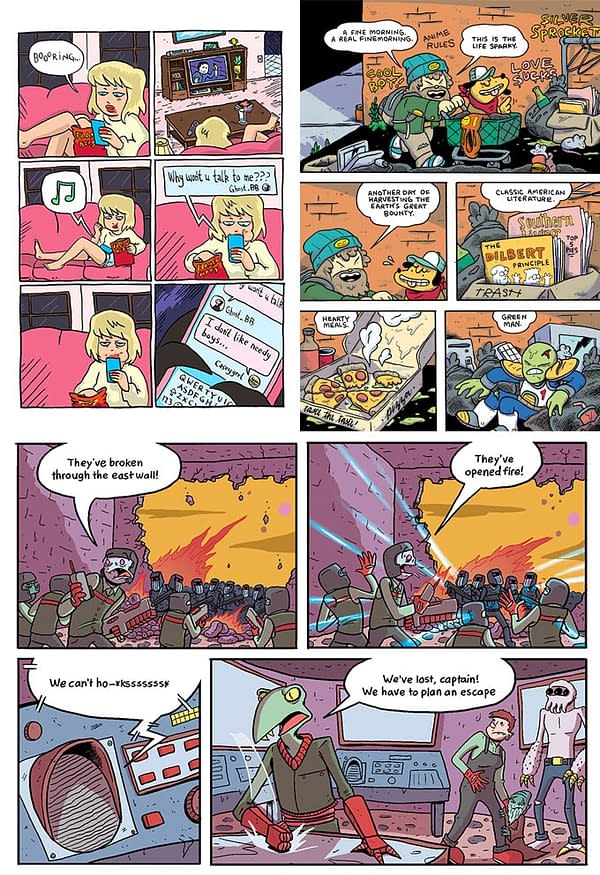 But after this kind of behavior, we couldn't possibly be expected to write about it on our website. That would encourage everyone with a crowdfunded alternative comics anthology to Tweet at us constantly. It would be anarchy! Chaos! The 24-hour clickbait comics news cycle would never be the same again!!!
And yet, Sweater continues to tweet:
https://twitter.com/PleaseKeepWarm/status/1028649563664666624
Readers, it's imperative for the future of our industry that we not encourage this. Definitely do not click here to see the Kickstarter, and under no circumstances pledge your hard-earned money to this project. Specifically, do not pledge $9 for a digital copy, $15 for a paper one, or to any of the various reward levels including both editors tattooing your name on their butts for $1200.
And Michael, please stop tweeting at us. It's really just getting kind of sad at this point.
Enjoyed this article? Share it!