Grant Morrison and Liam Sharp's The Green Lantern Season 2 Drops From 12 to 8 Issues – Is This 5G?
This Wednesday sees the release of the first issue of The Green Lantern Season 2 by Grant Morrison and Liam Sharp. This series has been a real high point in DC Comics' lineup over the past couple of years. But enjoy it while you can. Bleeding Cool reported that Green Lantern would be one of the titles getting a 5G revamp at the end of 2020/beginning of 2011. But could it be a little sooner than that?
Talking to Den of Geek, Liam Sharp told them,
Season 2 ended up having to be shorter than the first season so Grant and I have responded by going all-out nuts with it, and basically having as much fun as it's possible to have on a monthly! The season opener is about as epic as I've ever been, and I pushed myself incredibly hard on that one – I wanted it to be special. Issue 2 is strange and spooky and retro and spiky – kind of a horror-style Doctor Who vibe art-wise, with Grant providing a post-modern head-scratcher of a script. And issue 3 is all smoke and cloud and fog mixed with Top Gun, so I did that one in full color – it's unlike anything else in the run so far. So yes, we're freeing ourselves up to bring you the most creative and wild and, hopefully, fun book we can!
Shorter? How much shorter?
The series was solicited as a twelve-issue series, and that is still present on the Diamond listing, but that has clearly now changed. Sales on the series are still good… could this indicate the date when 5G is meant to begin? Eight months from now?
Out tomorrow…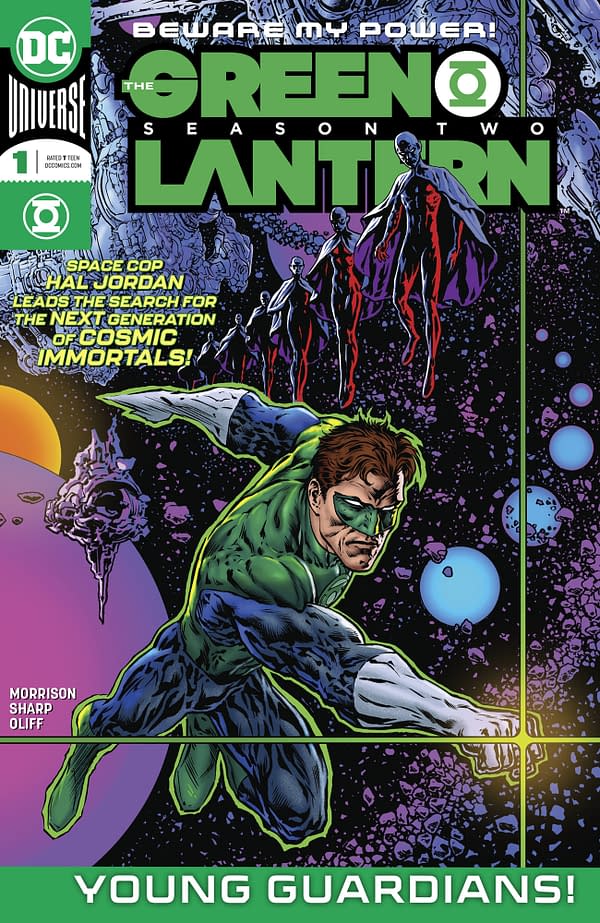 GREEN LANTERN SEASON 2 #1 (OF 12)
(W) Grant Morrison (A/CA) Liam Sharp
The team of writer Grant Morrison and artist Liam Sharp continue their bold new take on the Emerald Warrior in a wild 30-page second season opener! In the wake of the Blackstar incursion, Hal Jordan and his fellow Lanterns must pick up the pieces from that cataclysmic conclusion. Among them is Jordan's next critical mission: search for the next generation of cosmic immortals. Is the universe ready for…the Young Guardians?In Shops: Feb 12, 2020
SRP: $4.99
GREEN LANTERN SEASON 2 #2 (OF 12)
(W) Grant Morrison (A/CA) Liam Sharp
Hal Jordan is stuck on the worst possible planet he can imagine: Earth! Reassigned by the bold new Guardians to patrol his home planet, Hal finds himself a bit bored with his familiar haunts versus the infinite expanse and adventure of outer space. But when an invasion from the dawn of time strikes the planet, can Hal stop…the Ornitho-Men?!In Shops: Mar 11, 2020
SRP: $3.99
GREEN LANTERN SEASON 2 #3
(W) Grant Morrison (A/CA) Liam Sharp
Grant Morrison and Liam Sharp continue their master class in comic book entertainment as Hal Jordan remains grounded on Earth by the Young Guardians. But when U.S. Air Force general "Herc" Stone reenlists "Highball" Jordan for a mission to locate his missing pilots, including Hal's ex Cowgirl, Jordan discovers an alien presence more dangerous than any stormy relationship!In Shops: Apr 08, 2020
SRP: $3.99