Original Sin Annual Plus A Blind Inhuman And His Dog Are Some Of Marvel's Next Big Things
Joe Glass liveblogged this panel. The panel included Executive editor Mike Marts, senior editor Nick Lowe, and writers Charles Soule, Gerry Duggan and Mark Waid will be taking us on this tour of the next big storylines in the Marvel Universe, so stay tuned for live updates from the panel.
The started by discussing the new Avengers NOW titles, including Thor, Superior Iron Man, All New Captain America, Deathlok, Bucky Barnes: The Winter Soldier. Death of Wolverine up next, Wolverine now with no healing factor, popping his claws is advised as not wise anymore. Massive global journey building to huge epic ending with a personal, emotion ending. Soule even put in the script that that finale was tough to write. Marts admits it brought a tear to his eye. The covers were the inspiration for the stories, each issue has a different genre feel, issue 2 being like James Bond-Wolverine.
Announcing the Death of Wolverine: The Logan Legacy (fairly certain it was in the solicits though). Death of Wolverine is just the beginning of a bunch of other amazing things, looking at how characters in Wolverine's world would be be affected by it. Things at end of DoW will directly tie in to The Logan Legacy. Soule on the book end titles, with in between books by different writers like Tim Seeley and Kyle Higgins.
DoW: Captain America & Deadpool up next, Gerry Duggan tells us it was neat when they heard about the stories cooking up in Cap and DoW, and building on the relationship set up in their prvious Deadpool arc, The Good, The Bad and The Ugly.
DoW: The Weapon X Program announced by Charles Soule and Salvador Larroca starting in November, can't tell us too much about it without spoiling the end of DoW. Soule wanted DoW to be a real starting point. This mini explores all the terrible things the Weapon Plus program could come up, Soule promises new super cool characters.
Inhuman issue 3 coming in August, it's finished and at the printers. Promises tons of mystery and intrigue and issue 4 has Stegman coming on. Just two weeks after issue 3, Reader & Fourie, a blind Inhuman character and his dog, a new character but not new Inhuman. Anything he reads becomes real, so people plucked out his eyes, so he now has braille on his costumes which he then reads to activate powers, including 'See' which allows him to see through his dogs eyes. Original Sin next, including a new OS Annual exploring the character who bestowed the responsibility of the man on the wall onto Nick Fury.
The Legendary Star-Lord up next – Humphries getting the crowd infused with energy. Really getting into why Peter Quill is legendary, he's a hero with a heart of gold. New covers including ' Inhuman Smurf' Thanos, the GotG story with Thanos ties into this.
New creative team on Cyclops – John Layman and Javier Garron starting with issue 6. "Really sad that Greg had to step off, but his novel schedule was getting really intense – we'll see him back in the X-world realy soon.", according to Marts. SHIELD issue 1 coming in December by Mark Waid and Carlos Pacheco, Alan Davis, Chris Sprouse and more, introducing characters from the TV show into the 616. They will be done in one stories, and everyone in the MU is a potential agent of SHIELD. Coulson is one of Waid's favorite characters in all the MCU, Skye looks to be in it on that cover, likewise Agent May. Rocket Raccoon and Howard the Duck, the entire Marvel Universe is for them to choose from, each issue also has a different artist….and Leo finally gets his helper monkey.
Duggan coming onto Hulk, whole new direction, tough act to follow Waid. New Hulk persona we're gonna meet called Doc Green, ig change to the Hulk and will be very evident in issue 5. Lots of Hulk on Hulk action. Kind of like an Armor Wars for the Hulk crowd – Duggan. Promises some shocking things at the end of 5 and 6, Duggan was surprised when they were all approved. We'll find out who shot Banner, it'll be very surprising.
During the Q&A: Questions about female lead characters, but not a big female presence in the creative pool? WAID: " I am filled with oestrogen". Duggan says there's been loads of female creators involved, and Waid says there's a strong female editorial line up at Marvel. Always looking for great female creators says Lowe, he's on a quest to get Jane Espenson at Marvel.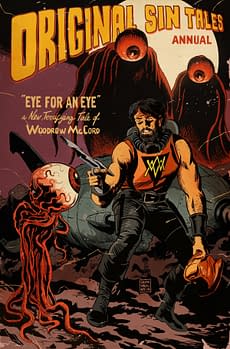 Will the Guardians appear in Star-Lord? HUMPHRIES: the Guardians appear in GotG book, this book is really about focusing on Peter Quill. You'll see a lot of them in the book in new and interesting ways.
Where is Taskmaster? He's still riding that motorcycle away at the end of Deadpool 27….there are plans for him. WAID: i'd be very surprised if he didn't turn up in Agents of Shield. (Interesting that he said the name of the show and not the comic).
When will the two lawyers of the MU gonna meet? SOULE: there's a storyline coming up where She-Hulk goes up against Daredevil in the courtroom…the client he'll keep a secret for now….DD is the prosecutor. Sam Humphries jokes coming out of this is a new series called Law & Order: Marvel Universe.
Would there be a solo series for Silk? Just this morning they announced a new Spider-Woman series, Silk was bitten at the same time and by same spider, and Ezekial hid her in a bunker. This is what sets Morlun off on his mission to kill all the spiders, Spider-Woman will have a lot of Silk in it too. Is there any trouble in going over old stuff in Learning to Crawl? SLOTT: "I'm happiest when I'm dancing between the raindrops of Marvel continuity", it's his guilty pleasure. There are serious plans for Silk.
Why no X-Men panel, will there be one next year? LOWE: nothing against the X-Men so many huge plans that aren't at the announcement stage yet, there will be a panelk at NYCC. We don't put our leading creators on books we're trying to sabotage, said Lowe.
Will Deadpool ever transition to film? Lowe reiterates how Marvel have no control over it. Fox own all motion picture right. Applause to the notion of seeing a DP movie written by Gerry Duggan.
Updated – photos from the panel.