Growing Pangs, an OCD Graphic Novel by Kathryn Ormsbee, Molly Brooks
Growing Pangs is a new memoir-style middle-grade graphic novel written by Kathryn Ormsbee (The House in Poplar Wood ), and drawn by Molly Brooks (Sanity & Tallulah series) to be published in the Spring of 2022 by Random House.
The graphic novel Growing Pangs "follows 12-year-old Katie as she navigates life as a homeschooler, forms a better understanding of the anxiety and OCD she experiences, and learns that growing apart from friends is sometimes a part of growing up—and growing strong."
Kathryn Ormsbee, living in Oregon, writes children's fantasy and sci-fi novels as K.E. Ormsbee, including The Water and the Wild portal fantasy trilogy. The House in Poplar Wood folksy, supernatural mystery, and Midnight on Strange Street, a futuristic sports tale. She also writes Young Adult novels including Lucky Few (Harold & Maude + homeschooling), Tash Hearts Tolstoy (web series + asexual rep), The Great Unknowable End (1970s + The Twilight Zone), and The Sullivan Sisters (Pacific Northwest + family mystery). She is also co-host of creepy slumber party podcast The Creepover with her wife.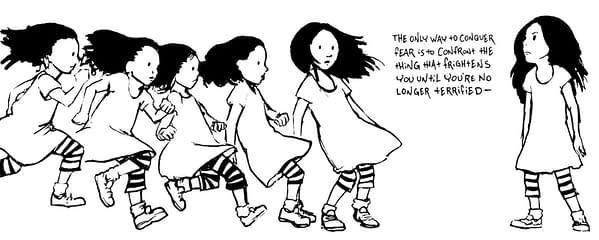 Molly Brooks is a comics creator and illustrator living in Brooklyn whose work has appeared in The Village Voice, The Guardian, The Boston Globe, Time Out New York, The Nashville Scene, The Riverfront Times, The Toast, BUST Magazine, ESPN social, Sports Illustrated online, and others. Her original graphic novel series Sanity & Tallulah was published by Disney-Hyperion, and she drew the Flying Machines graphic novel by Alison Wilgus, part of First Second's Science Comics series. The image above is from Broken Carousels, an OCD book that Molly created over ten years ago, used here for illustration purposes. Artwork from the graphic novel is yet to be seen.
Shana Corey and Polo Orozco bought world rights for Random House. Agents Beth Phelan at Gallt and Zacker Literary Agency and Sara Crowe at Pippin Properties represented the creators respectfully, in negotiations.