The Guardian Vs. Comic Books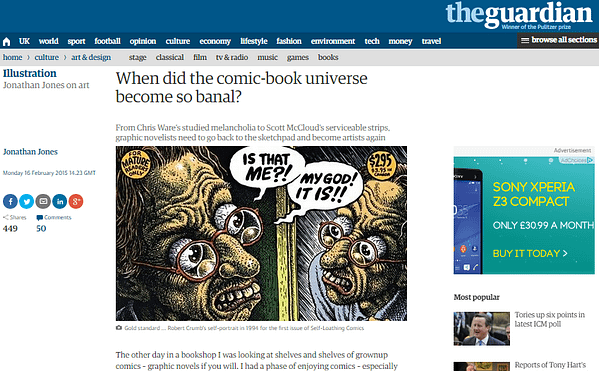 The Guardian newspaper has been a long supporter of the comic book medium and te variety of genres within. They have serialised Posy Simmonds' graphic novels, run special issues to accompany the British Library exhibitions and generally put comic books on the front page of more of their weekend magazines and culture guides than any other English language newspaper, and have refrained from "Biff Bam Kerpows" in the process.
Which is why so many were disappointed by today's Guardian newspaper published an article by their art critic Jonathan Jones entitled "When did the comic-book universe become so banal?"
tl;dr – I like Robert Crumb and Alan Moore, but don't like Scott McCloud or Chris Ware, therefore comics are terrible again.
Naturally, comic book folk chose to disagree,
Though Jones has not always been so blinkered. He seemed to rather enjoy Logicomix, which isn't that far from Scott McCloud. He liked another about Richard Fenyman. And he put Michelangelo's Sistine Chapel up there with League Of Extraordinary Gentlemen.
Maybe someone should just send him a copy of the new Crossed +100?