This week's Thanos Legacy #1 has a story from Donny Cates and Brian Level that looks at Thanos's life and motivations leading up to the moment in Infinity Wars Prime where he met his end at the hands of his daughter, Gamora, now calling herself Requiem and currently wielding a number of Infinity Gems Stones. It also manages to tie this in with his recent appearance in Thor in Hell, and also his appearance in his own series with the Cosmic Ghost Rider and another of his deaths, in the future at the hands of his past self.
Thanos gets around a lot and dies a lot, it seems. But this issue, at least gives Thanos's actions some consequence, explanation, and, I guess, legacy…
But in the back, it also gives Donny Cates the chance to show off his next project. Reunited with Geoff Shaw. And their new big project together, as teased earlier in the year by Bleeding Cool.
A new Guardians of the Galaxy. With, seemingly, every Guardian of the Galaxy in it, in their many iterations, over time.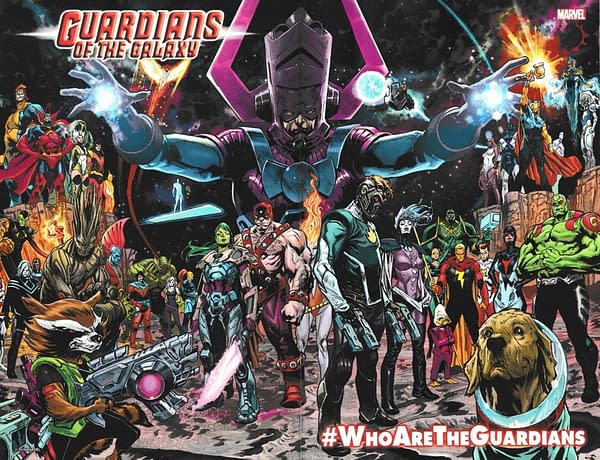 And asking #WhoAreTheGuardians? Well… you have a fair few to choose from. Including a certain Galactus, who recently appeared written by Donny Cates in Cosmic Ghost Rider…
Thanos Legacy #1 is published this week. As for that matter is Asgardians of the Galaxy #1. More on both of those to come.
THANOS LEGACY #1
(W) Donny Cates, Gerry Duggan (A) Cory Smith (CA) Geoff Shaw
"THANOS WINS"…AGAIN?
Rising star Donny Cates returns to the Mad Titan to bring the story bridging the gap between his best-selling "Thanos Wins" and the world-shattering INFINITY WARS! How did Thanos' journey back from the future lead to the events of INFINITY WARS PRIME? Now it can be told! Rated Parental Advisory In Shops: Sep 05, 2018 SRP: $4.99
ASGARDIANS OF THE GALAXY #1
(W) Cullen Bunn (A) Matteo Lolli (CA) Dale Keown
Spinning out of the events of INFINITY WARS comes an epic space opera from DEADPOOL veterans Cullen Bunn and Matteo Lolli!
Angela, the not-so-beloved half-sister of Thor. The hotheaded Valkyrie – and the human who shares her form, Annabelle Riggs. Skurge the Executioner, freshly returned from Hel. Throg, the mightiest frog of thunder. Kevin Masterson, the boy who took his father's mace to become the hero Thunderstrike. And the Destroyer, the Asgardian armor built to take down Celestials – its wielder unknown. The events of INFINITY WARS set NEBULA off on a quest to rule the galaxy – wielding an Asgardian weapon even Thor would fear – and it's up to this team of gods, assassins, frogs and heroes to stop her. Rated T+ In Shops: Sep 05, 2018 SRP: $3.99
Enjoyed this article? Share it!