Guardians Of The Galaxy Tops Advance Reorders
Greetings from the coal face of the direct comics market. Where retailers try to increase their orders of certain comics ahead of sale. Where supply and demand and most accurately reflected, where you can see which books are hot, where new orders are coming in and how retailers are reacting to new, unanticipated desire! And courtesy of stats from Diamond Comic Distributors.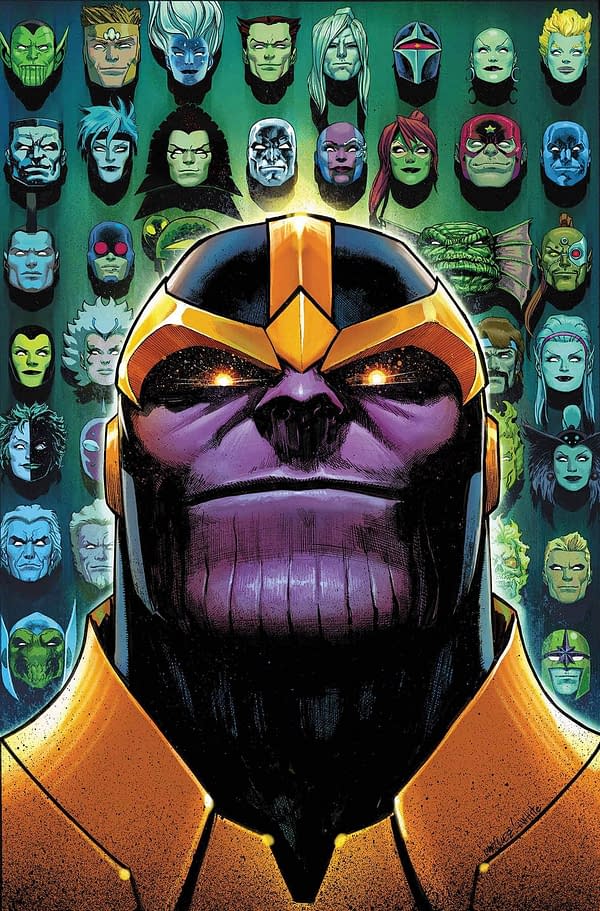 And it's a Donny Cates double this week, with Guardians Of The Galaxy benefitting from a strong first issue performance, with a Dave Gibbons Watchmen variant helping Venom #11 advance reorders as well. Hulkverines, Wolverine Infinity Watch, the final Return Of Wolverine launches as well as a more surprising appearance of Love Romances #1 see Marvel excite the market, with Batman lower down that otherwise., And even Red 5's White Widow does decently as well with a bizarre series of variant covers… and Naomi #2 doesn't do badly either.
TOP 25 ADVANCE REORDER COMICS/GRAPHIC NOVELS/TPS
| | | |
| --- | --- | --- |
| Publication | Price | Publisher |
| GUARDIANS OF THE GALAXY #2 | $3.99 | MARVEL COMICS |
| VENOM #11 GIBBONS VAR | $3.99 | MARVEL COMICS |
| HULKVERINES #1 (OF 3) | $4.99 | MARVEL COMICS |
| WOLVERINE INFINITY WATCH #1 (OF 5) | $3.99 | MARVEL COMICS |
| VENOM #11 | $3.99 | MARVEL COMICS |
| LOVE ROMANCES #1 DAUTERMAN YOUNG GUNS VAR | $3.99 | MARVEL COMICS |
| BATMAN #65 THE PRICE | $3.99 | DC COMICS |
| WHITE WIDOW #2 DEBALFO LENTICULAR CVR C | $19.99 | RED GIANT ENTERTAINMENT |
| RETURN OF WOLVERINE #5 (OF 5) KUBERT VAR | $4.99 | MARVEL COMICS |
| DARK NIGHTS METAL DARK KNIGHTS RISING TP | $24.99 | DC COMICS |
| MILES MORALES SPIDER-MAN #3 | $3.99 | MARVEL COMICS |
| NAOMI #2 | $3.99 | DC COMICS |
| WHITE WIDOW #1 2ND PTG CVR C | $9.99 | RED GIANT ENTERTAINMENT |
| WHITE WIDOW #1 2ND PTG CVR A | $4.99 | RED GIANT ENTERTAINMENT |
| WHITE WIDOW #1 2ND PTG CVR B | $4.99 | RED GIANT ENTERTAINMENT |
| BUFFY THE VAMPIRE SLAYER #1 (2ND PTG) | $3.99 | BOOM ENTERTAINMENT |
| FIREFLY #4 FOC CASE INCV | $3.99 | BOOM ENTERTAINMENT |
| BATMAN #65 VAR ED THE PRICE | $3.99 | DC COMICS |
| VENOM #11 JTC SKRULLS VAR | $3.99 | MARVEL COMICS |
| WHITE WIDOW #2 CONTINUADO FOIL CVR B | $9.99 | RED GIANT ENTERTAINMENT |
| AVENGERS #15 | $3.99 | MARVEL COMICS |
| UNCANNY X-MEN #12 | $3.99 | MARVEL COMICS |
| WHITE WIDOW #2 TYNDAL FOIL CVR A | $3.99 | RED GIANT ENTERTAINMENT |
| AGE OF X-MAN AMAZING NIGHTCRAWLER #1 (OF 5) INHYUK LEE CONNE | $3.99 | MARVEL COMICS |
| AGE OF X-MAN AMAZING NIGHTCRAWLER #1 (OF 5) | $3.99 | MARVEL COMICS |
TOP 25 REORDER COMICS/GRAPHIC NOVELS/TPS
| | | |
| --- | --- | --- |
| Publication | Price | Publisher |
| CONAN THE BARBARIAN OMNIBUS HC VOL 01 | $125.00 | MARVEL COMICS |
| SABRINA CHILLING ADVENTURES TP VOL 01 (MR) | $17.99 | ARCHIE COMIC PUBLICATIONS |
| HELLBOY OMNIBUS TP VOL 01 SEED OF DESTRUCTION (C: 0-1-2) | $24.99 | DARK HORSE COMICS |
| BATMAN WHO LAUGHS #2 (OF 6) | $4.99 | DC COMICS |
| INFINITY GAUNTLET TP | $24.99 | MARVEL COMICS |
| SILVER SURFER BY SLOTT AND ALLRED OMNIBUS HC | $75.00 | MARVEL COMICS |
| SAGA TP VOL 09 (MR) | $14.99 | IMAGE COMICS |
| BATMAN WHITE KNIGHT TP | $19.99 | DC COMICS |
| CONAN THE BARBARIAN OMNIBUS HC VOL 01 DM VAR | $125.00 | MARVEL COMICS |
| HELLBOY TP VOL 01 SEED OF DESTRUCTION (NEW PTG) | $17.99 | DARK HORSE COMICS |
| BATMAN WHO LAUGHS #2 (OF 6) VAR ED | $4.99 | DC COMICS |
| MARVEL TALES VENOM #1 | $7.99 | MARVEL COMICS |
| HELLBOY OMNIBUS TP VOL 03 THE WILD HUNT (C: 0-1-2) | $24.99 | DARK HORSE COMICS |
| YOUNG JUSTICE #1 | $4.99 | DC COMICS |
| MILES MORALES ULT SPIDER-MAN ULT COLL TP BOOK 01 | $34.99 | MARVEL COMICS |
| DARK NIGHTS METAL THE RESISTANCE TP | $24.99 | DC COMICS |
| PAPER GIRLS TP VOL 01 | $9.99 | IMAGE COMICS |
| UNCANNY X-MEN #10 | $4.99 | MARVEL COMICS |
| INCREDIBLE HULK EPIC COLLECTION TP MAN OR MONSTER | $34.99 | MARVEL COMICS |
| DISNEY MANGA NIGHTMARE CHRISTMAS ZEROS JOURNEY TP VOL 01 (C: | $15.99 | TOKYOPOP |
| INFINITY TP | $49.99 | MARVEL COMICS |
| DC MEETS LOONEY TUNES TP VOL 01 | $19.99 | DC COMICS |
| AMAZING SPIDER-MAN #13 | $3.99 | MARVEL COMICS |
| HELLBOY COMPLETE SHORT STORIES TP VOL 01 (C: 0-1-2) | $24.99 | DARK HORSE COMICS |
| MONSTRESS TP VOL 01 (MR) | $9.99 | IMAGE COMICS |