Hal Jordan and the GL Corps #41 Review: All-Out War Between Hal and Zod
Hal Jordan has his Ring back, and that means it's time for him to go one-on-one with General Zod himself. This is it: the fight to save the Green Lantern Corps from the murderous Kryptonian.
Occasionally, these plots manage to be succinct, don't they? Of course, there is a little more to it than that, but that would be spoiler territory.
In any case, the largest portion of this comic is an epic battle between Green Lantern Hal Jordan and General Zod, and it is indeed epic. Hal throws all of his willpower and creativity into battling Zod, and he is barely able to stay ahead of the immense power of the Kryptonian warlord. It's a fun ride and greatly satisfying.
That ending twist—if that's the right word for it—does take some of the catharsis out of it. However, it does have some interesting implications for future issues of both this comic and possibly some Superman books. The final note which concludes the comic is surprisingly ominous and has its own concerning implications.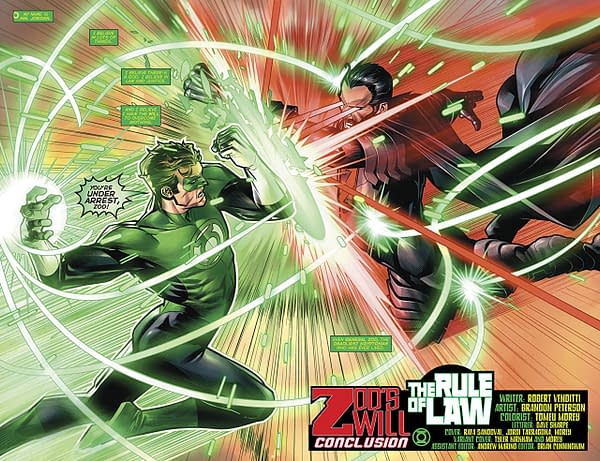 Brandon Peterson takes over for this issue, and he brings the battle to brilliant life. Every blow, every construct, and every energy blast are given weight and power. The style coincides well with Rafa Sandoval's work of the previous installments. The faces can look oddly blocky and geometrical at times, and some expressions come off as a bit goofy. Those moments are relatively few, but they do stand out. However, the action looks great enough that the drawbacks are mostly forgivable.
Tomeu Morey's color art continues to be brilliant, giving the book plenty bright greens contrasted by harsh red and deep black.
Hal Jordan and the Green Lantern Corps #41 is a high-octane and interesting finale to "Zod's Will." The fight is cathartic, and the ending is ponderous. Robert Venditti does it again with this one. Give this one a read, it's highly recommended.