Harold Sakuishi Manga Series 'BECK' and 'Seven Shakespeares' Debut Free on ComiXology Unlimited
Kodansha is releasing two new manga series as part of ComiXology's Originals line, the companies announced in a press release today. Both BECK and Seven Shakespeares by Harold Sakuishi are available to purchase on ComiXology and Amazon, and subscribers to ComiXology Unlimited, Kindle Unlimited, or Amazon Prime can read the first 14 volumes of BECK and the first four volumes of the ongoing Seven Shakespeares for free. This release marks the first time Seven Shakespeares has been translated to English and the first time for BECK in its entirety.
More info on the series is below. You can read them now on the Amazon-owned digital comics platform of your choice.
BECK
BECK is the story of fourteen-year-old Yukio Tanaka. He has no hobbies, bad taste in music, and his shy and neurotic personality make him his own worst enemy. Little does he know that his life will be forever changed when he meets rocker Ryusuke Minami, an unpredictable sixteen-year-old with a cool dog named Beck. Ryusuke inspires Yukio to get into music, and the two begin a journey through the world of rock 'n' roll dreams! Harold Sakuishi's highly addictive manga series, that spawned the hit anime BECK: Mongolian Chop Squad, will be completed for the first time in English with comiXology Originals bringing the additional volumes 15-34 in the next year.

Seven Shakespeares
Shakespeare wrote such famous works as Romeo and Juliet, Hamlet, and Macbeth. But who was Shakespeare, the man? Seven Shakespeares unlocks the mysteries surrounding the international literary master. Seven Shakespeares is translated and available for the first time in English exclusively through comiXology Originals.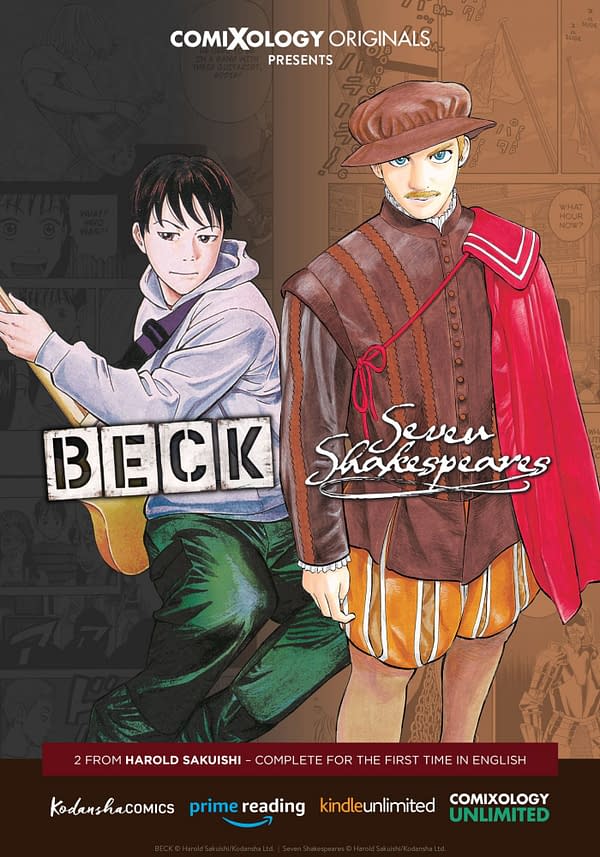 ComiXology is also holding a big sale on Kodansha titles, which you can check out here.