Harrow County #30 Review: Building Up to the Final Magical Showdown
Hester begins a ritual that summons the inhabitants of Harrow County to her pyre. Demons surround her and drum a horrific beat. Bernice readies herself to confront Hester, and she is joined by a reluctant Priscilla. Elsewhere, Emmy tries to disrupt Hester's ritual from afar, but she discovers that her powers have changed since her confrontation with Kammi.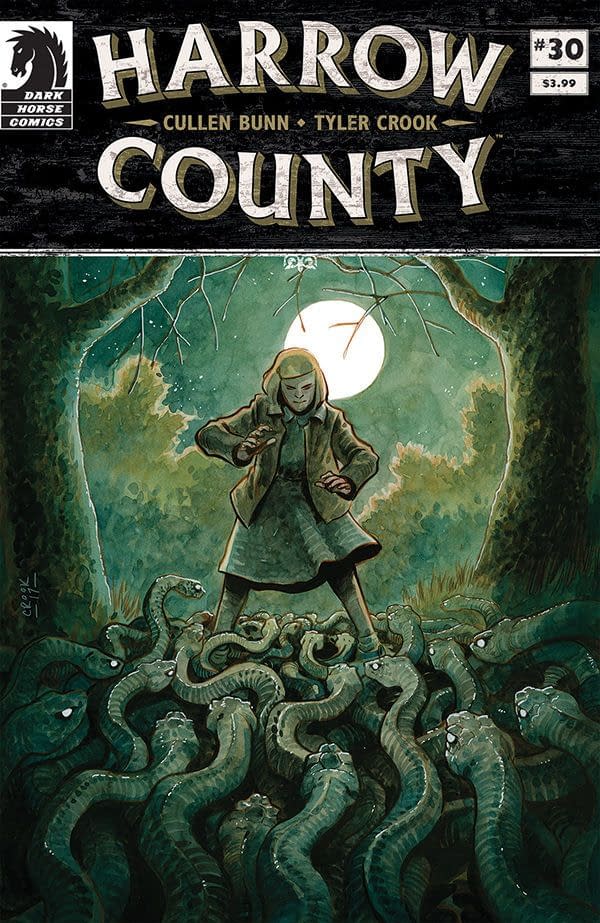 Harrow County continues to build up to the climactic showdown with Hester as Bernice tries to stop the witch before things go any farther. It's a lot of fun to watch Bernice's ad-hoc magic in action against a villain like Hester.
Hester's show of power is both enjoyable and creepy on its own. We already know she is behind the existence of much of the county's residents, and we get to see more of what she can do from summoning demons to building a great green fire.
The build-up is tense and effective. Every part of the comic relates to Hester and her coming duel with Emmy. The stakes are high, and nothing can stop the coming storm of magic.
The follow-up story is appropriately horrific and deliciously macabre this time too, and its art from Cat Farris looks great.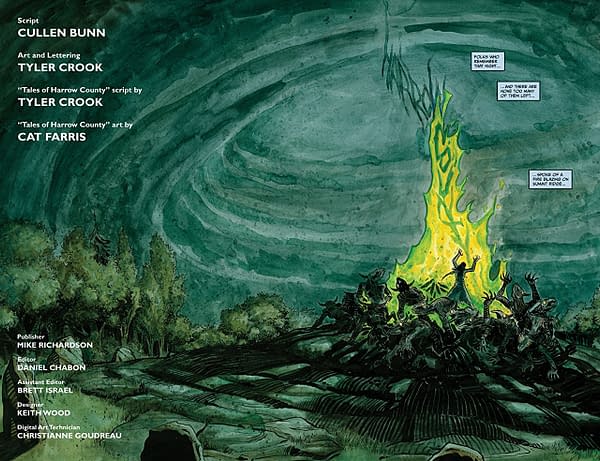 Tyler Crook's artwork on the main story continues to impress with its atmosphere, detailing, and texture. The world looks different from our own, but it still looks like you could reach out and touch the characters, the foliage, and the demons. The supernatural creatures have great and unique designs of their own. Crook's color art is dingy, grimy, and fits the world of Harrow County as greatly as ever.
Harrow County #30 continues its build to the book's highly-anticipated grand finale with a tense and unnerving issue. Hester continues to gather power, Emmy begins to doubt her own, and Bernice tries to stop it all before things get worse. Mix that with Crook's great artwork, and you have a comic I can easily recommend. Check it out.