Hasbro VP Promises New GI Joe Series Won't Replace Larry Hama's Real American Hero
In just a few weeks, IDW will make yet another attempt at launching a new GI Joe universe with GI Joe #1, from the creative team of Paul Allor and Chris Evanhuis. This one sees a new take on the GI Joe mythos, at least according to Hasbro V.P. of Global Publishing, Michael Kelly. In an interview conducted by IDW and sent out as a press release, Kelly reveals the origins of the new idea:
We've been wanting to bring a new G.I. JOE story to life for quite some time now, but I was looking for a fresh angle that would honor the origins and essence of the brand, while at the same time providing a story that would be relevant to a new generation of readers.

For those of us who grew up during the Cold War, the story of G.I. JOE vs Cobra served as a proxy for the world we lived in, which could certainly be scary at times.

A story about a group of heroes who fought for freedom against what was in many ways a familiar foe rang true for us, and I believe in some ways allowed us to channel the anxiety of living in those times through a grand adventure story.

Today we are faced with new anxieties, in an asymmetrical world where nothing seems to be as simple as a different flag and a far-away nation.

A different world calls for a different story, but still one in which good will ultimately triumph over evil.

As I considered a basis for a new G.I. JOE story, I became aware of an organization during World War 2 that sparked my interest and curiosity: Great Britain's Special Operations Executive (SOE).

This unique organization recruited everyday civilians and turned them into spies, saboteurs and, when required, assassins.

Dropped behind enemy lines in Nazi-occupied Europe, they had to rely on their wits, their training, and their courage to survive and succeed.

Also unique for the time, both men and women served in the SOE. Their actions, though still largely unknown by many people, are credited with shortening the war by as much as 6 – 9 months.

This then became the inspiration for a new G.I. JOE story.

A story about everyday people thrust into extraordinary circumstances, where hope, and the indomitability of the human spirit can overcome the most powerful and well-resourced enemy.

Working from that initial idea, editor Bobby Curnow, writer Paul Allor, and artist Chris Evenhuis developed a slick, exciting story that's new and fresh, while touching upon familiar elements of G.I. JOE.
Ok, that's all well and good. But many an attempt has been made at launching a new GI Joe universe, and while many have been entertaining, only one GI Joe has stood the test of time: the one, true GI Joe, that of longtime writer Larry Hama's GI Joe: A Real American Hero. Will this new series replace that one? Kelly understands why fans who have stuck with that series since the 1980s, through its IDW revival, amidst a world of constant reboots and remakes that attempt to improve on what was already perfect might be concerned. And he went out of his way to allay those fears.
Well, we wouldn't be where we are today if it weren't for the fans of the original G.I. JOE: A REAL AMERICAN HERO comics. Their passion, dedication, and loyalty to G.I. JOE is both inspiring and at times daunting.

And for them particularly I want to make one thing very clear: as long as Larry Hama wants to keep telling G.I. JOE stories, he is more than welcome to as far as I'm concerned.

This new G.I. JOE story isn't meant to replace REAL AMERICAN HERO; it's meant to live alongside it as a separate continuity. So, if you are a huge fan of Larry's run on RAH, you have nothing to worry about: as long as Larry keeps writing you can keep reading.

At the same time, I do ask our fans to recognize that we have a responsibility and an obligation to keep G.I. JOE alive and try new things, in the hopes that we can give a reader today that same experience that our fans had when they first picked up REAL AMERICAN HERO.

And even if it isn't the JOE story for them, I respectfully ask for their support. After all, I'm hoping people will still be enjoying G.I. JOE many generations from now.
Well, alright, Kelly. As long as you keep Real American Hero going, we'll buy whatever GI Joe stuff you publish. But should that sacred covenant ever be broken… we're totally joining Cobra. But since we've got your attention, Kelly, tell us: what are the chances of getting a revival of the 80s Real American Hero cartoon? You know we still need that third season, and all the cool shows are getting revivals these days…
GI Joe #1 is in stores on September 18th.
GI JOE #1 CVR A EVENHUIS
JUL190704
(W) Paul Allor (A/CA) Chris Evenhuis
Tyranny is on the rise as Cobra topples governments and spreads its ruthless power across the globe. In these trying times, desperate measures are taken. The new G.I. Joe program recruits civilian spies and saboteurs: ordinary people, living in occupied territories, who will put their lives on the line to strike back through clandestine but high-impact missions. Join these new recruits as they resist Cobra control, fight to make a better world for all, and find out just what they are capable of.
* Featuring your favorite Joes, alongside brand new characters!
* A new vision of G.I. Joe for a new generation!
* G.I. Joe like you've never seen before!
In Shops: Sep 18, 2019
Final Orders Due: Aug 26, 2019
SRP: $3.99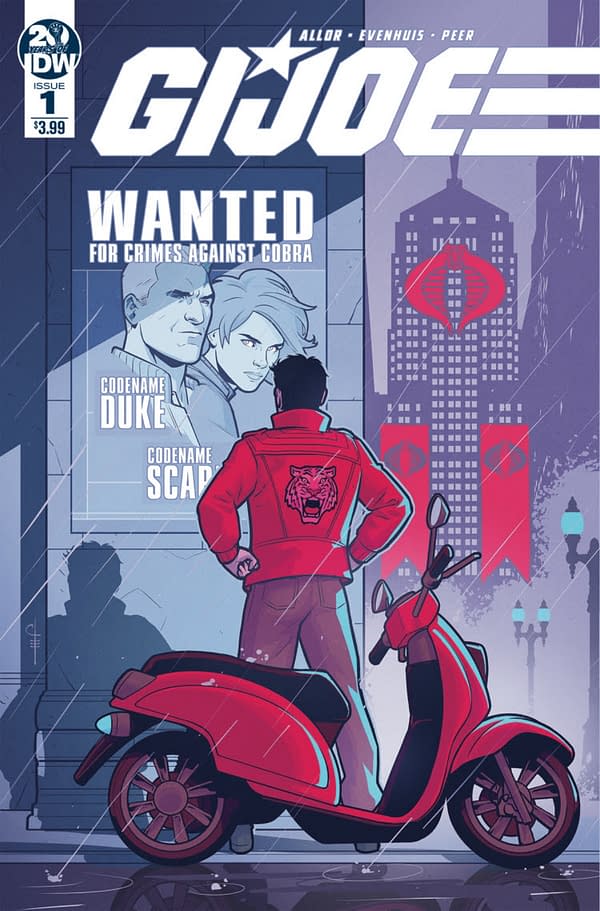 While the next issue of GI Joe: A Real American Hero is out in just a few days.
GI JOE A REAL AMERICAN HERO #266 CVR A ATKINS
MAY190586
(W) Larry Hama (A/CA) Robert Atkins
"SNAKE HUNT" Part 1! When the original Snake Eyes lost his life battling forces of evil, Sean Collins (aka Throwdown) took up the mysterious mantle to deny Cobra a moral victory in their long-running war against G.I. JOE. But Cobra Commander-not realizing the original Snake Eyes' memories and skills are now implanted in the mind and body of Dawn Moreno-has never given up his desire to remove the legendary ninja from his enemies, and will do whatever it takes to make it happen, including kidnapping and brainwashing Sean Collins and making him part of Cobra! Can G.I. JOE save Sean from the dark clutches of Cobra before it's too late?! Written by living legend Larry Hama and featuring the long-awaited return of artist Robert Atkins to the pages of G.I. Joe: A Real American Hero, "Snake Hunt" is a star-studded 10-issue event that will feature EVERY SINGLE MEMBER OF G.I. JOE!
First chapter of 10-issue mega event: "SNAKE HUNT"! Will feature every living Joe from G.I. Joe: ARAH, including never-before-seen origins! Living legend Larry Hama teams with fan-favorite G.I. Joe: ARAH artist Robert Atkins! Cover B for issues #266-270 will be 5 interlocking G.I. Joe: ARAH SERIES A realistic toy homages by artist Jamie Sullivan! A fantastic new chapter in Snake Eyes lore!
In Shops: Aug 28, 2019
SRP: $3.99