How D23 Affected the Comic Book Market on eBay This Weekend – Moon Girl, Moon Knight, Black Knight, Ms Marvel and She-Hulk
You know the rule. Announcing a TV show or movie based on a classic comic character sees everyone go doolally. And that is what D23 has provided so far.
Avengers #47, the first appearance of the modern day Black Knight, Dane Whitman, sold today for $600 in a 9.6 CGC slab with a raw copy going for $230. Odds are this is where the prices will begin thanks to a certain casting of Kit Harington in the role for Eternals. Last month copies were going for around $20.
Moon Girl And Devil Dinosaur #1 has sold for $180 in a 9.8 CGC slab and for $42 raw. though the 1:25 Trevor Von Eeden variant cover has just sold for $140. But it's subsequent, rarer issues that showcased Moon Girl and Devil Dinosaur together more, and established their symbiotic power relationship that are getting greater attention. Such at the 1:25 #3 cover by Paul Pope selling for $150 today.
Savage She-Hulk #1 CGC 9.8 is now a $575 comic book. or $220 raw whereas last month it was around $140 and $40 respectively.
But it was Moon Knight who most benefitted from the news. With his first appearance in Werewolf By Night #32 in CGC 9.0 for $2645. Bjut to be fair that was always a valuable book and has only gone up 20% or so. with an 8.0 selling for $1860 and a raw copy jumping from around $1300 to $1700.
Ms Marvel has also put on the dollars. Marvel Point One featuring an early powered version of the character just sold for $70 raw with a 9.8 selling for $430, a massive jump. Ms Marvel #1 from her own series selling for $60 suddenly.
But it's her first appearances that are really getting attention. Captain Marvel #14, the first appearance of Kamala Khan, just sold for $455 CGC 9.8, and $300 raw.
Her first cover appearance in costume is on the second printing of Captain Marvel #17, when she got all powered up due her Inhuman heritage. selling CGC 9.8 for $1700. With the first printing or selling just now for $75 raw.
Of course later today, in CB Cebulski's D23 Marvel panel (when I shall be fast asleep). Where they will be handing out this advance copy of Marvel Comics #1000 with a D23 exclusive cover by Humberto Ramos, ahead of going on sale in comic stores on Wednesday. And which has already sold copies in advance on eBay for $500.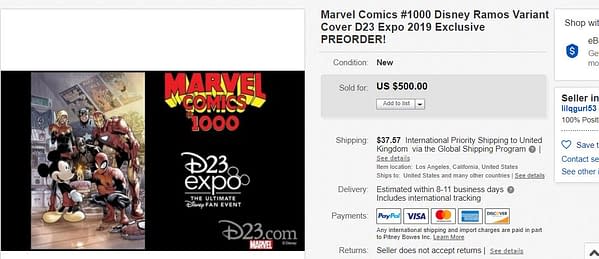 Anyone fancy picking up a copy and reporting back? I'll link to your eBay listing of you do… 8-)
MARVEL COMICS: Marvel 80th Anniversary panel on Saturday, August 24, 5:30–6:30 p.m. PT at Stage 28.