We mentioned Jim Lee's unhealthy addiction to comic book fold out pages and covers at New York Comic Con. And we guessed that he might be behind this new spate of origami announced for the New Age Of DC Heroes titles. And indeed he is involved with each – along with his other DC Masterclass brethren with Andy Kubert, Jim Lee, John Romita Jr, Tony S Daniel, Philip Tan and Kenneth Rocafort.
Anyway, this is how it's all going to look…. and how it's going to foldout for both The Silencer, Sideways, Damage, Immortal Men and The Terrifics. Well, I suppose they can't all be lenticular.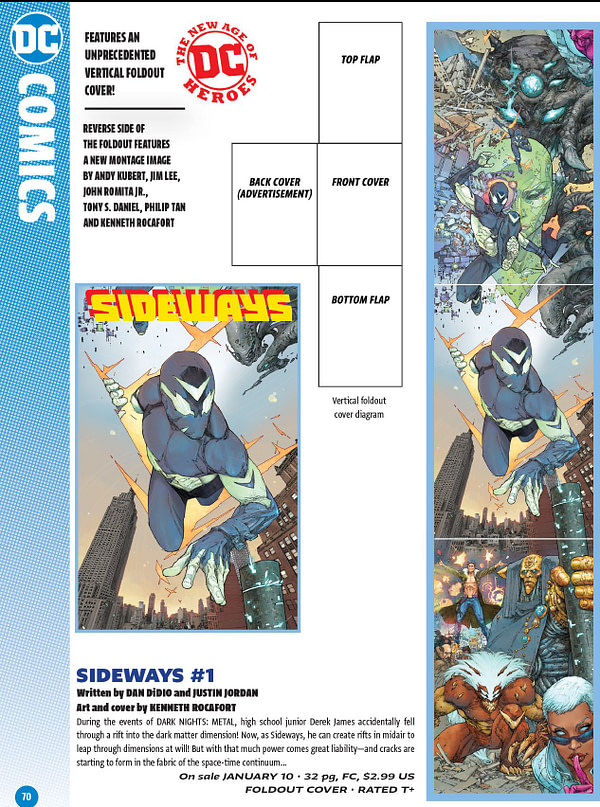 Each cover will fold up and fold down creating a very tall image. And a yet unseen image by Kubert, Lee, Romita, Daniel, Tan and Rocafort, the artists of DC Masterclass titles on a joint image…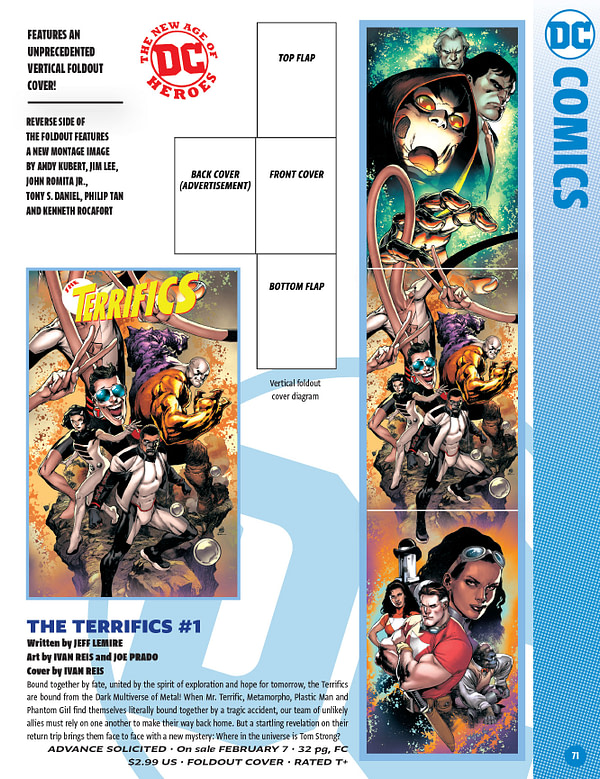 Maybe next time we'll get full foldout vertical comic books?
SIDEWAYS #1
Written by DAN DiDIO and JUSTIN JORDAN
Art and cover by KENNETH ROCAFORT
During the events of DARK NIGHTS: METAL, high school junior Derek James accidentally fell through a rift into the dark matter dimension! Now, as Sideways, he can create rifts in midair to leap through dimensions at will! But with that much power comes great liability—and cracks are starting to form in the fabric of the space-time continuum…
On sale JANUARY 10 • 32 pg, FC, $2.99 US • FOLDOUT COVER • RATED T+
THE TERRIFICS #1
Written by JEFF LEMIRE
Art by IVAN REIS and JOE PRADO
Cover by IVAN REIS
Bound together by fate, united by the spirit of exploration and hope for tomorrow, the Terrifics are bound from the Dark Multiverse of Metal! When Mr. Terrific, Metamorpho, Plastic Man and Phantom Girl find themselves literally bound together by a tragic accident, our team of unlikely allies must rely on one another to make their way back home. But a startling revelation on their return trip brings them face to face with a new mystery: Where in the universe is Tom Strong?
Advance solicited • On sale FEBRUARY 7 • 32 pg, FC $2.99 US • FOLDOUT COVER • RATED T+