Howard Mackie Gets Paid More Per Hour at Zenescope Than DC Comics
I'm currently at MCM London Comic Con, happening all weekend long, and doing what I do best – walking the Comic Village lines, seeing who I can meet and what stories I can find. You literally never know what, or who, you're going to bump into. And today that's happened to include legendary comic book writer and editor, Howard Mackie. You'll know him from Iron Man, co-creating the Danny Ketch Ghost Rider, being Writer X, writing so much Spider-Man and tons more. And currently writing for Zenescope's line of comics, writing Robyn Hood: Outlaw and Jasmine: Crown Of Kings. A smaller publisher than he has sometimes been used to, famous for the most cheesecake covers he, like me, had his prejudices challenged when he discovered that Zenescope have the highest female to male ratio of readers in Western comics.
And while the pay may not be the greatest, he confided to me (and the audience of Bleeding Cool) That when you include all the extra hours writing stories at DC comics that get taken up by meetings with rights and micromanagement, he worked out that he gets paid more per hour writing Zenescope books than he does when he was writing DC Comics titles, even though they have a higher page rate.
He was not a fan of how his DC New 52 Second Wave Comic Book, The Ravagers ended up…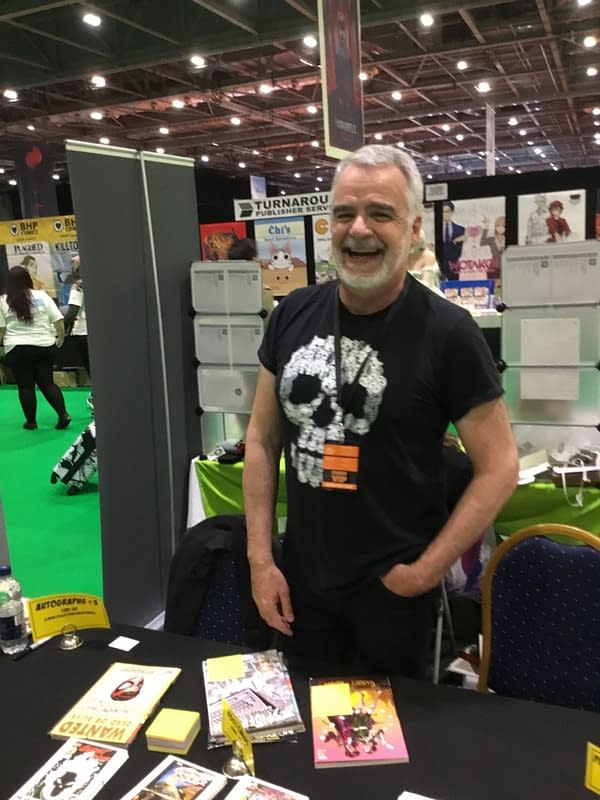 Howard Mackie will be at MCM Comic Con all weekend. He's always up for a chat. And his skull shirt is made up of kittens…