Hungry Ghosts #1 Review: Taps into Deep Cultural History But Not Fear or Intrigue
[rwp-review-recap id="0"]
Some of the most talented chefs in the world are called to serve dinner to a very rich and almost-openly corrupt Russian businessman.
After the meal, he calls together all the chefs and guests for an old Japanese game called Kaidan. The game used to be played by samurai warriors. Each would tell a horror story, then blow out one of 100 candles then look in the mirror to verify that they had not been possessed by the spirits they invoked. The Russian businessman wants to play that with his chefs.
The first story involves a chef denying food to a starving man. The second is a woman cast out into sea for her "harlot" ways and found by pirates ready to ravage her body.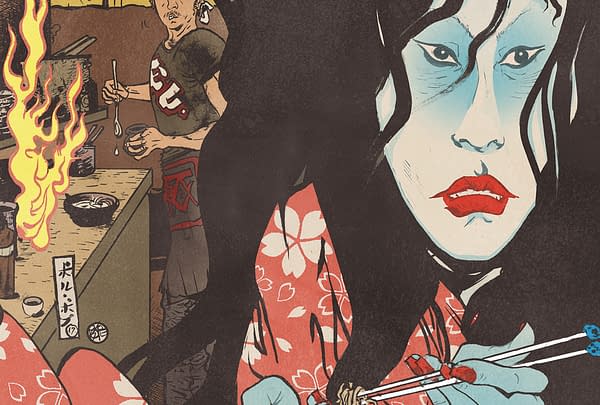 The idea of Kaidan is a good framing for a story of this kind, and the setting in which the Kaidan is taking place has a lot of potential for supernatural happenings as the story progresses. Anthony Bourdain has clearly tapped into his knowledge of the world and various cultures to construct this one.
Unfortunately, the first two stories, titled "The Starving Skeleton" and "The Pirates" aren't interesting or original.
The Starving Skeleton barely qualifies as a story. It is more a setup followed by an immediate payoff. In fact, the setup to this tale gives away the ending you likely already knew.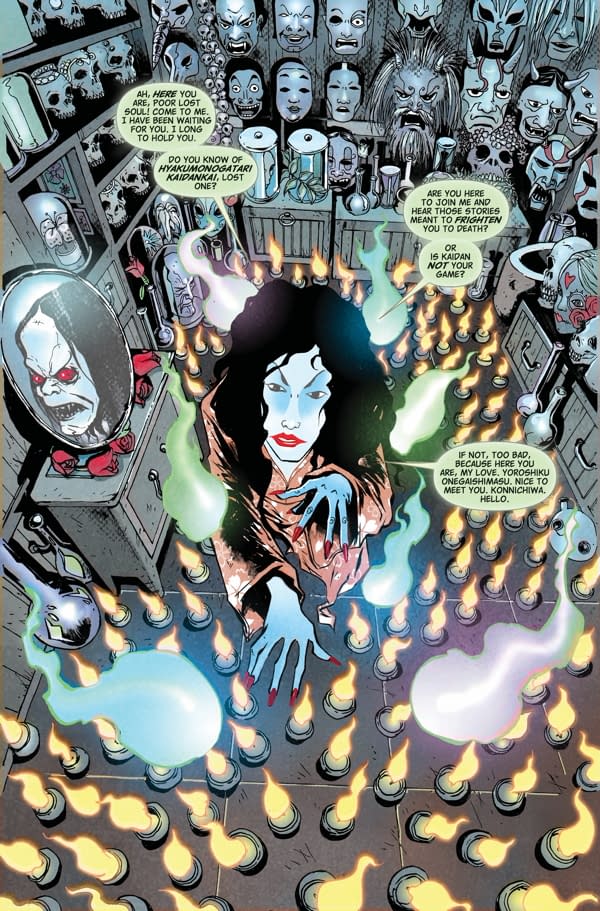 "The Pirates" has an even more telegraphed payoff, even if the story doesn't outright tell you by the end. If you've seen the first VHS film, then you already know how this one goes, though the premise is far older than that.
One gets the impression this first issue is, more than anything, a chance for the artists to have a playground. In that regard, it is a success, as the various artists working on this book get very creative with the visuals. Alberto Ponticelli handles the framing story, and he is very skilled at both overt and subtle horror visuals. He contributes the art to the Starving Skeleton as well, and the payoff is visually creative even though it's very conventional conceptually. Vanesa del Rey gives the art to the Pirates, and that one looks quite good as well. I's payoff does take some unexpected turns at least in terms of her creative visuals.
Jose Villarrubia contributes the colors, and he displays a knowledge of playing with colors to give an unnerving atmosphere and that feeling of dread.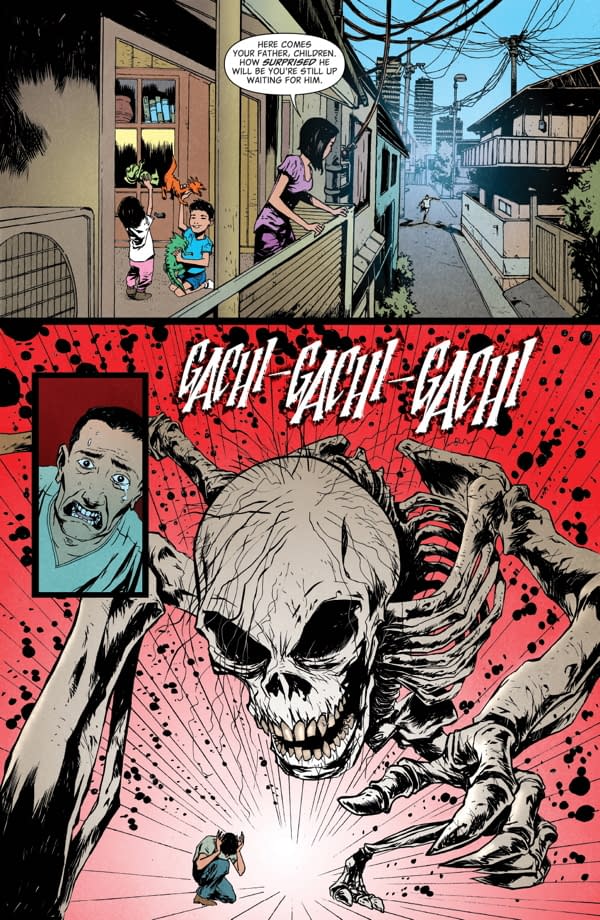 Hungry Ghosts gives a very underwhelming first showing. While its framing does have a lot of potential, the first two tales of horror it gives miss the mark by far. I can't recommend this one, even with the art being as good as it is. It may take some good turns down the line, so maybe check back in next issue. This first one, however, is not recommended. Give it a pass.
[rwp-review-ratings id="0"]
[rwp-review-form id="0"]