All 4 Hunt for Wolverine TPBs to Include Hunt for Wolverine One-Shot but No Dead Ends
Much has been said about the debacle surrounding the return of Wolverine, much of it negative, and much of that negativity by us personally. Look, it's not that we begrudge Marvel killing off characters only to resurrect them in event comics within a few years. We understand how the business works. But this one, in particular, seems to have been dragged out and milked for as long as humanly possible, including with the launch of an entire event, Hunt for Wolverine, which has absolutely no point because it was revealed by the solicitation of the follow-up mini-series, but has still been dragged out to four individual mini-series and two one-shots.
And now, those four minis will be collected in four trade paperbacks in November, and each one will include the first one-shot, kicking off the story… but none of them will include the second one-shot, which ends it!
At first, we thought that it might be an omission in the solicit text, but the numbers just don't add up. At 22 pages each issue per four issue mini, plus 39 pages for the Hunt for Wolverine one-shot, that's 120 pages right there, leaving 16 pages for bonus material, but not enough for Hunt for Wolverine: Dead Ends' 29 pages. It's unfortunate, because that means that all four of these trade paperbacks, already too many, won't even have a proper ending.
Will Dead Ends get collected at the beginning of the Return of Wolverine collection? That wouldn't make much sense. Maybe they'll collect it along with Avengers #700? Maybe Marvel will add more pages before these books go to press.
Check out the solicitations below. We'll let you know if we can get to the bottom of any of this.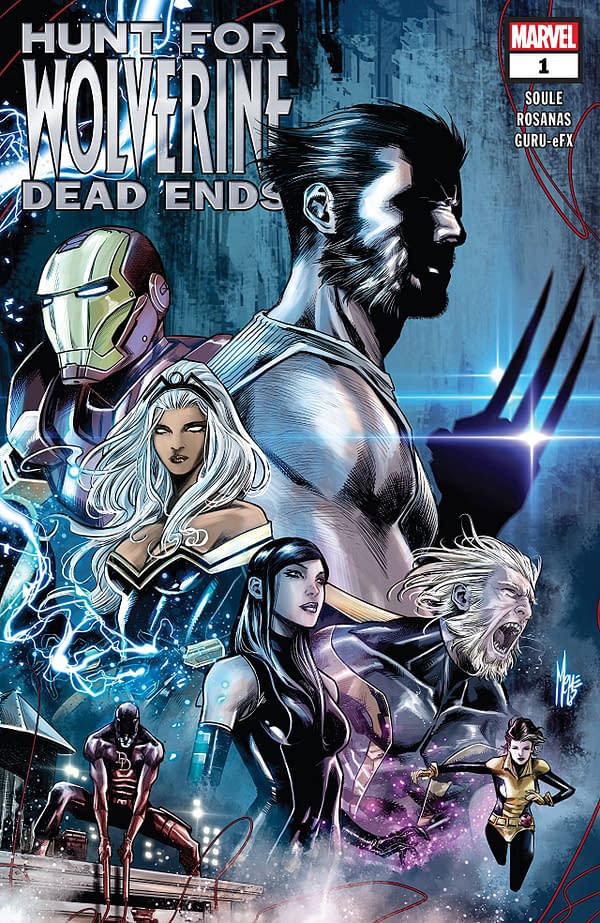 HUNT FOR WOLVERINE: ADAMANTIUM AGENDA TPB
Written by CHARLES SOULE & TOM TAYLOR
Penciled by DAVID MARQUEZ, PAULO SIQUEIRA & R.B. SILVA
Cover by GREG LAND
Where's Wolverine? And will the New Avengers be the ones to find him? The metallic "snikt" of Wolverine's claws is a sound that once made the blood of wrongdoers run cold — and one that some of Logan's best friends want to ensure is never used for evil! Keeping a promise made between heroes, Iron Man, Spider-Man, Jessica Jones and Luke Cage reassemble to make sure that Wolverine's body isn't being misused. But the erstwhile New Avengers will soon uncover a deep-state conspiracy that leads to a shocking DNA discovery — and someone else with a vested interest in Logan's genes! As things take a turn for the sinister, the New Avengers uncover a completely different mystery…one that will cast a long, dark shadow over the X-Men! Collecting HUNT FOR WOLVERINE #1 and HUNT FOR WOLVERINE: ADAMANTIUM AGENDA #1-4.
136 PGS./Parental Advisory …$14.99
ISBN: 978-1-302-91303-8
HUNT FOR WOLVERINE: CLAWS OF A KILLER TPB
Written by CHARLES SOULE & MARIKO TAMAKI
Penciled by DAVID MARQUEZ, PAULO SIQUEIRA, BUTCH GUICE & MACK CHATER
Cover by GREG LAND
Where's Wolverine? To find a hunter, you need a squad of hunters! And as word spreads that Logan may have returned from the grave, a handful of Wolverine's greatest adversaries will come together to track him down and put him back there. But the brutal and horrific nightmare that Sabretooth, Daken and Lady Deathstrike uncover could lead to more pain and death than even these vicious killers can handle! Is any healing factor powerful enough to survive a horde of flesh-eating zombies?! And what could these poor walking deadlies have to do with Logan's return? The clock is ticking as Sabretooth, Daken and Deathstrike slice their way through the leagues of the undead — and they won't all make it out alive! Collecting HUNT FOR WOLVERINE #1 and HUNT FOR WOLVERINE: CLAWS OF A KILLER #1-4.
136 PGS./Parental Advisory …$14.99
ISBN: 978-1-302-91304-5
HUNT FOR WOLVERINE: MYSTERY IN MADRIPOOR TPB
Written by CHARLES SOULE & JIM ZUB
Penciled by DAVID MARQUEZ, PAULO SIQUEIRA & THONY SILAS
Cover by GREG LAND
Where's Wolverine? Who better to answer that question than some of his closest friends — Kitty Pryde, Storm, Rogue, Jubilee, Psylocke and Domino! Following a sighting of Logan's former alter ego Patch, they head to the streets of Madripoor, the infamous island of ill repute. What they find is a twisted cabal of crime! Can even this powerful crew survive when the whole city is hunting them? Plus, what is Magneto's connection to Logan's disappearance? And what is the Soteira Project? Madripoor's secrets are worth killing for — and if Kitty fails to uncover them, another X-Man may die! Past and present clash in a final battle on the island of secrets and sin! Collecting HUNT FOR WOLVERINE #1 and HUNT FOR WOLVERINE: MYSTERY IN MADRIPOOR #1-4.
136 PGS./Parental Advisory …$14.99
ISBN: 978-1-302-91305-2
HUNT FOR WOLVERINE: WEAPON LOST TPB
Written by CHARLES SOULE
Penciled by DAVID MARQUEZ, PAULO SIQUEIRA & MATTEO BUFFAGNI
Cover by GREG LAND
Where's Wolverine? That's what Daredevil wants to know! Logan may be the best there is at what he does — but so is the Man Without Fear! And as one of the biggest mysteries in the Marvel Universe unfolds, DD assembles a squad of uncanny detectives to track down Logan: Misty Knight, the Inhuman Frank McGee and the mutant known as Cypher! Investigating recent sightings across the globe of the X-Man they thought dead, the squad uncovers a deep conspiracy with huge ramifications for Wolverine's return! But what happens when they follow the clues all the way to a very familiar — and very bloody — set of claws? A weapon lost is about to be found — and the Man Without Fear's nickname will be put to the test! Collecting HUNT FOR WOLVERINE #1 and HUNT FOR WOLVERINE: WEAPON LOST #1-4.
136 PGS./Parental Advisory …$14.99
ISBN: 978-1-302-91302-1