The relaunch of the Chaos Comics characters by Dynamite Entertainment has been doing very well expanding from one six-part miniseries to four series and some one-shots. Leading the way is the vampire goddes herself Purgatori. We caught up with Aaron Gillespie to talk about the third issue of the series and what he plans are for the character. BLEEDING COOL: Aaron, you have the responsibility for writing one of the most popular characters in the Chaos! Universe. Has there been any pressure knowing you are guiding this character into a new generation of readership?
AARON GILLESPIE: Of course there's pressure but I'm a long time fan of Purgatori and I'm confident I'm staying true to the character while telling a great story in a compelling way. I can't wait for readers to see what's in store for the vampire goddess. That excitement helps mitigate any of the pressure. Well….mostly.
BB: I must admit I was floored with how serious and quickly things have been happening to poor Purgatori. How can Purgatori hope to get out of this dire situation she's in? AG: The thing about Purgatori is, even when she feels real vulnerability, she refuses to show it. She won't open herself up to anyone because, in the past, that has only lead to personal suffering.
Long time fans will already know that Purgatori is her own woman. She relies on no one. But some situations are so serious that she can't go it alone. Will Purgatori accept this and ask for help or will her stubbornness get the best of her? That's something readers will just have to wait to find out.
BB: Can you give us a little behind-the-scenes in what you have done to bring this wonderful character up to date for today's reader?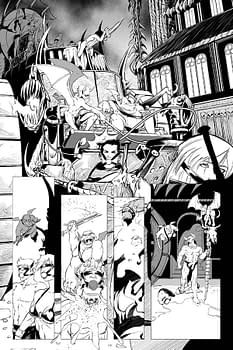 AG: With the original Chaos books, nearly every issue seemed to deal with THE END OF ALL THINGS!!!!!! While I loved that about them, I feel like the stories can quickly become unwieldy. I've decided to strip our series down to a grittier, more street level book. Sure there are plenty of fantastic elements like demons, angels, vampires, werewolves, etc… but we'll be saving the big cosmic end of the world kind of stories for larger events.
Other than that, I've done precious little to change Purgatori for today's reader. There are some minor tweaks to her origin to streamline it a bit, but it's mostly the same story old time fans will remember from The Vampire's Myth.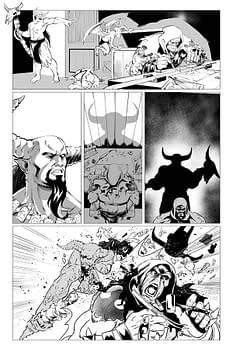 BC: We are only on issue #3 coming up in November and already I see Purgatori taking over from Vampirella and Deja Thoris as Dynamite's main cover gal. She is everywhere? I know it is a different universe, but a Purgi/Vampi crossover would be so cool. Thoughts?
AG: I'd absolutely love to see Dynamite do a Purgatori/Vampi crossover. These characters had a crossover years ago and I think it's a perfect fit. My mind is already racing with the possibilities!
BC: Are you as wild about artist Javier Garcia Miranda's version of our gal Purgatori as I am?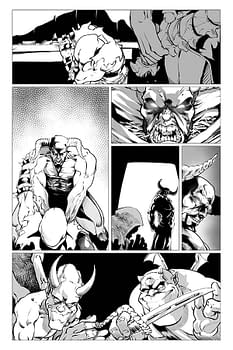 AG: Javier is great. He gets that Purgatori is more than just a sexy pin up girl. He is so good at conveying her inner struggle but he also knows when it's time to cut loose and draw a cool exciting image.
No matter what I ask of Javier I know that he will exceed my expectations.
BC: For only three issues, Purgatori has had some real highs and lows. Will we continue to discover her "secrets" as her book continues?
AG: We'll get a glimpse at more of her secrets as the Hell and Back arc continues. The light will be shed on those secrets in future issues as we lay out her origin and reveal where she comes from and how she became the demonic vampire goddess she is today.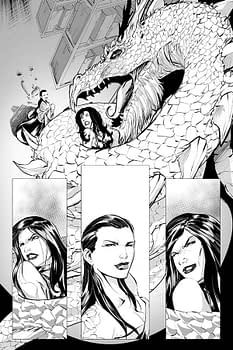 BC: If she escapes the grave what is next for our crimson gal?
AG: Purgatori will return to her home in Las Vegas to continue running her criminal empire. Hopefully she can keep her ego in check to stay out of more trouble. That's IF she survives the opening arc. I make no guarantees.
For more information on Purgatori #3, click here.
Enjoyed this article? Share it!