Following yesterday's reveal of a Spawn #301 variant by Clayton Crain, Image Comics has announced a change to a completely different cover, though they are using different terminology, calling the change a "surprise cover art update" in the press release:
ON THE HEELS OF TODD MCFARLANE & GREG CAPULLO COVERS REVEAL—
A SURPRISE CLAYTON CRAIN COVER ART UPDATE FOR SPAWN #301 UNVEILED

PORTLAND, Ore. 09/13/2019 — On the heels of Image Comics's reveal this morning of Todd McFarlane and Greg Capullo covers, Image Comics is pleased to unveil a surprise cover artwork update to the previously revealed Clayton Crain SPAWN #301 cover. Seen above, this electric new artwork will be available to retailers under the same Diamond Code (JUL190088), instead of the previously seen Crain artwork, and the final order cutoff deadline is this Monday, September 16.
Here's what the new cover looks like: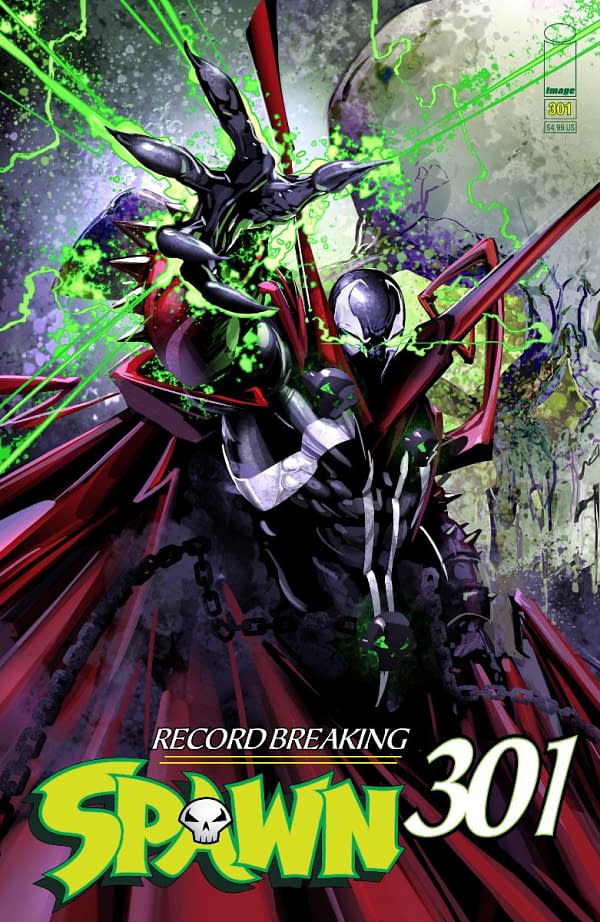 The change isn't all-that surprising, as that cover looks pretty great, while the previous cover seemed to focus for some reason on Spawn's gigantic spiked foot.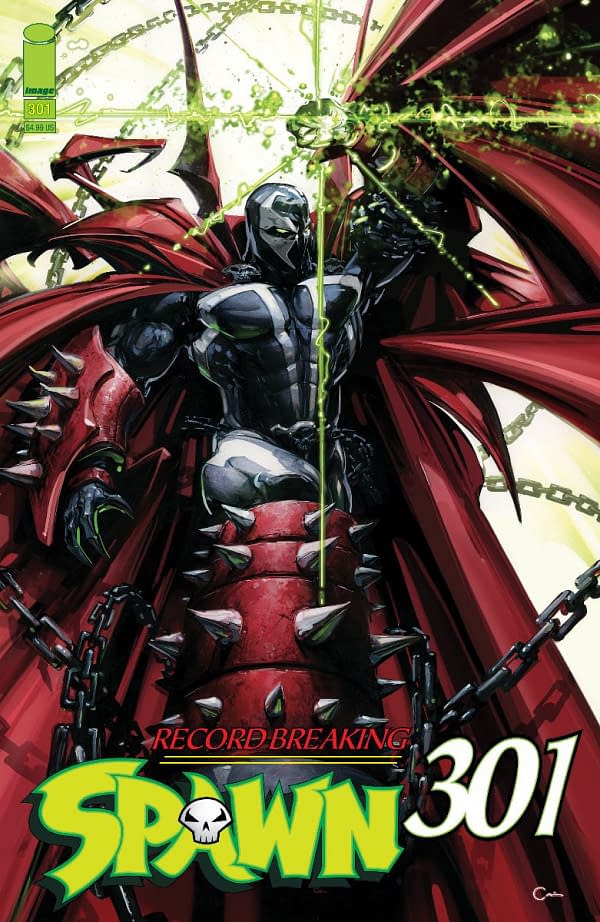 Additionally, earlier today, Image revealed all the Todd McFarlane and Greg Capullo Spawn #301 variants.
Final order cutoff was extended to September 16th to give retailers more time to order, as the variant covers hadn't yet been revealed before the original final order cutoff date.
SPAWN #301 CVR A MCFARLANE – JUL190084
SPAWN #301 CVR B CAPULLO – JUL190085
SPAWN #301 CVR C VIRGIN CAPULLO – JUL190086
SPAWN #301 CVR D ALEXANDER – JUL190087
SPAWN #301 CVR E CRAIN – JUL190088 UPDATED ARTWORK
SPAWN #301 CVR F OPENA – JUL190089
SPAWN #301 CVR G VIRGIN MATTINA – JUL190090
SPAWN #301 CVR H PARODY MCFARLANE – JUL190091
SPAWN #301 CVR I B&W MCFARLANE – JUL190092
SPAWN #301 CVR J 25 COPY INCV VIRGIN MCFARLANE – JUL190093
SPAWN #301 CVR K ROSS – JUL198671
SPAWN #301 CVR L VIRGIN ROSS – JUL198672
SPAWN #301 CVR M SIENKIEWICZ – JUL198673
SPAWN #301 CVR N VIRGIN SIENKIEWICZ – JUL198674
SPAWN #301 CVR O CAMPBELL – JUL198675
SPAWN #301 CVR P VIRGIN CAMPBELL – JUL198676
SPAWN #301 CVR Q BLANK SKETCH CVR – JUL198708
Enjoyed this article? Share it!