INTERVIEW: Fabrice Sapolsky's Comeback Tour for One-Hit Wonder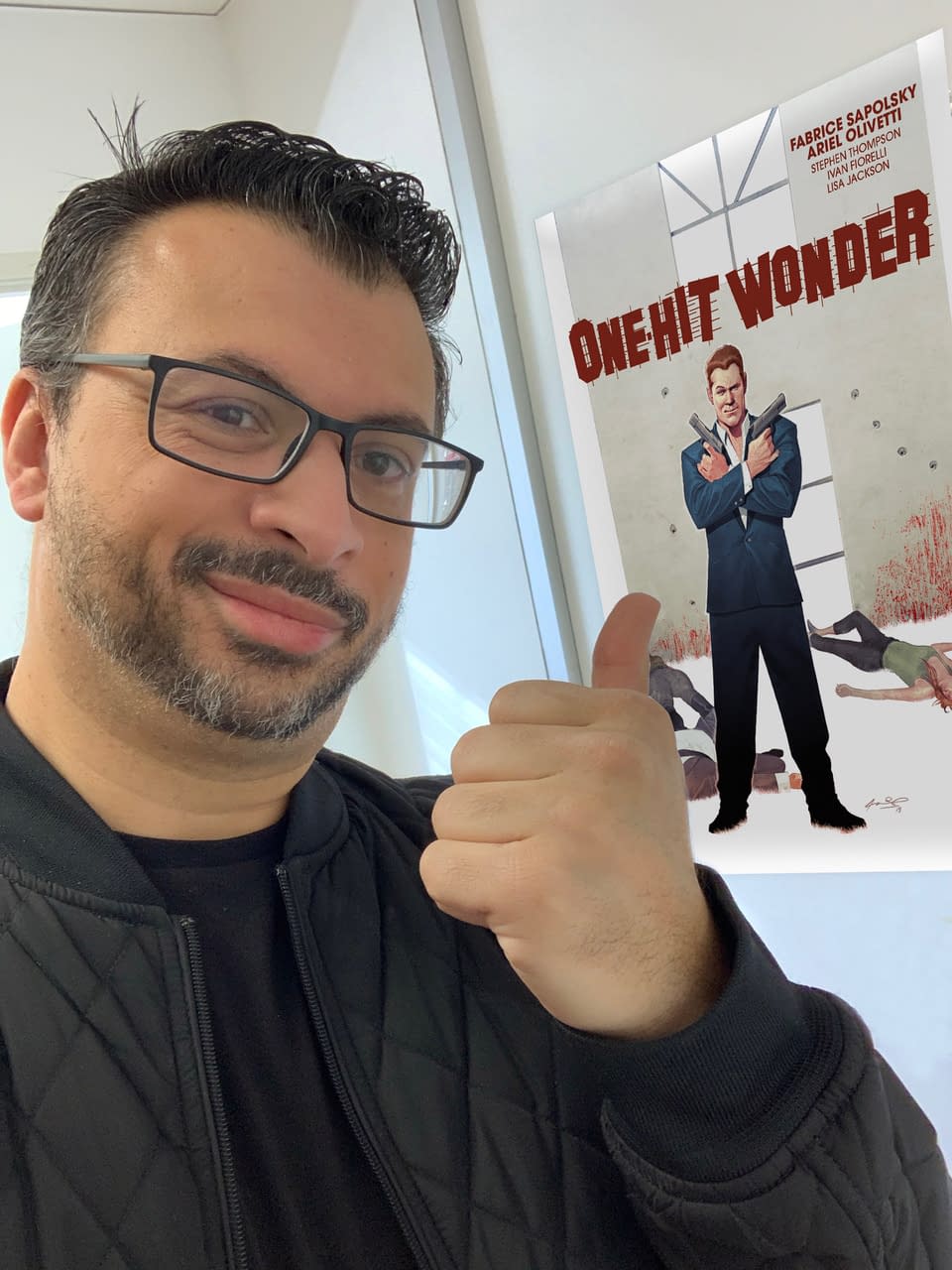 Comics creator Fabrice Sapolsky has enjoyed a storied career, but he's far from ready to sing a swan song. He sat down with Bleeding Cool for this exclusive interview about his latest project.
BC: For the benefit of the masses and SEO, please describe to Bleeding Cool's readers who you are and some of what you've done.
FS: Alright. I'm Fabrice Sapolsky. I'm a comic book creator, an editor, a former journalist. I've been in the comic book business for over 20 years as a professional. I was born and raised in Paris, France but my heart belongs to American Comic Books. I've been living in the US for five years now. Of course, many know my modest contribution to the Marvel Universe as co-creator and co-writer of SPIDER-MAN NOIR. But I also created other comics like INTERTWINED with Fred Pham Chuong (published by Dynamite Comics), BLACK BOX with the late Tom Lyle (unpublished in the US but released in France) and, of course, ONE-HIT WONDER with Ariel Olivetti, first published by Image Comics as single issues and now offered on KICKSTARTER as a graphic novel. I'm also a Senior Editor at Humanoids.
BC: Sweet. Now, One-Hit Wonder … this is something you've worked on before, as noted, with Image. Why return to play the hits, as it were? What motivated you to get the band back together?
FS: Well… It has been a bittersweet adventure initially.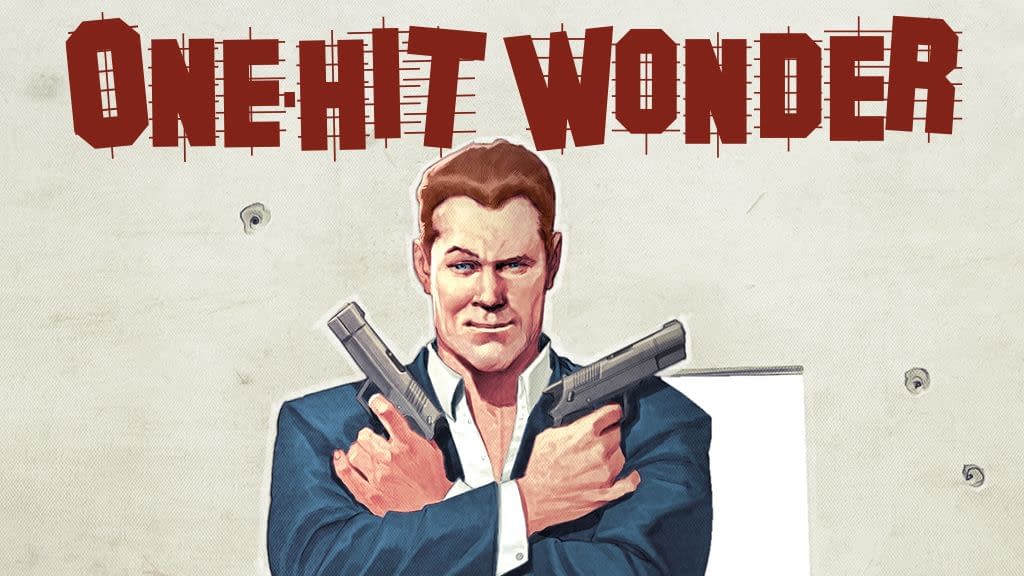 BC: "Bittersweet" how?
FS: When I started working on the book, it was me and Ariel Olivetti. We first released the book (at least the first two issues) in France with a publisher called INDEEZ, But they were not in a good place financially and I got my rights back immediately. I then turned to Image Comics where we were welcomed with open arms (at first).
Image started publishing the issues, but after two issues, Ariel had to leave due to personal matters.
People don't realize it but creating and maintaining a creator owned is hard as hell.
BC: Really? <sarcasm>Has anyone said that before? </sarcasm>
FS: [Before leaving] Ariel already had provided the layouts for #3. So when I recruited a new artist, Stephen Thompson, he followed his lead. But after #3, Stephen started to run late. And when it was time to deliver #4 for publication… the book wasn't on time. It took forever for Stephen to complete #4. Then, nine pages into #5, he left the book to go to DC.
My good friend Matteo Scalera suggested Ivan Fiorelli and Ivan brilliantly finished the last issue, but the damage was done. 8 months had passed between #4 and #5. Retailers lost confidence, and after that, Image Comics broke the news that they were not interested in publishing the trade paperback. I was broke and heart broken, So I left One-Hit Wonder and focused on other projects…
BC: Those are all logistical, or business, related reasons. What was it about the story of One-Hit Wonder that you could not let go?
FS: A couple of things happened.
One: It left such a taste in my mouth that I thought it was unfair. I think the audience has the right to decide. No one else. If a comic book is bad and has no audience, alright. But One-Hit Wonder's first 3 issues sold really well.
Second: last year in 2019, I decided to create my small publishing company, FairSquare Comics.
The idea here is to only offer projects that are dear to me, a bit more risqué some times, and all with a different model. No traditional distribution through Diamond, but direct sales (through various channels including Kickstarter, Conventions, Web and even… My phone!). One-Hit Wonder was there. Fully done. It was only waiting for a second chance. The perfect candidate to launch my new venture.
Now, there's also something else…
BC: Is it about the story?
FS: Almost. I am VERY identified by the audience as a NOIR genre writer, and One-Hit Wonder is not a "noir" book. It's a crime-comedy series. My point is: don't put creators in boxes. We have the power to surprise you!
Through FairSquare Comics, my company, I want to be able to explore every genre, as a writer or an artist. And before you ask, yes, I draw. At every show. I create commissions and I'm even working on a comic book that I'm writing and drawing.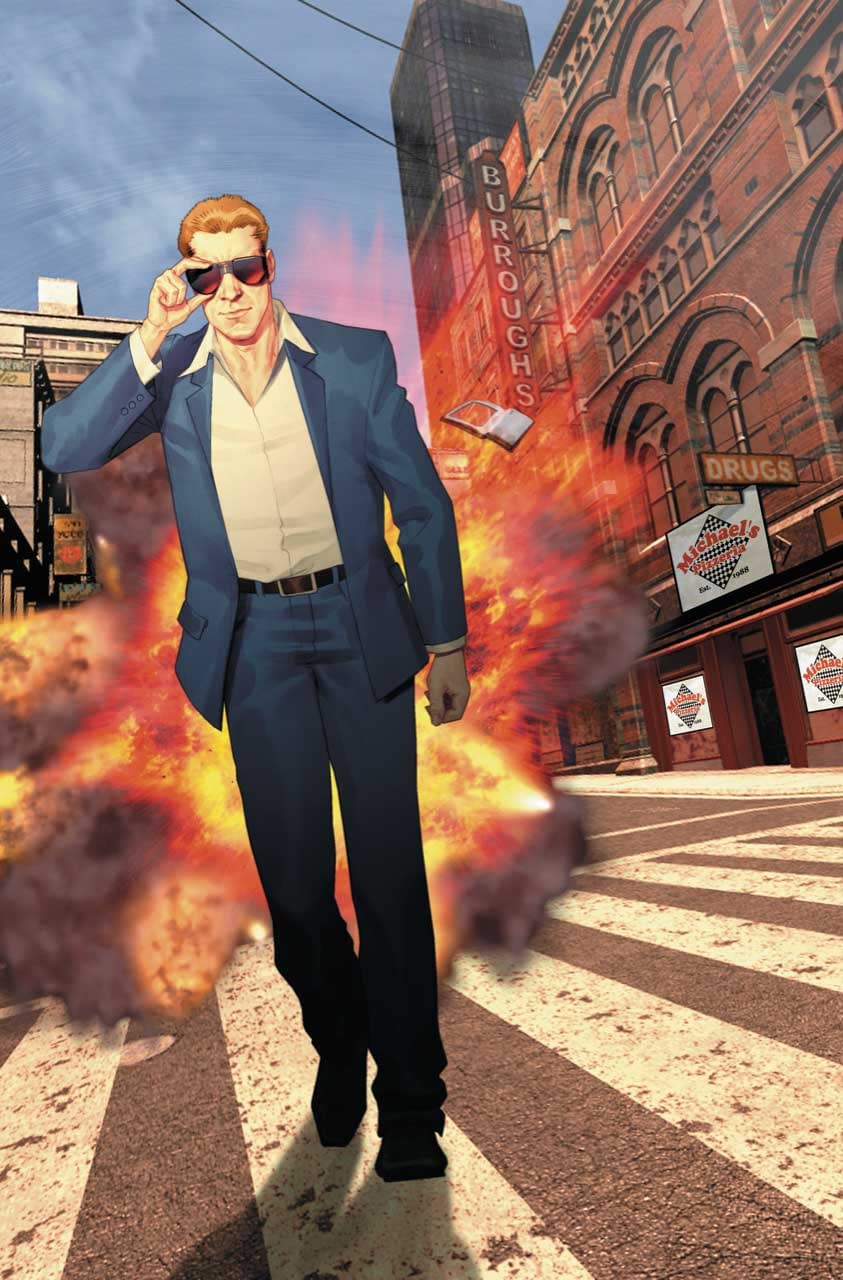 BC: Okay. Well, we've definitely spoken to the interests of the comics business community, but let's talk about the actual story of One-Hit Wonder. What is it about this story that makes it worth revisiting, for you and for the audience?
FS: I was about to mention it. There's something interesting in One-Hit Wonder that can find an echo in today's world. Think about it: A character whose ego is bigger than everything you've ever seen. Who doesn't make any difference between reality and fiction. That judges quickly. That destroys everything he touches. Who's immature? A whiner? Don't you see any resemblance with a powerful character you see each day on TV and Twitter?
BC: Ooh.
FS: This book was written in 2012-2013. YET…
BC: Fabrice Sapolsky, pop culture prophet?
FS: I don't think I am, but it's troubling. His hair's orange too! Hahaha! I'm not getting involved into politics, but there's something strange here. I think people need to read this book!
BC: Okay, so your lead character speaks to the current wildly ridiculous climate, and you feel that's worth the admission price for the audience. Okay. Let's talk about the characters, who will readers meet in this book?
FS: Alright. Let's talk about the three main characters.
First, the "hero"… Richie Reese. He IS the "One-Hit Wonder," a former child actor who grew up angry and became a hitman for the Mob.
BC: That's an interesting start.
FS: Then there's Terrell Woods, his childhood friend and sidekick. Terrell is a REAL person. He's my friend and a Hip-Hop independent artist and beat boxer. He also created the soundtrack for One-Hit Wonder that backers can have access to if we reach 500% of the initial goal.
BC: Plot twist. Okay.
FS: And there's Molly Hines. The main female character. Molly is a strong character. A badass.
BC: Strong how?
FS: As in she's literally kicking Richie's nuts! She doesn't take crap from anyone. She's a FBI agent and she's after Richie. But there's more to their relationship.
Now, there's an another important character in the book, but describing him would be giving the plot away. So I guess you'll have to read the book!
BC: Another twist, all right. So, since an assassin normally trades heavily in anonymity, wouldn't Richie's "hey, aren't you that guy?" face be a liability in his line of work?
FS: Richie goes public in the very first pages of the book.
BC: That sounds like it'd be hard to get all the killing done …
FS: His moral compass is a Roulette wheel. He doesn't make any difference between reality and fiction. He thinks he's still in a movie, but it's real life. His lines are horrible and on the nose (on purpose). He's a BAD actor and a terrible hitman. But he's unleashed. He's a child in a man's body with lots of ammo. Very dangerous.
BC: An almost Deadpool-like surreality, except without as high a body count?
FS: Well, fortunately, we're not going into the insane bodycount territory. Because at this point in the story, Richie is in his own loop. And again, he's someone's puppet and doesn't even realize it.
BC: A mysterious big bad, got it.
FS: His arrogance, his crazy high self-confidence will cause lead him to an unexpected path. Cue the FBI. Yes. BIG BAD. In One-Hit Wonder, every character is broken or insane or both. It's like in a Tarantino movie. Or an Elmore Leonard novel. Two authors I absolutely love. In a way, One-Hit Wonder is a love letter to them.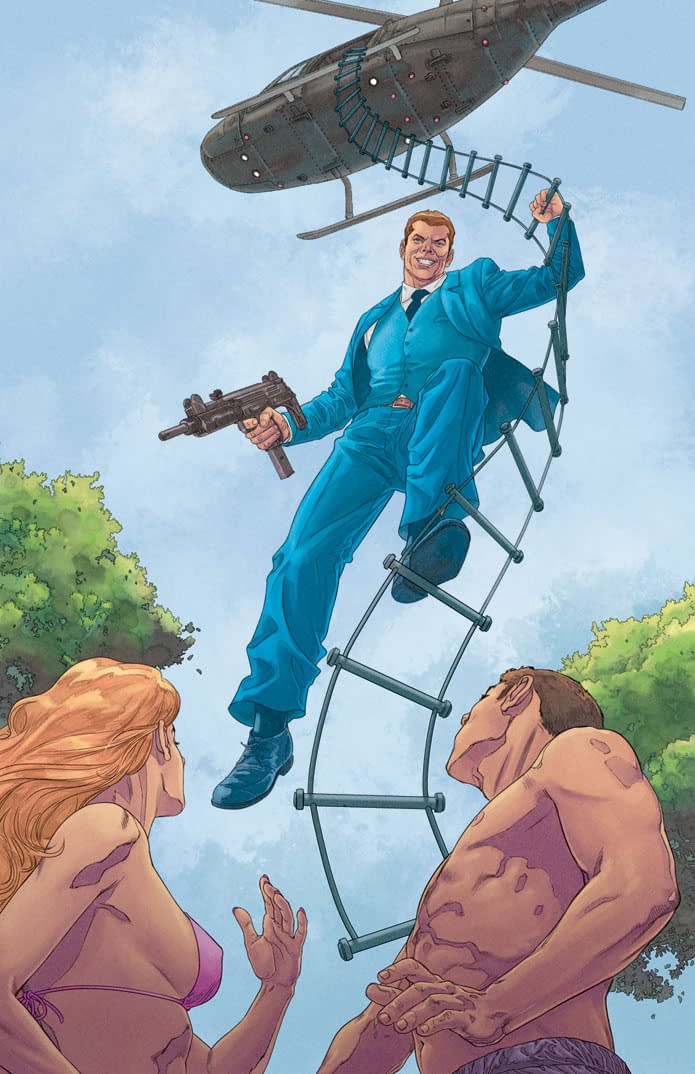 BC: All right, that's quite a set up. This is on Kickstarter until February 2nd, Groundhog's Day. How do you feel about the campaign so far?
FS: It's not just Groundhog Day. It's also the Superball and … my brother's birthday! I feel very good. Especially after failing with my first campaign for the book in 2019, but this time, things are different! The $4000 goal was reached in 3 days. And I opted for a short campaign, 17 days total. So every hour counts! And I just announced that as part of the stretch goals, there will be additional One-Hit Wonder pages drawn by comic book legend DENYS COWAN and my good friend ANDREA MUTTI.
BC: This isn't your first foray into comics mixed with music, is it? Bleeding Cool reported that you helmed the new Joe Illidge/Hannibal Tabu penned MPLS Sound, due in October from Humanoids. Do you feel like this mixing of music and comics has a special kind of resonance readers can enjoy?
FS: Are you referring to yourself in the 3rd person? Yes! You outed me. I am absolutely the originator of the MPLS Sound Project for HUMANOIDS. I approached you first, then brought Joe Illidge and Meredith Laxton, the artist on the project. We're also very fortunate to have Jen Bartel on cover. I am a HUGE Prince fan. And a R&B/Hip-Hop/Funk fan in general. There are musical references in all my comics. And I even bring some to the books I'm the editor on for Humanoids.
BC: We're trying to do some journalism here, but yes. Anyway, there are music references in all your comics? Spider-Man Noir? That sounds like a great Easter Egg hunt for fans.
FS: Spider-Man Noir is a bit different because it's co-written with Dave Hine, and the tone wasn't really compatible with it. But in a way, there are some connections … Felicia Hardy, the White Widow, is the former owner of the Black Cat club
BC: Let's play: what's the most subtle or obscure musical reference you got into a comic book?
FS: hahahah. Touché! I think I put a BlackStreet reference in BLACK BOX.
BC: Really? Which song?
FS: "Baby Be Mine," The album version. It's tricky because there are at least 4 versions of that song…
BC: That's a deep cut. All right, please tell the readers where they can find you online and what else they should look for from you. Any convention appearances coming up?
FS: Alright. So the best ways to reach me are INSTAGRAM/TWITTER/FACEBOOK where I appear under my full name @fabricesapolsky. I'm also reachable at +1(323)405-9401 and it's a REAL number. People can text me to talk comics, ask questions and of course order books or commissions. And to pledge for the ONE-HIT WONDER Kickstarter, it's here: http://kck.st/2R2ZgvP
BC: Don't think anyone ever gave out their phone number on Bleeding Cool before …
FS: Well, I'm not doing things like everybody then! I believe the future of comics/fandom is in direct relationships between creators and readers!
The complete list of my appearances is available on my website at www.fairsquarecomics.com but I can say that this Spring I'll be at Amazing Comic Con Hawaii in February, C2E2 (table C-9), and Emerald City Con. Then at Ontario Comic Con and AMazing Las Vegas in June.
BC: Fantastic! Thank you for your time, Fabrice and we'll look forward to more greatness from you to come!
FS: Thanks for having me!