Is Ales Kot Off Suicide Squad Already?
Ales Kot came onto the Suicide Squad comic at DC with a bit of a bang. Previously writing comics at Image Comics with, frankly, a reputation for being a bit of an arty poser, the book went down rather well. It was sparky, genuinely edgy in places, and reinvented a few characters for the better. It seemed like it was going places.
There was , ironically, no Suicide Squad comic solicted for September, as part of Villain;s Month. And in October?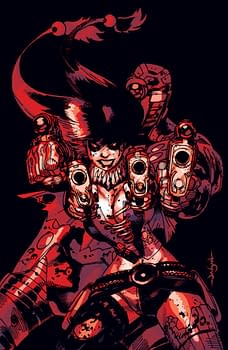 Matt Kindt, of Mind MGMT and also the current writer of Forever Evil: ARGUS and Justice League Of America, is writing the book.
SUICIDE SQUAD #24
Written by MATT KINDT
Art by PATRICK ZIRCHER
Cover by JASON PEARSON
On sale OCTOBER 9 • 32 pg, FC, $2.99 US • RATED T+
A FOREVER EVIL tie-in! Belle Reve has been turned to rubble and the inmates are on the loose! Alone, Amanda Waller must fight her way out and form a new Suicide Squad! Or is a new team already in place?
Ales didn't respond to enquiries, but did tweet;
@OKMikeLopez: You can expect an announcement on that soon.

— Ales Kot (@ales_kot) July 8, 2013
Which sounds rather ominous. And as well as missing Ales Kot, the October solicitations also miss out any mention of back-up strips for the $3.99 titles…
Oh and the New 52? In October, when you just count the ongoings, it's the New 47. New titles to come.