Is Memory The Key To Marvel Comics' Avengers Standoff? (Spoilers) Bleeding Cool has run speculation as to how the Avengers Standoff event would tie into the revelations in Captain America: Sam Wilson that SHIELD had a secret program called Kobik to alter reality with cosmic cubes, possibly created with the new abundant ISO-8 material. Even if Maria Hill dismissed it. It was something that Sam Wilson, who had his own timeline altered by the Red Skull using such devices, was dead set against. We also noted how it was being used as a parallel with the Chelsea Manning/Edward Snowden leaks.
Well, today's Avengers Standoff shows us just what a big fat liar Maria Hill is. As we say welcome to Pleasantville… I mean Pleasant Hill. The similarities to the idealised versions of Pleasantville, The Truman Show's Seahaven…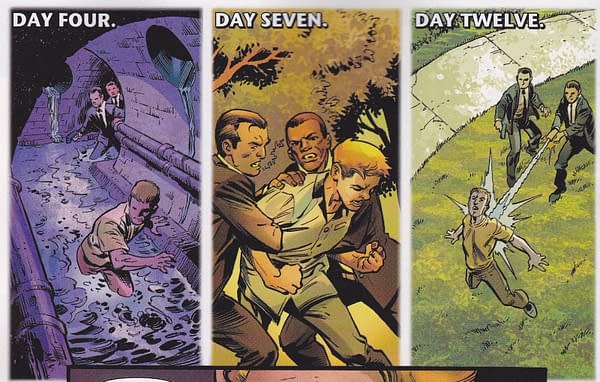 …and The Village in The Prisoner. It is confounded that our new arrival, whose identity is revealed by the end of the issue in a fashion that fans will find familiar, has lost his memory. Maybe with a touch of Wayward Pines. And why? You dirty little liar, Maria Hill.
So it's security vs liberty all over again. Are you sure this shouldn't be Civil War II?
Comics courtesy of Orbital Comics, London. Who are hosting a signing of The Death Of Superman Lives, with Jon Schnepp and Holly Payne tonight, 5pm-7pm.