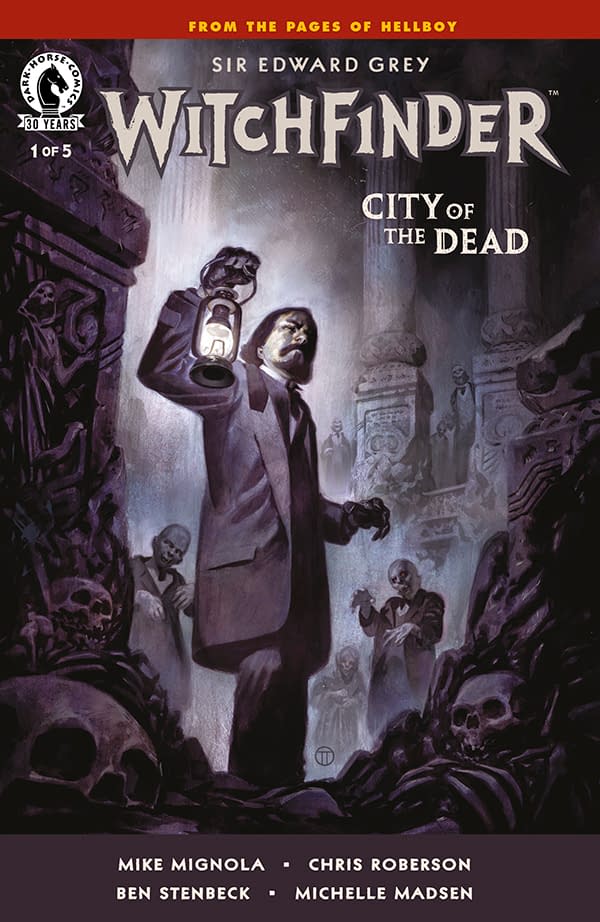 "One of the things I love most about Hellboy's world is the richness of the setting and the backstory, and Sir Edward Grey's London is one of my favorite spots on that map. Getting to explore that terrain a bit with Ben Stenbeck has been an unalloyed joy." – Chris Roberson
This month Hellboy creator Mike Mignola, iZombie co-creator Chris Roberson and original Witchfinder series artist Ben Stenbeck and colorist Michelle Madsen reunite for Witchfinder: City Of The Dead. Julián Totino Tedesco on covers.
The five-part miniseries from Dark Horse Comics sees Sir Edward Grey, occult adviser to the queen, defeat scores of flesh-eating corpses on the loose in London and explore a temple beneath London full of ancient secrets.
FOC in a week…. here's a five-page preview of Witchfinder: City Of The Dead #1 that I'm sure will pop up in all sorts of places tomorrow.
Enjoyed this article? Share it!