Tomorrow, Bleeding Cool hopes to report live from the Extinction Rebellion protests happening in London again. I did my bit by not flying to New York Comic Con. Also I cycle everywhere now, eat less meat, shop local and I reused a TARDIS, rather than let it be sent to the landfill.
But Jamie Hewlett will have a much bigger role. Co-creator of Tank Girl, Hewligan's Haircut, Gorillaz and Doom Patrol artist, Hewlett has been creating imagery for Extinction Rebellion to project onto buildings across London.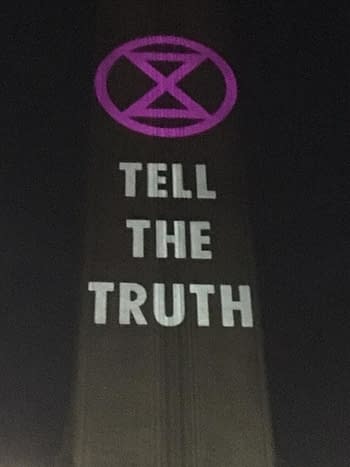 They began with the Tate over the weekend but are now moving into Westminster, with Parliament in their targets later tonight as the sun sets further. Over 300 people have been arrested in London today for the first day of Extinction Rebellion's planned two-week shutdown of central London in protest against the lack of action to tackle the climate crisis.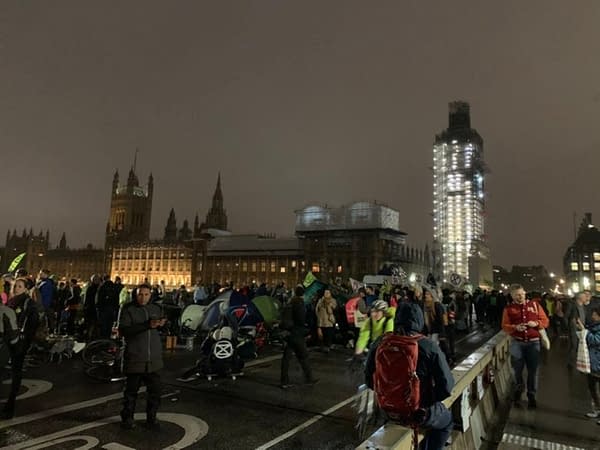 The protests began this morning outside the Ministry of Defence where activists chained themselves to cars before being removed by police using buzzsaws. Members of Extinction Rebellion's youth movement had glued themselves to scaffolding in Trafalgar Square. Others there chained themselves to a hearse. Drummers played outside Downing Street where hundreds blocked the road, glow in the dark flames were attached to the lions of Trafalgar Square, so as the lights dimmed they appeared to be lions sitting in flames, and two women got married on Lambeth Bridge.
Thanks to #ExtinctionRebellion, this beautiful wedding is happening right now in the middle of Westminster Bridge. So happy to witness my friend and longtime comrade Tamsin Omond marrying in this unique way… pic.twitter.com/xs9kGczziG

— Rupert Read 🌍 (@GreenRupertRead) October 7, 2019
Extinction Rebellion activists are taking part in protests in cities around the world, including Sydney, Amsterdam, Berlin and New York
I do find it amusing that they are managing to do what Prime Minister Boris Johnson failed to…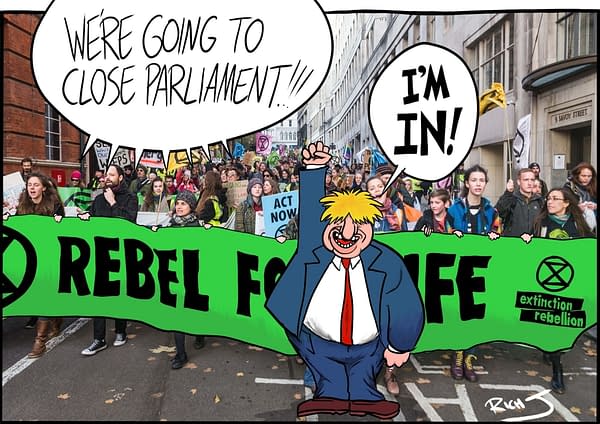 Enjoyed this article? Share it!