Jamie Hewlett Invites Gorillaz Fans to Submit Letters to Almanac
We mentioned before that Jamie Hewlett was working on the Gorillaz Alamanac – including the very first Gorillaz comics. Well, Jamie is now inviting submissions in a 'letters to the editor' format that will appear in the Almanac from willing fans. And they are doing so via their previously members-only Facebook group.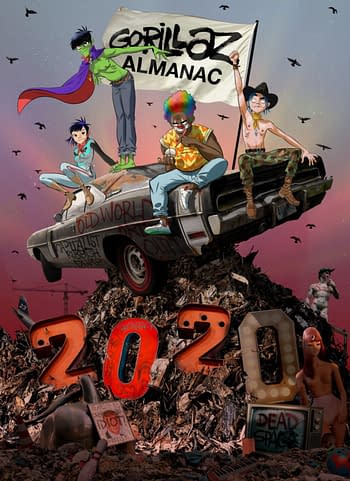 "With what our company has evolved into, I not only have the chance to work with some of my favorite creators in comics, but some of my favorite bands in the world. Gorillaz is definitely near the top of that list, and we decided to share that feeling with others by giving everyone an opportunity to participate in one of the most anticipated pairings of comics and music in the history of either" says Z2 publisher Josh Frankel.
Here's the Gorillaz form to submit your entry. Just remember that;
By submitting your story, you hereby agree that you;
(a) assign to us (or an affiliated third party) any copyright and other intellectual property rights vesting in your submission;
(b) grant us all rights free from encumbrances, charges and liens;
(c) authorize us to use your submission which may include your likeness and the likeness of any other subject(s) identifiable in your submission for the purposes set out in these Ts&Cs; and
(d) grant us and/or selected third parties the exclusive right to edit and exploit your submission, including, but not limited to, using your submission with text, data, images, other photos, illustrations, animations, graphics, video or audio segments and distributing your submission to the public in any medium (including without limitation on social media platforms and channels, digital music platforms and our or our affiliates' communications), in consideration for your opportunity to have your submission featured in the Publication. You acknowledge that you will not receive any other consideration from us or Artist.
Oh, if they get sued for what you submit, you'll have to pay up. Entries to Gorillaz' letters page close on the 10th of July.