Jar Jar Binks Does Not Appear in This Preview of Next Week's Star Wars Age of Republic Special
When we first learned that Marvel would be exploring the Star Wars Prequel Era with their Age of Republic event, we knew we were looking at what could be the most important story in Star Wars comic book history. Why? Because Jar Jar @#$%ing Binks, that's why. Next Week's Star Wars Age of Republic Special was advertised with a promised Jar Jar story by Chip Zdarsky, but Jar Jar fans were met with disappointment when we learned that story was no longer happening. Would we get any Jar Jar at all?
Well, taking a look inside a preview of the issue, we're greeted not with Jar Jar, but this guy…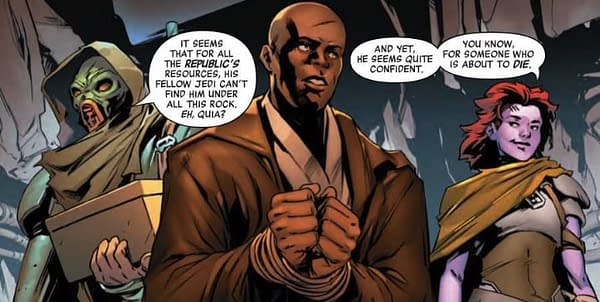 Mace Windu? Unless this comic explains how he survived the fall out the window, traveled to a galaxy far far away a long time in the future and became Nick Fury, then we have no use for a Mace Windu story!
Thankfully, as it turns out, though it isn't featured in the preview, we will be getting that Jar Jar story after all, but instead of Chip Zdarsky, it's by Marc Guggenheim, Caspar Wijngaard, and Cris Peter.

But Jar Jar doesn't even get top billing?! Meesa thinks Marvel doesn't understand why people will be buying this comic…
Star Wars Age of Jar Jar… we mean Age of Republic hits stores next Wednesday, January 16.
Star Wars Age of Republic Special
(W) Sacks, Ethan, Jody Houser, More (A) Carlos E. Gomez, Paolo Villanelli, More (CA) Rod Reis
THE GREATEST HEROES OF THE REPUBLIC, THE DEADLIEST VILLAINS – AND EVERYONE IN BETWEEN!
Four creative teams! Four stories featuring your favorite Star Wars characters!
• The baddest Jedi in the galaxy has a score to settle – MACE WINDU returns in an action-packed adventure from OLD MAN HAWKEYE'S Ethan Sacks!
• You can run, but can you hide from the twin lightsabers of Sith assassin ASAJJ VENTRESS? Feel her fury in a tale expertly woven by veteran STAR WARS comic scribe Jody Houser (THRAWN, THE AMAZING SPIDER-MAN: RENEW YOUR VOWS).
• And is JAR JAR BINKS' role in the Star Wars story over? NOT BY A LONG SHOT! Because Chip Zdarsky (PETER PARKER: THE SPECTACULAR SPIDER-MAN and MARVEL TWO-IN-ONE) has a rancor bone to pick with the galaxy's most notorious Gungan.
• You can take the clone out of the war but you can never take the war out of the clone – CAPTAIN REX dusts off his blaster and enters the fray in a story by X-MEN: GOLD author Marc Guggenheim.
Rated T
In Shops: Jan 16, 2019
SRP: $4.99