Jason Starr and Will Conrad Launch "Red Border" From AWA Comics
One final upcoming launch from Bill Jemas and Axel Alonso's new New York-based comics publisher, AWA Comics. Red Border by Jason Starr and Will Conrad.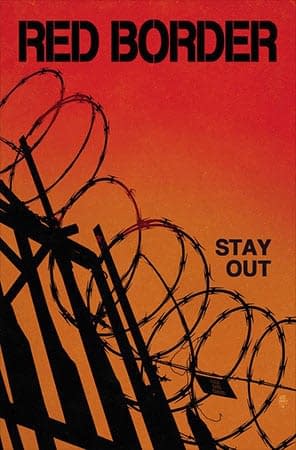 Jason Starr is a crime novelist, who has also written comics such as Punisher MAX and Wolverine MAX for Marvel when Alonso was EIC there, as well as writing Doc Savage for DC Comics. Will Conrad is better known for Buffy and Angel comics, Cyborg, Birds Of Prey, X-Men, Nightwing and Stormwatch.
And now they have a new thing together.
When a young, middle-class Mexican couple targeted for death by the Juarez Cartel flee across the border into Texas, they wander into a house of horrors beyond their wildest imagination. Rescued by a mysterious local who takes them to the safety of his family's ranch, the couple soon realize their hosts have more than just skeletons in their closet, and the army of assassins on their trail might be the least of their problems.
Here's a look ahead.