"Jim Isn't Quite What They Were Expecting." – Paul Tobin Talks Jungle Jim
As we get closer to the big King Features Crossover that Dynamite is starting the new year with, Byron Brewer got a chance to talk with Paul Tobin about taking on the least known of the characters, Jungle Jim.
BYRON BREWER: To me, Jungle Jim has always been a weird corner of the King universe. How do you see the character, Paul, and how did you become attached to this miniseries?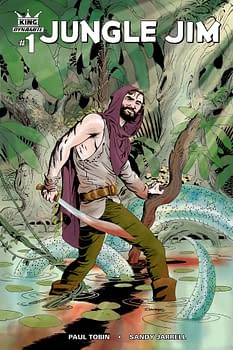 PAUL TOBIN: Jim is in such an admittedly "weird corner" that we're wide open with him. That allowed me an amazing latitude in working with the character. I wasn't boxed in at any point, which allowed me to inject all the character and adventure I wanted. And, it was editor Nate Cosby who brought the project to my table. It happened in the usual way these things happen with Nate, by him paying off a blackmail debt for certain indiscretions he committed in the late 1990s, which don't need to become public … SO FAR.
BB: We are halfway through the Jim story, and there seems to be a question of the Beast-Men and the aliens with our hero? Are they out for him, are they soliciting his help, and what could Jungle Jim do anyway?
PT: They're definitely hoping for his help, and at the same time they're hoping he's as powerful as Arboria's native mythology suggests. Of course, mythology has a way of getting twisted, so Jim isn't quite what they were expecting.
BB: How do you like the work of Sandy Jarrell?
PT: Sandy's great. He's bringing the adventure we wanted, and also doing some great storytelling. Too many artists just draw a panel, but panels have to lead the story from panel to panel. An artist has to understand that the comic is a series of panel, rather than just an accumulation of them. Also, Sandy has the "romance/adventure novel haircut" that fits for this series. That was really the most important part in choosing the right artist. The haircut.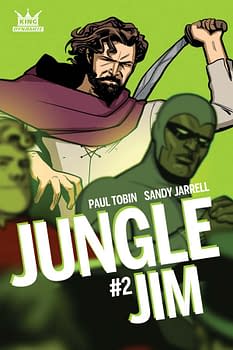 BB: What is the most challenging part for you as a writer, Paul, in handling a book like Jim?
PT: Jungle Jim has been around a long time, but not a lot of people know about him, which essentially meant that he's a new character. That means that I had to re-establish who he is, at the same time changing him to fit our story, and start from point zero and keep everything consistent. That can be hard, but at the same time I had so much latitude in not only Jim himself, but also in the supporting characters, that it was fun-difficult, rather than irritating-difficult.
BB: Would you like to do a Jungle Jim ongoing if numbers were good?
PT: Sure. That would be fun.
BB: There are rumors of some great "transformation" in #2. Can you enlighten?
PT: In a way, Jungle Jim himself is one of the beast men. But exactly HOW he is, that's one of the fun aspects of Jungle Jim, the comic, and Jungle Jim, the guy in the pith helmet.
For more on King: Jungle Jim #2, click here.