Michael Finn writes,
Hi, I'm Michael Finn and I want to tell you about my Kickstarter in which the super-heroes of the 1940s return in a brand-new, 100+ page WW II graphic novel.
I'm a first-time writer but I've brought along some good friends to assist me — Mark Waid is the Editor and he has written Captain America, Flash, Legion of Super-Heroes, the Champions and darn near every other character under the sun. Likewise, the art teams are Ron Frenz (Superman, Spider-Man, Thor, etc.) and Barry Kitson (Spider-Man, Fantastic Four, Legion of Super-Heroes, Batman, etc.). We have two superstar inkers in Joe Rubinstein and Mick Gray. Oh, I should mention that Jim Steranko did a variant comic book cover for the comic.
I'm a huge Golden Age comic book fan and for years I've wanted to bring back many of these characters from the dustbin of history and restore them to greatness. The 1940s launched hundreds of super-heroes and many of them had multi-year runs, read by tens of thousands. Today, they are all but forgotten…..but, we are about to change that:
The story takes place in the middle of World War II. Hitler, advised by Misery, the Claw, the Great Question and others has hatched a plan to assassinate President Roosevelt using the combined power of some of the biggest and baddest villains of the Golden Age including: The Clown; Mastermind; Frost; Professor Fenton; the Ape; the Scarlet Skull and Veda the Cobra Woman. The only thing standing in their way is The Liberty Brigade, a team consisting of The Blue Flame; Cat-Man, Kitten, The Mad Hatter, The Green Turtle and three brand new heroes: Mr. Freedom (who is connected to a Golden Age character); The Bill of Rights and The National Anthem.
The Graphic Novel consists of an 80+ page story above plus more than 20 one-page origins of Golden Age characters illustrated by folks like George Perez, Alan Davis, Mark Buckingham, John Totleben, Chris Weston, Garry Leach, Doug Braithwaite, Jim Calafiore, Paul Renaud, Ken Lashley, Rick Veitch, Mike Lilly and many, many more. In addition to the Graphic Novel, there is a #0 issue which debuted at Baltimore Comic-Con and features an original prequel story as well as a special Heroes of the Golden Age: The Liberty Brigade featuring encyclopedia entries on many of the characters in The Liberty Brigade. It is a collaboration with our friends at Temporal Comics (check out their ongoing Kickstarter for #2 of their encyclopedia series).
Enclosed are 2 preview pages by Ron Frenz and Joe Rubinstein from the graphic novel PLUS one of the 1-page origins – TNT by George Perez. As well, the Sean Chen cover to the Graphic Novel.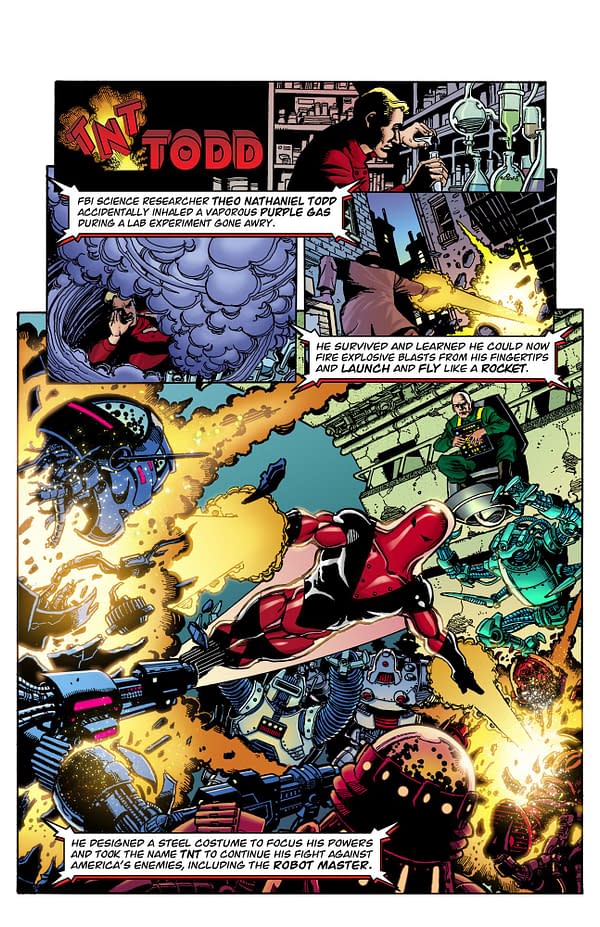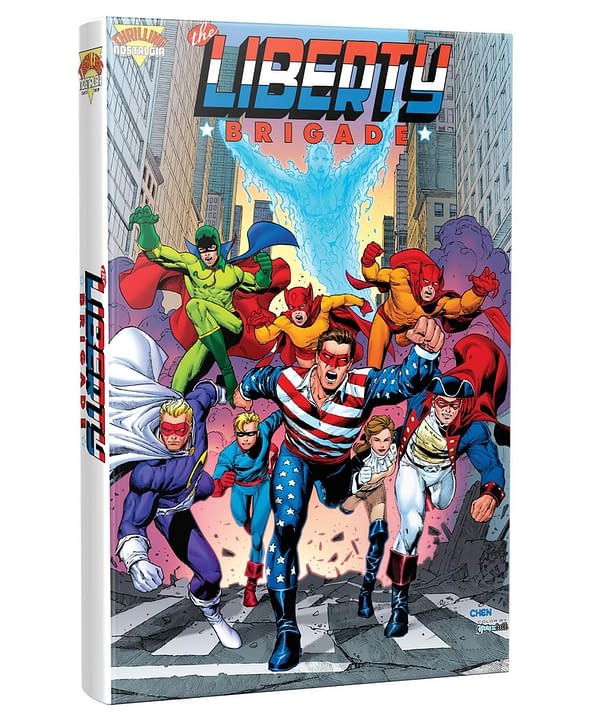 Enjoyed this article? Share it!