Jocasta Fights Machine Man 2020 With Continuity – and Its All Warren Ellis' Fault (Spoilers)
Today sees the publication of Machine Man 2020, part of the Iron Man 2020 event – and it spins off from the main book with Machine Man, Aaron Stack, X-51, left on monitor duty during the Rick And Morty Siege, fighting his own battle – against all the other robots in the X series that came before him and have somehow been revived by Arno Stark and Baintronics.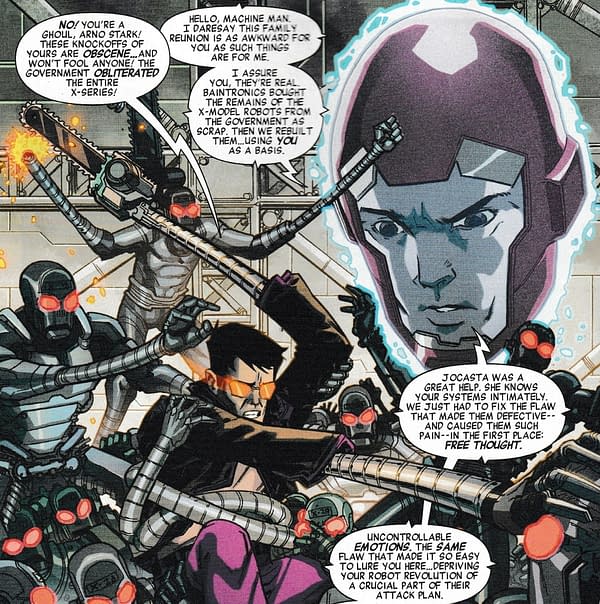 Machine Man first appeared in the Jack Kirby movie spinoff comic 2001: A Space Odyssey, published by Marvel in the seventies, that did indeed feature his encounter with the Monolith.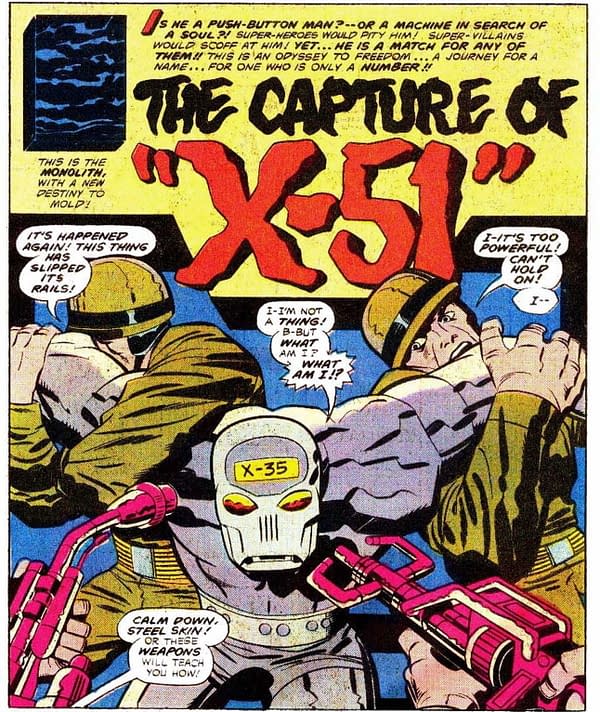 Which saw all those models being captured and destroyed with bombs in their brains. All but one…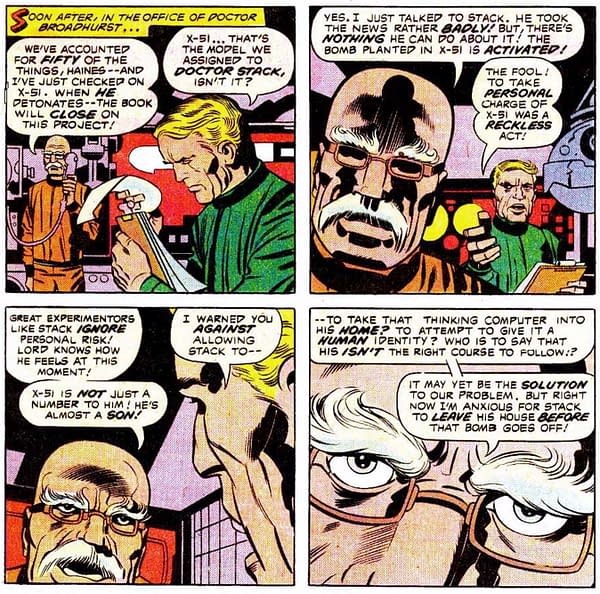 And each driven to madness…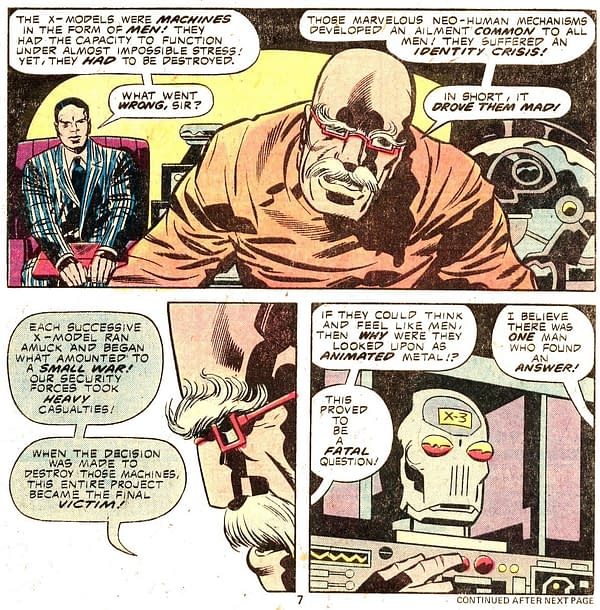 With Aaron Stack the only survivor. Or so we thought.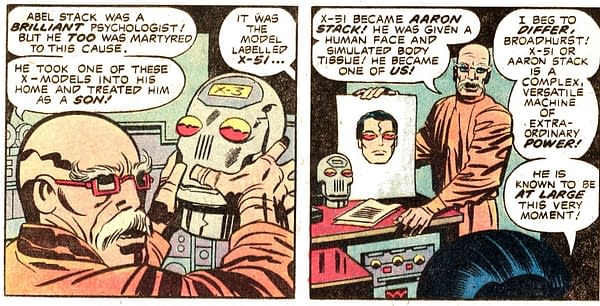 And looking quite dapper in his original series.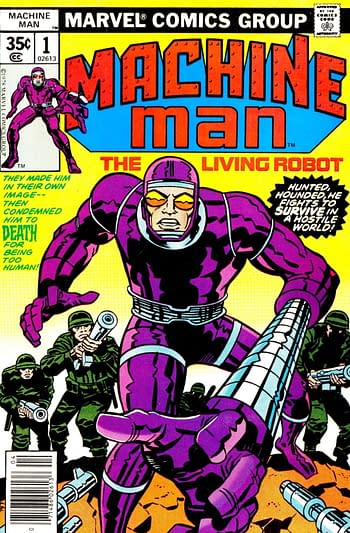 But, as the Starkwiped Jocasta points out, he has been through quite a change in recent years. Or specifically when Warren Ellis wrote him in NextWave: Agents Of H.A.T.E…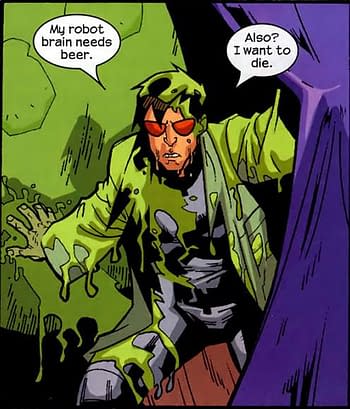 …without particularly caring for how he had been portrayed in other comics. Because no one was reading Machine Man comics then…
Rejecting his advances…
And giving us a new Machine Man who looks a lot more familiar…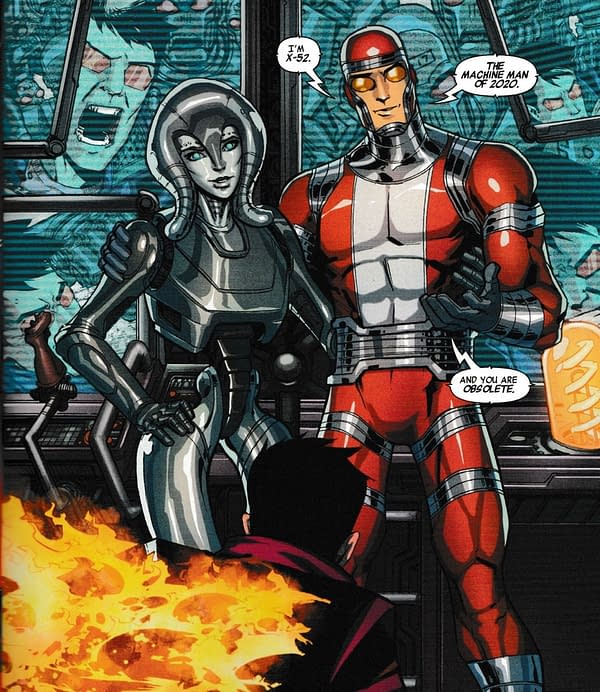 The Machine Man of 2020, looking very much like his Herb Trimpe/Barry Windsor Smith version from the second Machine Man series of the eighties that led directly to Iron Man 2020…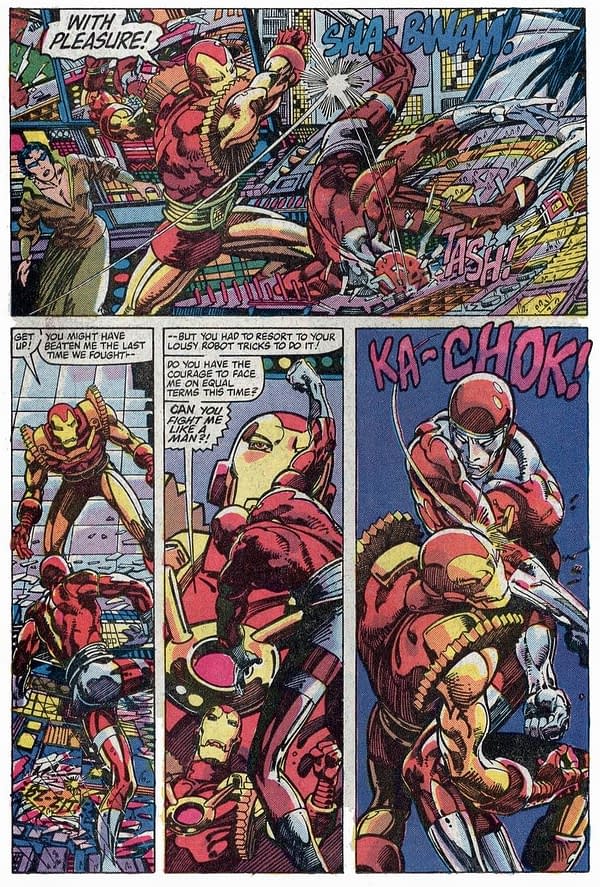 But it looks like this Machine Man is very much on the side of Arno Stark rather than fighting against Iron Man 2020…
2020 MACHINE MAN #1 (OF 2)
(W) Christos N. Gage, Tom DeFalco (A) Andy MacDonald, Mike Hawthorne (CA) Nick Roche
The A.I. uprising has begun, and Machine Man finds himself torn about his place in the revolution! As the battle rages around him, will Machine Man aid mankind's fight for survival or join his robot brethren in ushering a new age? Plus, when faced with a figure from his past, Machine Man must decide-is it time to follow his programming or his heart? Don't miss out on this epic adventure from Christos Gage and Andy MacDonald! Plus, revisit Machine Man in 2020 with legendary creator, Tom DeFalco! Rated T+In Shops: Feb 19, 202
Machine Man 2020 #1 is out today from Marvel Comics… I bought mine from Piranha Comics in Kingston-Upon-Thames. Piranha Comics is a small south London comic store chain with a small south-east store in Kingston-Upon Thames's market centre, which runs Magic The Gathering nights on Fridays, and a larger south-west store in Bromley, which also runs Magic nights and has an extensive back issue collection and online store. If you are in the neighbourhood, check them out.