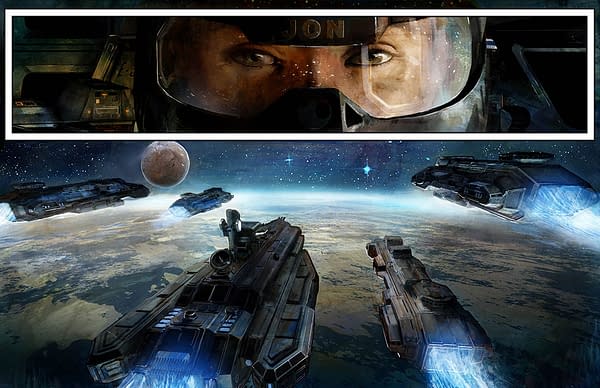 Remember Anomaly? That was the giant graphic novel that then had an iPad app you could use with it. Came out about a year ago and was written by Skip Brittenham and Brian Haberlin. Well the rights have been picked up by Relativity and will be a film produced by Snow White And The Huntsman's Joe Roth and written by Now You See Me's Ed Ricourt with Relativity CEO Ryan Kavanaugh and Relativity President Tucker Tooley and Skip Brittenham executive producing..
Anomaly is the story of Jon, a disgraced Conglomerate Enforcer, who is given a last precious chance for redemption by leading a rag tag group of explorers on a first contact mission to a newly discovered planet. Of course the mission turns out to be a deadly trap.
That description is taken from their website, but I'm curious about the story. This is a book that appears to have sold mainly based on the gimmick. Even when it was covered here on Bleeding Cool, it was about the ipad app and large size of the book. So what about it makes it movie worthy? It doesn't appear to be a bad story, just a decent science fiction tale… you have to wonder though what Relativity plans to do with it. With source material so focused on technology, you have to wonder if the film makers will focus on the story or try to use the property to tap into something more multi-media based. I don't really want to have to bring my ipad to a movie theater… just saying.
For those who don't remember it, here was there description of the product via youtube:
[youtube]http://youtu.be/PS62s7nQk8Y[/youtube]
And here our own Rich Johnston breaks open the seal and tries it out.
[youtube]http://youtu.be/H5HTTcOhxH0[/youtube]
Enjoyed this article? Share it!