Did You See Joker? Here's A New Way to Break Into Comics in Portland, Oregon
Everyone in comic books has to start somewhere. Ram V has been talking about how he broke into comic books.
Inspired, Joe Glass did the same.
But here's a new one. Did you see Joker? Wondered if there was a certain job that you might be qualified to do? wondered if it could get you into comic books? Fallout Comics of Portland, Oregon has a suggestion.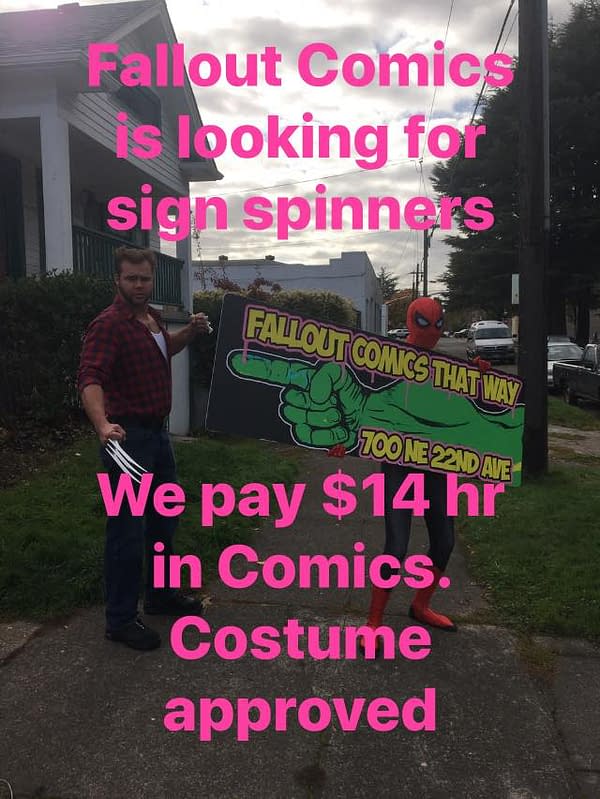 $14 an hour for spinning a sign that's… wait… $14 an hour in comics? So that's two X-Men comics and a Batman an hour? Puts it into perspective. After a few complaints wondering about taxes, minimum wage, and teh legality of barter, they update their terms,
Disclaimer: You will be billed as a private contractor, offering a mini service – Which you are being compensated for with gobs and gobs of comics. There. Now that the technical jargon is out of the way… Give us a call if you would like to help out. 503 784 2136. Fallout Comics
Good luck… also, worth pointing out that Portland remains a magnetic hub for comic book creators, publishers and editors, Who knows who you'll meet when sign spinning. Why not strap your portfolio to the sign's back, just in case? And hope no street brats attack you and break your sign.