Jonathan Kent Gets A New Superpower Now He's Superman? (Spoilers)
It's been a while since Superman got himself a new power. Back in the day, it would be pretty much every other issue. The movies seemed to throw them out at random, from memory-loss-super-kiss to shield-imprisoning-shed. But of late they have been rare. Growing a beard super-fast and the supernova draining event are a couple. Well, this week it seems that Phillip Kennedy Johnson is introducing a new one with Scott Godlewski in this week's Superman #31. And it's not Superman getting the new power, but the new Superman, his son, Jonathan Kent. Who is about to become the new Superman of Earth when Clark Kent goes on a galaxy-hopping spree to Warworld and beyond.
With Jonathan Kent using his heat vision in a new way – with a new result.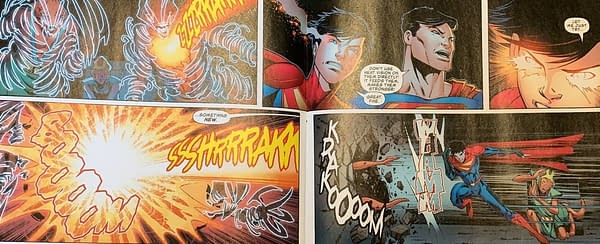 And a handy way to impress your father. Always a memorable moment when the child beats the parent at something the parent was meant to be good at. And yeah, it's my eldest daughter's GCSE Art Finals week this week…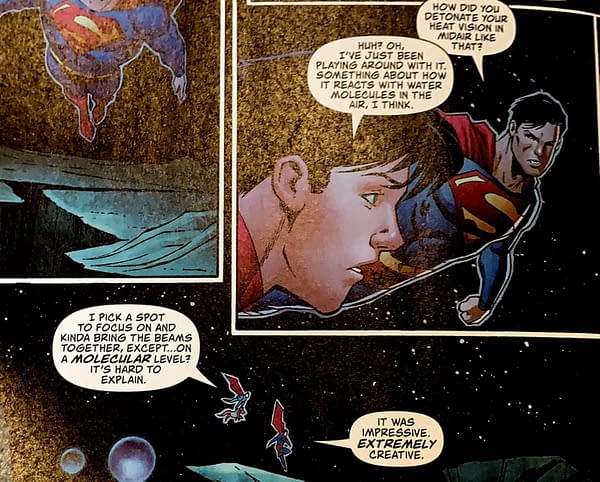 Superman #31 is published tomorrow from DC Comics.
SUPERMAN #31 CVR A JOHN TIMMS
(W) Phillip Kennedy Johnson, Sean Lewis (A) Scott Godlewski, Sami Basri (CA) John Timms
"The One Who Fell" part two! Thought to have been defeated long ago by Superman and his allies, the ancient Shadowbreed have returned in a horrifying new form, and Superman's oldest ally has been assimilated into their ranks. As Jon and the besieged new Thakkramite leader search for the key that will help them defeat the creatures, Superman returns to the site of his first historic victory over the Shadowbreed in an attempt to warn the Thakkramites of the incoming threat. But Superman's old allies kept terrible secrets from him, and both he and Jon are more vulnerable against the Shadowbreed than they know. And in the backup story, Jimmy Olsen's plan to build a backup squad to help out his pal Superman looks like it's already falling apart when two of its members, Loose Cannon and Gangbuster, would rather fight than be friends. Retail: $4.99 In-Store Date: 05/11/2021