Justice Inc And Nick Carter – Killmaster Look To Return – Comics, Films, Pencil Sharpeners
Bleeding Cool always likes to keep an eye of applications for trademarks in and around comics. And here come a couple of interesting ones.
Justice, Inc and Nick Carter – Killmaster. Justice Inc, was the name of the first story to feature pulp adventurer The Avenger, from 1939's The Avenger magazine, a millionaire made sick by the disappearance of his family, who used his new deformity any allied to create a revenge squad to bring criminals to Justice.
It was also used as the title for a seventies DC comic that adapted the story and continued it with original Avenger stories, including Jack Kirby's work. And then again in the eighties in a prestige series with Kyle Baker. And in 2008, Moonstone Books revived The Avenger and published The Justice Inc Files in 2011.
And now it seems it has a new interested party, in Advance Magazine Publishers, Inc who have applied for the trademark Justice Inc for,
Motion picture films about fictional heroic and villainous characters

Posters; story books; activity books, namely, sticker books; coloring books; kits primarily comprised of crayons, markers, paints, paint brushes and parts sold as units for coloring, painting and handicraft activities; writing slates; school supplies, namely, book covers, pencil cases, pencil sharpeners, staplers, bookmarks; playing cards; toilet and facial tissue; paper napkins, placemats, paper party hats and tablecloths; books featuring stories of fictional heroic and villainous characters; magazines featuring stories of fictional heroic and villainous characters; comic books; greeting cards; trading cards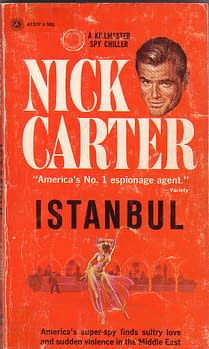 Also getting such a treatment is Nick Carter – Killmaster, a series of spy adventure novels starring Carter as Agent N3 of AXE, working for the US government. The books numbered over 250 and ran from the sixties to the nineties, with "Nick Carter" pseudonymously credited as the author for each book.
And we get the same trademark subjects.
So… which comes first? The films or the comics? Or the paper party hats?