Kansas City Star Puts Jai Nitz Allegations on Front Page, Adds More
Intern for the Kansas City Star, Nicole Asbury has followed up on previous reporting over comic book writer Jai Nitz, accused of sexual harassment earlier this year. In doing so, and across 4000 words, she has uncovered more details about the allegations made at the initial time of reporting, what happened next and why. And as a result, it has made the front page of the paper this weekend, above the fold.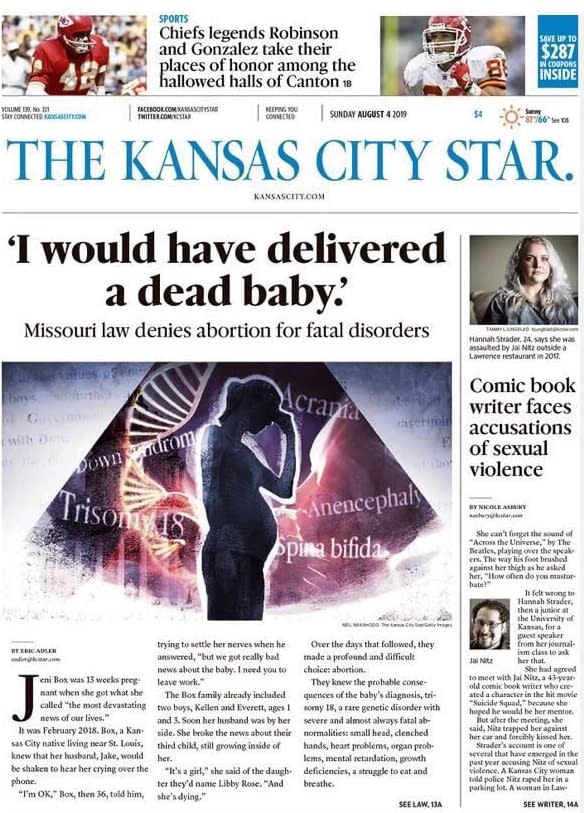 In doing so, Asbury spoke to those who made allegations, read police reports and e-mails, medical records and confirmed that the Kansas University had banned Nitz from campus for three years, where he was a regularly invited speaker and lecturer. She was unable to talk to Nitz, but she did cite Bleeding Cool's initial report that managed to get comment from him.
As well as an expansion of former editor-in-chief of Her Campus Hannah Strader's original report, Roberts states this is one of several reports made regarding sexual violence and Nitz. She reports graphic details about a Kansas City woman who told police Nitz raped her in a parking lot, and also that a woman in Lawrence states that Nitz routinely coerced her into sex. And that after original reportage on the story, four women filed police reports this year accusing Nitz of sex crimes, but police have taken limited action.
After Strader first reported to the university, he was banned from the School of Journalism and Mass Communications, but not from the rest of the University. That only happened this year, three years after the initial reportage, a letter to Nitz signed by Interim Provost Carl Lejuez stating "You have reportedly engaged in a series of predatory sexual behaviors over the last five years in which you have targeted female students after meeting them on campus… Your pattern of conduct towards young women on campus demonstrates that your presence on campus creates an imminent threat of danger to KU students."
Strader repeatedly talked to the police about investigating Nitz, but Asbury reports that Nitz had moved house, and authorities found it hard to track him down. So Strader and others making allegations against him found Nitz' new address and turned it over the police. Weeks passed without action, an e-mail from the police to Strader stating "I have not had a chance to pay Jai a visit since learning his new address. Unfortunately, we have been short-handed on patrol and busy here these last few days. I am hoping to do this Sunday when things are (knock on wood) usually a little quieter." Further weeks later, and after a police visit to the address when Nitz wasn't home, Asbury reports that Nitz called the police. The officer e-mailed Strader saying "Jai refused to meet with me to discuss the investigation. He pushed for some details and when I told him I would be happy to discuss those details in a meeting, he said he would have his attorney contact me (aka, not going to talk). I told him to please do, but obviously won't hold my breath for that."
Roberts reports that police told Strader that she should try and record a phone call with Nitz that might incriminate him if he admitted sexually battering her. Roberts also notes that the Jackson County Prosecutor's Office declined to file charges in the rape case in Kansas City over "insufficient evidence" and that "the State does not feel that it could prove this case beyond a reasonable doubt. The facts lend themselves to a defense that would be very difficult to overcome at trial."
Jai Nitz worked across the comic book industry for Marvel, DC, Dynamite, Boom and more, his character El Diablo was prominently featured in the Suicide Squad movie, but Nitz hasn't been prominently published since the Suicide Squad: Black Files series earlier this year, which was published before the initial allegations were made public.