Kickstart El Muerto, the Aztec Zombie
Javier Hernandez, El Muerto cartoonist, writes for Bleeding Cool: After years of thinking about it, I finally decided to do a Kickstarter for one of my comics. Thankfully, my anxiety over doing one of these evaporated with 24 hours from launching, as 40 backers took us past our initial funding goal!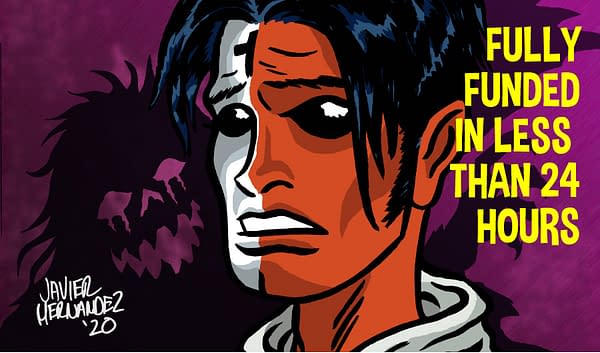 My name's Javier Hernandez, and I'm a cartoonist. I've been publishing my work under my own imprint, Los Comex, since 1998. My signature character El Muerto, the Aztec Zombie, was my first published comic. Since then, I've done more stories with El Muerto as well as other characters. In 2007 an independent film was made from the comic, starring Wilmer Valderrama (THAT 70's SHOW). I was the Associate Producer on the film and scored myself the requisite creator cameo.
In about 2015, after releasing several comics in the El Muerto series (amongst other books such as Weapon Tex-Mex, The Coma, Maniac Priest, and Dead Dinosaurio), I decided it was time to re-present El Muerto to a new audience. So I basically redrew the early issues (how many of us hate to look at our earlier work?!) and finished the long overdue ending to the initial storyline. So in 2017, I released the first graphic novel in a proposed 10 volume series, DAZE OF THE DEAD.
So I've been working on the follow-up volume, CASA DEL MUERTO, and as I did for DAZE OF THE DEAD, I decided to put out a preview comic to tide people over while I finish up the graphic novel. For the past ten years or so, I've often used a pre-order sale via my webshop for several of my comics. But this year, with the lack of conventions brought upon us by the quarantine, and also a lingering curiosity to try the crowdfunding model, I've decided to try Kickstarter's platform. Reaching for a wider audience was the goal, so that's what brought me to jump in finally.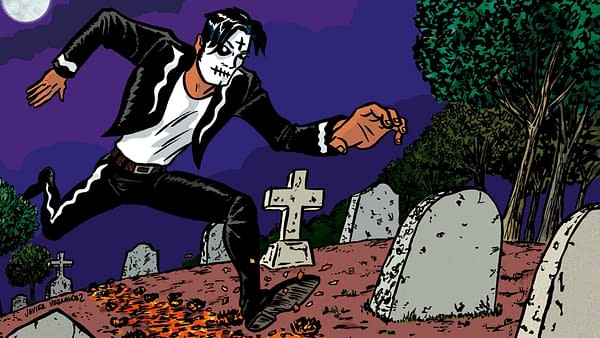 What's El Muerto about? Here's the original storyline from 1998: Diego de La Muerte, born on Nov. 2 (The Day of the Dead), is seemingly killed in a car accident on his 21st birthday. But he actually finds himself awaked in the Aztec land of the Dead, Mictlan, and is soon confronted by the Aztec gods of death and destiny. They sacrifice him in a supernatural ceremony and send him back to Earth a year later. But instead of finding himself the slave of the god of death, Diego finds that he instead possesses the power to regenerate himself and bring the dead back to life! A trick brought on by the Tezcatlipoca, the trickster god of destiny.
Back when I did the first comic, there was very little use of pre-Colombian mythology in comics, and hardly any stories featuring Dia de Los Muertos as an element. My goal then was to introduce some Mexican mythology and folklore into a superhero sage for the American comic market.
And so today I'm continuing the saga of El Muerto. In the new book, Diego is making his way across Northern Mexico to find a famed curandero (medicine man) in the hopes of finding some way to break this curse he finds himself under. But he soon comes across a woman whose infant son has been kidnapped. The trail points to La Doña Maclovia la Dolente, a supernatural legend that has terrorized the region for decades.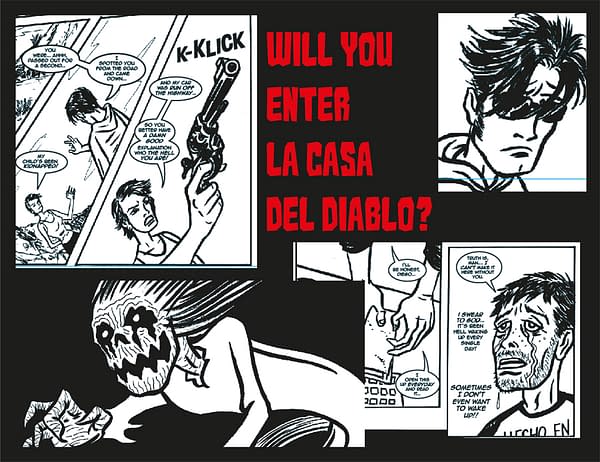 The Kickstarter is to fund the CASA DEL DIABLO Preview Edition, which features the first 26 pages of the story. An XL Deluxe Edition contains the 26-page story as well as 29 pages of the thumbnails to the story. A 64 page deluxe comic for process junkies!
There's another book available as well, and several new items (a button, sticker, and print). If you've never heard of El Muerto and are curious to try a new story with a supernatural superhero, please check out my Kickstarter.
For the Bleeding Cool readers who become Backers, enter this code in the message section of the Reward Survey once the campaign ends: "BC SKETCHCARD". I'll do an original color Muerto drawing for you on a sketchcard and send it along with the physical Reward you purchased.