Bleeding Cool's Kickstarter Correspondent, Shawn Demumbrum has lead three Kickstarter campaigns to launch comic books, two successfully funded and one that wasn't. Each week he will point out some of the unique Kickstarter projects that wouldn't normally be published by the big comic book companies, but deserve your attention. Shawn's current project Break the Walls: Stories Inspired by the Songs of the Pixies is also being funded through Kickstarter.
Zero Libertad, a Latina female supernatural hero, is currently being solicited through Kickstarter. The project has $6,531 pledged toward a goal of $8,500 with 8 days to goal. I recently talked to Alana Macías, creator and writer, and Andrew Morton, artist, about their project.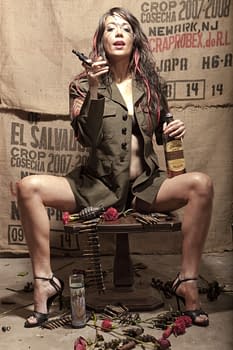 Alana, tell me about Zero Libertad. It started out as a live show and is now going to become a graphic novel. How did you start Zero Libertad? Who is she?
I started by writing rhythm I had in my head and body. It dictates to me. I know it sounds nuts, but it does. I think of Zero as a spirit. I started with the idea of this spirit as a persona when I was getting my MFA at CalArts, but I couldn't write it yet. I didn't know what she was at the time, but I knew I felt that I hadn't yet seen a character from Central America who was tough, insanely persistent, and full of a kind of musicality and humor. She also needed to use some of the mythic images I had grown up with and that I thought others could connect with but had never seen. They're symbols and a kind of aesthetic that are very real and from a real place, from all the Nicaraguan murals and political graffiti, the leftover Russian and American camo, bullet cartridges, bomb casings, etc. It's a kind of texture I remember. You have that, but then an explosion of roses on the corner, growing out of the cracks. So it's a combination of these two things at once. More than anything, I just love badass female characters, because the world is full of them in real life, but we haven't seen all the variations and places badassery can come from.
How is she different than traditional comic book heroines?
She is so self-possessed, and as we'll see later into it, she does not have shame over her sexuality, but neither does she let other people define that part of her. It's actually a joke in Zero. Her outfit is a statement about how she's a construction made up of her mother's old "sex as a weapon" or "showgirl" ideas. But Zero is sardonic about that, 'cause then she'll make herself a showgirl outfit made of thorns, spikes, and bullets. Zero is dark, she's self-aware, she's not owned by anything, including the ideas of others. Also, she likes to get dirty, to get ugly, to own shit. She was raised in the hills of Nicaragua, for God's sake!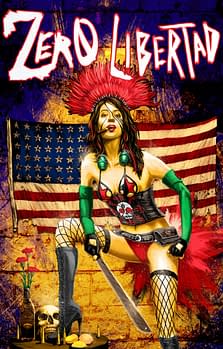 Some of my favorite Hispanic creator owned comics utilize their culture as an integral part of their stories. I'm thinking of Los Bros Hernandez's Love and Rockets, Javier Hernandez's El Muerto, Rhode Montijo's Pablo's Inferno and J. Gonzo's El Mano del Destino. Do you see your character as a superhero who is a Latina or a Latina who has supernatural powers?
Alana: That's tricky, because I always think of people as people first, and their background as something that informs them, but doesn't define them. So Zero's first a hero, then Latina, but you can't have one without the other, because her history and background have raised her to be who she is: in a very hard place as daughter to notorious real-life hardass Eden Pastora (he was a friend of my family growing up in real life–I had no idea what kind of a myth he was when he'd call or come by, not until I got older) and an American CIA agent. Zero represents the Central American 3rd world, so is literally made from the experience of being Latina from that background. But you know, we come from where we come, and then we become ourselves, which is its' own thing, beyond our background.
When did the graphic novel come into the mix of this multimedia project?
Zero has always been intensely visual, and I was very frustrated with how hard this was to get across if it stayed a script. The conversations with the visual team for the video were frustrating for me. Not because of any fault of theirs, but because I had such a specific look and feel in my head, and you can only write that out so much. Then H.D. Stone, a great producer I work with, asked if I'd ever looked at graphic novels as a way to really tell a visual story. I've always been a big reader, once I start in on a genre I devour it, though being raised by revolutionaries you spend more time with traditional books and propaganda pamplets. About a year ago I started work on the graphic novel and then when Andrew came along and GOT it so well, it just took off. Andrew and I really seem to be able to get to this seamless place creating this. I know that is hard to find and I greatly value Andrew being there.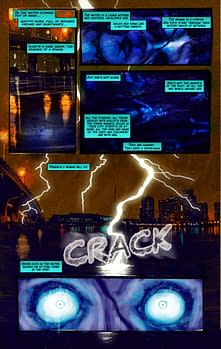 Was there part of Zero Libertad's story that could only be told in this way?
The plot. I don't want to be held to the plot in the live show. That will transcend plot, which is what music and intense light shows is good for.
Is this part of Zero Libertad's story told only in the graphic novel or is it retold in the graphic novel?
The detail, the thoughts behind actions, Zero as literature, that is only in the graphic novel. The initial story was birthed in the live show, but I really worked it out and explored it as its' own thing in the graphic novel. It is its' own entity.
Have you attempted writing a comic book previously?
As a child of the revolution, that world was so removed from me. So no.
What kind of challenges did this present versus a screenplay or other methods of telling stories through art?
I love the comic book form, because it's both visual and poetic. My favorite comics are both those things. When I realized that a lot of the great poetry today was being told in comics, I couldn't understand why you'd want to try to write in more traditional poetic forms. No thank you. The challenge is very similar to screenplays: how do you externalize an internal dilemma, and really create symbols to convey that? Obviously, I really had to get up to speed in terms of history of the form and read, read, read comics. In spite of the degree in writing and all that, the main way I've learned all forms is to read great examples of them.
How much of your own experience living in Nicaragua filters into your story?
Both Nicaragua and Miami, because Miami now, but especially in the 80's and 90's, was Central America North. And as I mentioned before, the aesthetic of both places was something I wanted to get into the book. Also, coming from Nicaragua and the war and having parents obsessed with it (they used to make bombs in the kitchen, buried friends in backyards) really affected me. I wanted to write about trauma as someone who comes from it.
Let's talk about art. Was Andrew your first choice and is he the only artist that worked on the project?
I considered talking to people from CalArts, and had looked over some of their art, but as soon as I saw Andrew's work I just knew. That was it. He also came back with a drawing, totally unasked for, that was the first sketch of Zero, and the understanding of the whole thing was so nuanced and right, I knew I would be pressed to find anyone else who could match him. H.D. Stone introduced me to him, so a good producer really knows how to match people up like that.
Andrew, I see Ben Templesmith's style in original character sketch, but other influences in some of the other art for the book. Who are your influences artistically?
Yes, Ben Templesmith is a big artistic influence for me. I'm also influenced by Francis Bacon, Käthe Kollwitz, Jamie Hewlett, and graffiti art in general. I probably have more but they've slipped my mind at the moment.
How much research did you do for the graphic novel? How much did you rely on Alana?
Alana did play a large part in shaping the style and influences of the graphic novel, but I also did a lot of research into the Nicaraguan revolution, the history of Nicaragua, and the lives of Sandino and Eden Pastora before starting on the graphic novel. I made sure I had a good feel for the Central American culture and mentality before starting out.
Do you consider this a collaborative effort? What ideas or personal touches were you able to add to the art?
I do consider this a collaboration. I took what Alana had already put into the character and style and I just ran with it. I really got into the Zero Libertad mentality and helped focus and manifest Alana's ideas into a solid concept that we both really enjoy. I can't even think of what I specifically added to the character because my ideas flow seamlessly into Alana's ideas, and vice versa. Its really its own entity that we both helped bring to life.
Where can people see more of your art?
Deviant art: http://drewtheunquestioned.deviantart.com/
Thanks for taking the time to talk with us. If you haven't checked out her Kickstarter page, you can find it here.
Enjoyed this article? Share it!