Kodansha Offers Eight Award-Winning, Full Series On Humble Bundle
Kodansha offers eight of their well-reviewed series in a new Humble Bundle. The bundle includes Beck, Parasyte, Princess Jellyfish, Your Lie In April, Space Brothers, Descending Stories, To Your Eternity, and Love Hina.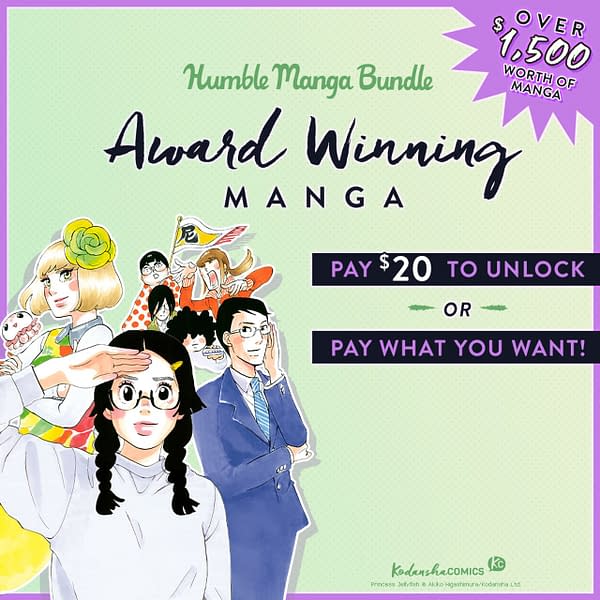 Judging by publication date alone, the bundle is an interesting survey of releases.
Parasyte (1988-1995)
Love Hina (1998-2001)
Beck (1999-2008)
Space Brothers (2007-)
Princess Jellyfish (2008-2017)
Descending Stories (2010-2016)
Your Lie In April (2011-2015)
To Your Eternity (2017-2020)
There's something from each of the last four decades in the bundle, with Parasyte being the oldest series. There's a variety to the bundle that's difficult to overstate.
Princess Jellyfish (the manga of Akiko Higashimura, currently working on Tokyo Tarareba Girls) is the standout manga here. Princess Jellyfish is about an apartment building full of otaku women. The manga, which focuses on the women living in the complex, is a Kodansha Manga Award winner (2010) and an Eisner nominee (2017).
That said, for those looking for quantity, Beck is an acclaimed manga about boys starting a band, and Humble offers all 34 volumes of it. Space Brothers, an ongoing series about two men who become astronauts when they think they see a UFO, is also 34 volumes and is an Osamu Tezuka Award winner. Parasyte, only eight volumes long, is a thirty-year-old body horror manga that won the Kodansha Manga Award back in 1993. Parasyte, allegedly banned in China, is about a high school boy who fights brain invading alien parasites.
Your Lie In April is a manga about child prodigies and mental illness. Love Hina is a harem manga that won a Kodansha Manga Award in 2001. To Your Eternity is a science fiction manga about an immortal being living on Earth named Fushi. Descending Stories is about rakugo, a type of Japanese storytelling involving one seated performer and multiple characters. Descending Stories also won a Kondasha Manga Award in 2014.