Kurtis J Wiebe, co-creator of comic book series Rat Queens is making some changes in his life. He talks about them at length on his blog.
That includes stepping away from Rat Queens, and bringing in a new creative team, with D4ve's Ryan Ferrier, who has lettered the series for two years taking over writing the comic, with Priscilla Petraites drawing the comic, and Marco Lesko as colourist.
We ran news of their one-shot together in Image Comics' April 2019 solicitations, and will kick off Rat Queens #16 in June.
While Wiebe will be joining in a new partnership with current Rat Queens artist Owen Gieni, founding a creative company; Beast and Bone Studios, to create comics and more.
Here's a preview of the April one-shot, and more sketches and art from Kurtis' blog.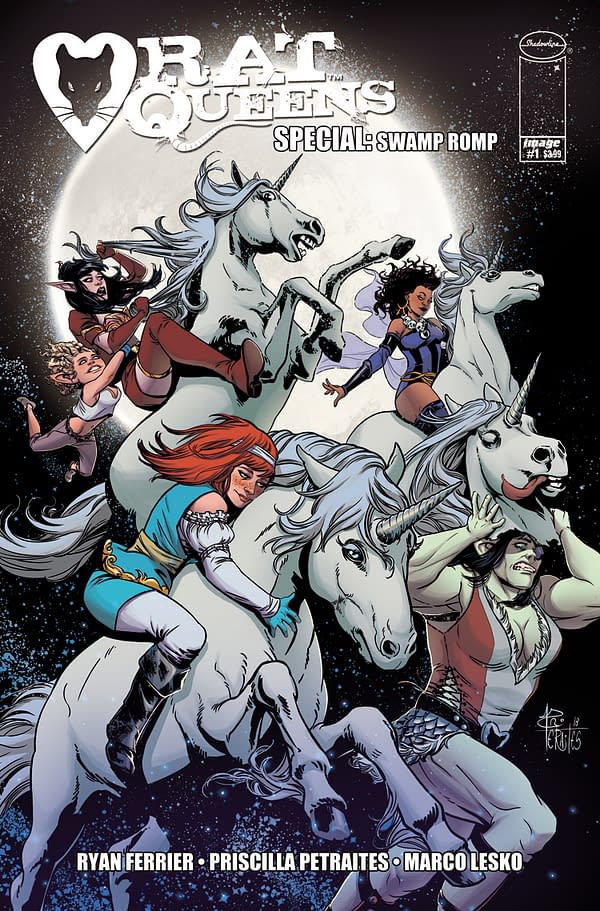 RAT QUEENS SPECIAL: SWAMP ROMP (ONE-SHOT)
WRITER: Ryan Ferrier
ARTIST / COVER A: Priscilla Petraites APRIL 10 / 32 pages / FC/ M / $3.99

Dragons. Monsters. Tricksters. The Rat Queens have seen—and slayed!—it all. But when a dying man of great wealth hires our heroes to exact revenge for the murder of his prized unicorn, Betty, Hannah, Braga, Violet, and Dee are suddenly thrust into a quest that may bring them face-to-face with a mythological creature thought only to exist in bedtime stories. This is Palisade's urban legend, and it will end with either death or a mass fortune. Featuring the all-new RAT QUEENS creative team, RYAN FERRIER (Death Orb, Criminy) and PRISCILLA PETRAITES (Brilliant Trash)—who will be taking the reins of the ongoing title starting with issue #16!
Enjoyed this article? Share it!